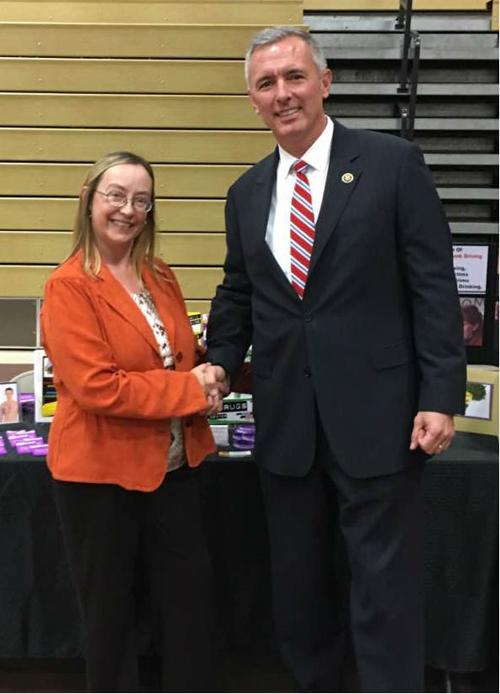 The mother of an Oswego teen who died in 2012 after using synthetic marijuana will be U.S. Rep. John Katko's guest at President Donald Trump's first State of the Union address Tuesday. 
Teresa Woolson, of Oswego, said Katko, R-Camillus, called and invited her to attend the address before a joint session of Congress. Members of Congress are each permitted to bring one guest to the event. 
"I was quite humbled to be asked," Woolson said in a phone interview Thursday. "I'm very excited."
Katko said he invited Woolson to highlight the need to combat synthetic drugs. Woolson's son, Victor, drowned in Lake Ontario after he smoked synthetic marijuana. 
One of the challenges is the layers of bureaucracy involved in designating a synthetic drug as a controlled substance. Woolson said the drug her son used, XLR-11, wasn't permanently placed on the controlled substances list until 2016. 
"Four more years of people getting hurt and killed with this drug is not acceptable," she said. 
While in Washington, Woolson will join Katko for meetings with a few members of Congress about the Stop the Importation and Trafficking of Synthetic Analogues Act. Katko introduced the bill in June. 
The legislation would establish a new schedule, Schedule A, under the Controlled Substances Act to crack down on chemicals used in the production of synthetic drugs. Katko also wants to add 13 synthetic fentanyl compounds to the new schedule. Synthetic fentanyl has been a major factor in the rising number of opioid overdose cases. 
When Katko testified before a House subcommittee in October, he sought to build support for his bill by mentioning a handful of central New Yorkers who died after using opioids or synthetic drugs. Victor Woolson's story was one relayed by the congressman. 
Teresa Woolson believes Katko's bill will help combat the rise of synthetic drugs. 
"That will help immensely getting these on the controlled substances list once they are identified," she said. 
The legislation has bipartisan support in the House and Senate. Fifty-four of Katko's House colleagues have cosponsored the bill, including five Democrats. U.S. Rep. Kathleen Rice, a Long Island Democrat, was an original cosponsor of the measure. 
The bill is advancing in the House. The House Judiciary Committee approved it in July. It is now awaiting action in the House Energy and Commerce Committee. 
"I think it's going to finally move and once it moves it's going to move pretty quickly because I have a Senate counterpart, too," Katko said. 
Woolson lauded Katko for doing his part to keep the issue at the forefront. 
"People are still dying all over the United States and this is something that really is just so important," she said. "I'm really, really excited and I'm excited to be a historical event like the State of the Union. It's just going to be quite exciting to me just to be there and witnessing this." 
Online producer Robert Harding can be reached at (315) 282-2220 or robert.harding@lee.net. Follow him on Twitter @robertharding.