The lien was issued five years ago and satisfied within a two-month period, but nothing gets overlooked in political campaigns. And Katko, R-Camillus, views this as a serious problem for Balter, a Syracuse Democrat. 
Let's review the ad's claims. 
The tax lien
Balter's campaign said she "turned a hobby restoring old furniture into a small business." That business was Dana Balter Designs. 
In January 2013, the Florida Department of Revenue issued a lien for unpaid sales and use taxes. Balter, the lien outlines, failed to pay $1,832.42 in sales and use taxes owed by her business. When fees, interest and penalties were included, the lien said she owed $2,176.30.
Two months after the lien was issued, the Florida Department of Revenue issued a satisfaction of tax lien document noting that Balter paid the debt "in full." 
Balter's campaign said "when she found out she'd underpaid the taxes by $47.29 she paid them immediately and in full." A document provided by the campaign shows she paid $111.08 — the $47.29 she owed, plus a $50 penalty, $3.69 in interest and a $10.10 fee. 
In Katko's TV commercial, the tax lien is referred to as a "sheriff's warrant." That's an inaccurate description of the document. The lien wasn't issued by a sheriff's department or a law enforcement authority. The Florida Department of Revenue issued the lien. The document is directed to "the clerks of the circuit courts and the sheriffs of the state of Florida," but it's not issued by either of those entities. 
Balter's 'swanky' home
The TV ad features photos of the condominium Balter lived in while in Naples, Florida. The main image used in the ad is of a clubhouse within the Grey Oaks community where the condo was located. It wasn't the actual condo Balter called home for more than a year.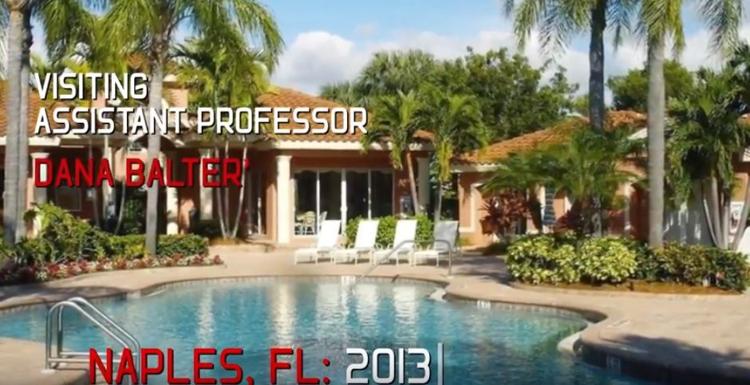 Moments later in the ad, more images are shown. One appears to be an interior shot of the condo, although Balter's image is obstructing the view. A separate shot shows a pool, which is connected to the clubhouse, not the condo Balter lived in. An exterior image of the condo is briefly shown in the ad. 
The ad makes it appear that the clubhouse and pool were part of Balter's home while in Naples, but that's not accurate. While she had access to them as a resident of the community, the building and pool weren't part of her property. 
The condo Balter lived in at 2422 Terra Verde Lane in Naples was owned by her brother, Stephen. Records show Stephen Balter and his wife, Lara, owned the 2,900-square-foot, three-bedroom condo until 2016, when they sold it for $835,000. 
Viewers may believe, based on the ad, that Balter lived there in 2013. However, her campaign said she lived there from fall 2010 to spring 2012. She re-enrolled at Syracuse University and resumed her studies in August 2012, so she was in central New York when the lien was issued. 
'Wants to raise our taxes here'
After revealing the tax lien issued to Balter, the ad highlights the Democratic challenger's stance on taxes. Katko has repeatedly claimed that Balter will vote to raise taxes if she's elected to Congress. 
Much of Katko's criticism has focused on Balter's support for Medicare-for-all, a single-payer health insurance system. Balter announced her support of Medicare-for-all when she launched her congressional campaign in September 2017. 
When asked how to fund Medicare-for-all, Balter has said it would be financed by increasing the Medicare payroll tax. In response, Republicans have seized on this to criticize her for wanting to raise taxes. 
Balter defends the proposal by explaining that if Medicare-for-all is adopted, the tax increase would be offset by lower or no out-of-pocket medical expenses. In her view, people may pay more in taxes, but they would be paying less (or nothing at all) for medical expenses.