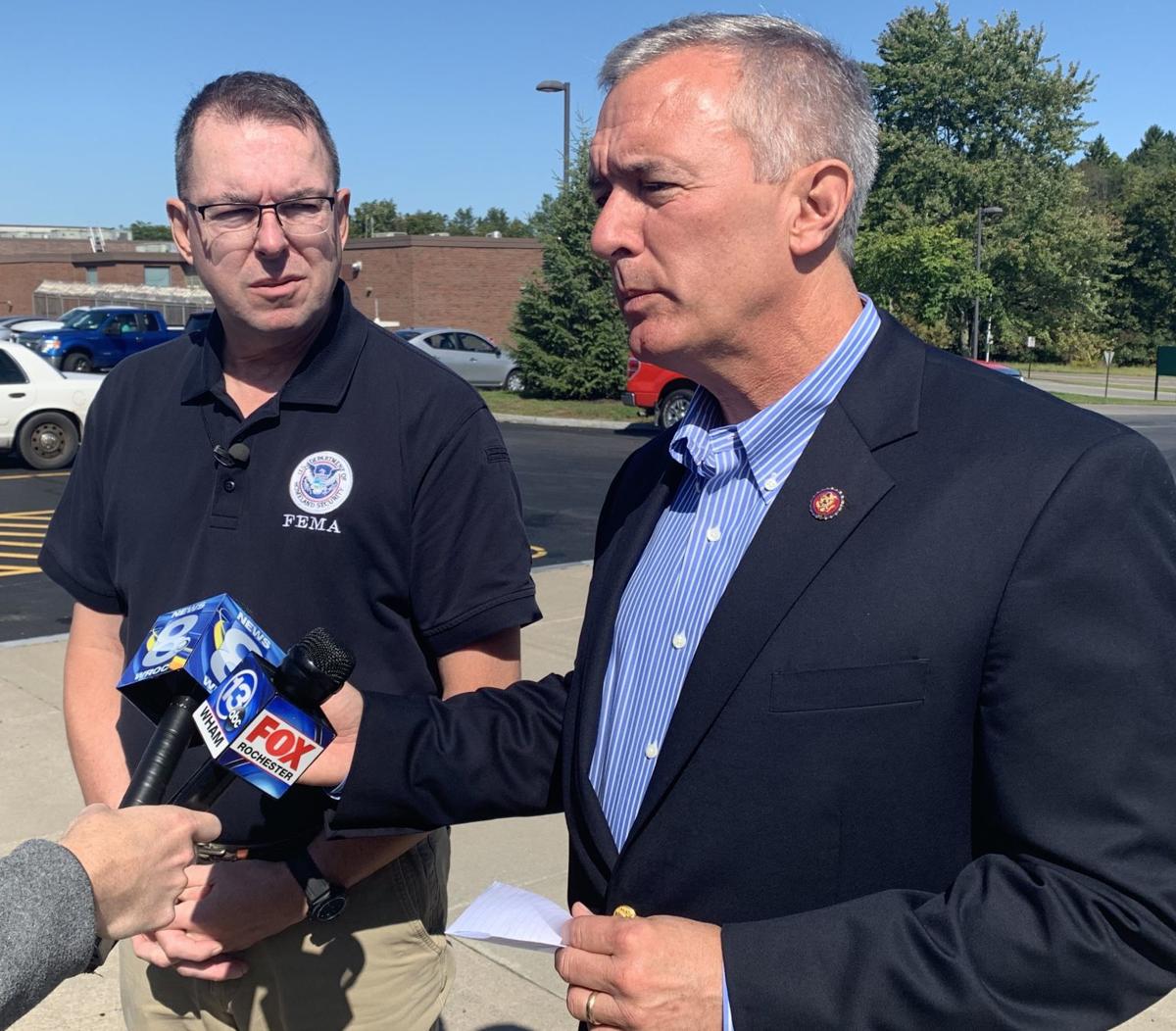 LYONS — Peter Gaynor, the acting administrator of the Federal Emergency Management Agency, visited upstate New York Monday to survey Lake Ontario flood damage and discuss short-term and long-term solutions to help communities affected by record water levels. 
Gaynor was invited by U.S. Rep. John Katko, a member of the House Homeland Security Committee, to attend the roundtable discussion with state and local officials at the Wayne County Public Safety Building. The meeting, which lasted more than an hour, wasn't open to the press or public. 
At a press conference following the discussion, Katko said the topics included eligibility for federal funding, pre-disaster mitigation funding, individual assistance for property owners and the insurance market. 
Gaynor advised residents along the lake to invest in flood insurance. It's not included with homeowners' insurance, he explained, so they would have to open a separate policy to get that coverage. 
"It really is the best defense you can have when faced with flooding," Gaynor said. "One inch of water can equal $25,000 in damage. If you don't have flood insurance, you're at risk." 
There has been significant damage to businesses and homes caused by flooding along the lake. There were high water levels in 2017 and repeat flooding this year. In June, Lake Ontario levels eclipsed 249 feet — a new record. 
In 2017, President Donald Trump approved a major disaster declaration for eight counties — Niagara, Orleans, Monroe, Wayne, Cayuga, Oswego, Jefferson and St. Lawrence — along Lake Ontario and the St. Lawrence River. New York could request another disaster declaration this year, but the water needed to recede so state and local officials could better assess the damage to seek federal aid. 
To receive federal assistance, the state has its damage threshold and the individual counties have separate targets to qualify for the disaster declaration. That was a problem for Cayuga County in 2017 because it was initially excluded from the declaration. The declaration was later amended to include Cayuga County because it was determined that the county met its threshold for federal aid. 
Katko reiterated his view that the flooding was caused by Plan 2014, a water management plan adopted by the International Joint Commission in 2016. The commission, which oversees shared boundary waters between the U.S. and Canada, said the flooding was caused by heavy precipitation and inflows from other Great Lakes. 
Plan 2014, Katko said, "has been an unmitigated disaster."
"There's no easy answers, but one thing's for sure: I'm absolutely 1,000% convinced that Plan 2014 has got to go," he said. 
It will be difficult to amend the plan. The six-member commission consisting of three officials from the U.S. and three from Canada must reach a consensus on any action they take. So far, Canadians have been reluctant to make any revisions to Plan 2014. 
Gaynor didn't criticize Plan 2014 — he said he was briefed on it during the meeting — but noted that it would take a "multi-pronged approach" to repeal the plan. He acknowledged, though, that it will take more than abolishing the plan to address the problem. 
"Things like disaster mitigation and flood insurance are really the things you need to do all in tandem to resolve this mess," he said.
Online producer Robert Harding can be reached at (315) 282-2220 or robert.harding@lee.net. Follow him on Twitter @robertharding.
Be the first to know
Get local news delivered to your inbox!