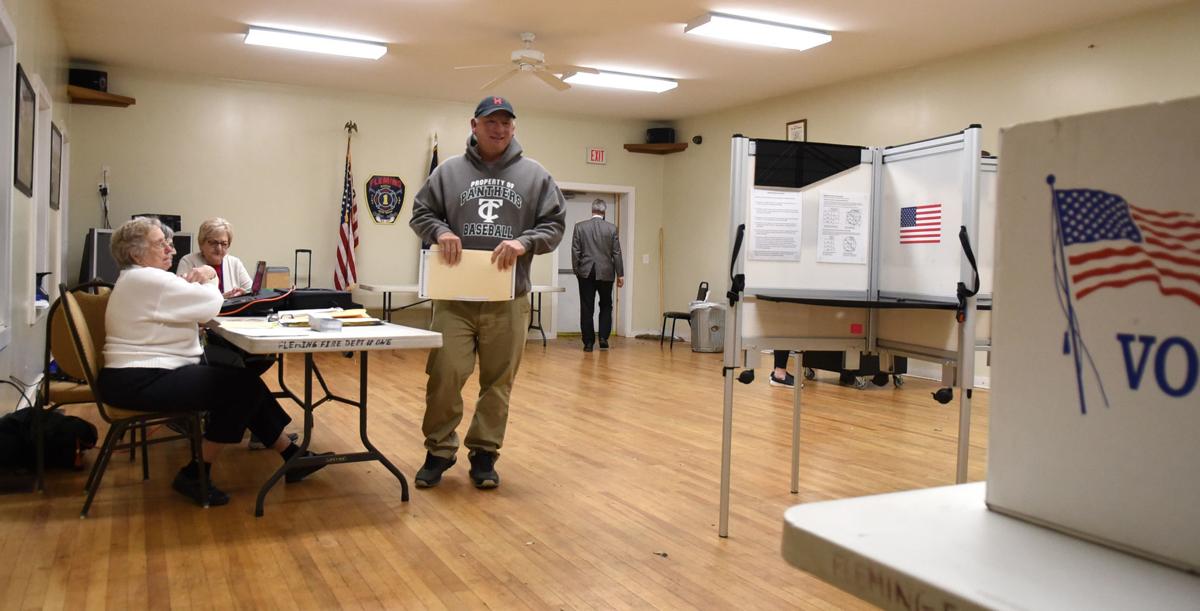 Supporters call it a success. Opponents say it was a waste of taxpayer funds. 
No matter which side you're on, one thing is clear: Early voting has arrived in New York — and it's here to stay.  
According to the state Board of Elections, 256,251 cast ballots during the nine-day early voting period from Oct. 26 through Nov. 3. Statewide turnout was 1.99% during early voting. Twenty-five counties finished with a turnout percentage better than the statewide average. 
Here are five takeaways from New York's first early voting period: 
1. More sites, more voters. The six counties with the highest early voting turnout percentages differ in size, but they had one thing in common: They opted to have more early voting centers than the law requires. 
Under New York's early voting system, there must be one polling location for every 50,000 registered voters. Cayuga, Chautauqua and Columbia counties were required to have one early voting site each, but chose to have three. Columbia County reported 7.15% of voters cast ballots during early voting — the highest percentage in the state. Chautauqua was third-best with 4.71%. Cayuga ranked sixth with 3.91% turnout. 
Erie County had the largest number of polling locations of any county in the state. There were 26,505 voters — 4.17% turnout — at the early voting centers during the nine-day period. The percentage was more than double the statewide average. 
Seventeen counties (excluding New York) had more early voting centers than the minimum required by law. Thirteen counties reported turnout higher than the statewide average. 
2. Turnout better outside New York City. This may change in 2020 when there are more races, including the presidential contest, on the ballot. But turnout was better in counties outside of New York City. 
You have free articles remaining.
In counties outside of the city, 2.58% of voters cast ballots during the early voting period. Within New York City, turnout was 1.14%. 
There were 196,141 early voters outside New York City over nine days. In New York City, there were 60,110 early voters. 
3. The last day was the best day. The highest daily turnout during early voting was reported on the last day — Sunday, Nov. 3. 
According to the state Board of Elections, 43,614 people voted on Nov. 3. The first day of early voting — Saturday, Oct. 26 — had the second-most voters. There were 32,852 early voters on the first day. 
There was steady turnout throughout the nine-day period, but three of the five best days were Friday, Nov. 1, Saturday, Nov. 2, and Sunday, Nov. 3. The state Board of Elections reported that 103,178 voters cast ballots over the final three days. That accounted for 40.3% of turnout during early voting. 
4. Competition was a factor. Competitive races help boost turnout with or without early voting, and there were competitive races in counties that reported the highest turnout rates. 
Dutchess and Erie counties had high-profile races for county executive. In Cayuga County, there were citywide elections in Auburn, a contested race for district attorney and four competitive races for Cayuga County Legislature seats. 
Katie Lacey, the Democratic elections commissioner in Cayuga County, told The Citizen that she believes competitive local races "makes the biggest difference" in boosting turnout. 
5. Early voting will be helpful in 2020. Talk to county election commissioners and they will tell you that the early voting period this year was a trial run for 2020. There will be early voting for the presidential primary in April, the congressional, state and local primary in June and the general election in November. 
With high turnout expected, especially for the presidential election, county election commissioners say early voting will help them handle the increased voter load.