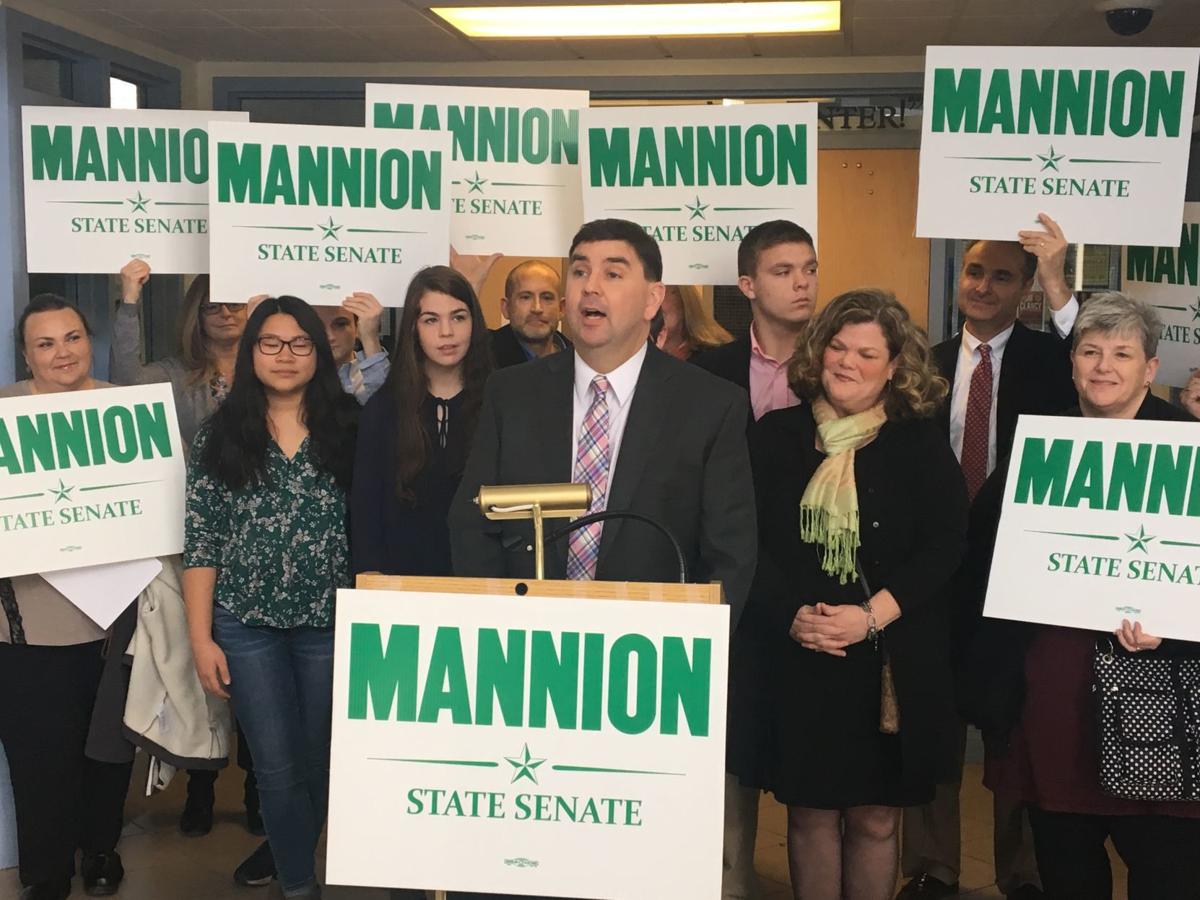 CAMILLUS — If he is successful, John Mannion will go from a classroom in central New York to the state Capitol in Albany. 
Mannion, 49, launched his state Senate campaign Thursday with a press conference at West Genesee High School, where he is an Advanced Placement biology teacher and head of the school district's teachers' union. He is seeking to represent the 50th Senate District, which includes a large portion of Onondaga County. The city of Auburn and the Cayuga County towns of Brutus, Cato, Ira and Sennett are also in the district. 
His educational background laid the foundation for his campaign. As a union president and member of the Onondaga County Teachers' Association, he has been active in advocating for increased state aid for schools and campaigned against the constitutional convention in 2017. 
The effort to defeat the constitutional convention was successful. He noted that when they first started canvassing neighborhoods, polling suggested voters favored the constitutional convention. But by Election Day, the mood had shifted. New Yorkers overwhelmingly opposed the convention. 
"I had some great experiences with those door-to-door conversations that I had with the citizens of this community," Mannion recalled.
A year later, he's hoping his name will be on the ballot in November. 
A married father of three children, Mannion believes the state should provide equitable funding for school districts and give schools the money owed from the Campaign for Fiscal Equity lawsuit. 
"I am an outsider that has spoken many times to elected officials about keeping them to their word," he said. "We cannot let that get out of the limelight." 
Economic development is also one of Mannion's top priorities. He highlighted the successes of the region's medical centers and universities, both of which are major economic engines and employ thousands of central New Yorkers. But he also touted the region's environmental attributes, which could help attract businesses. 
Mannion noted that the Syracuse area has access to plenty of clean water. 
"That is a tremendous resource and I believe that in the future there are going to be industries looking for that water," he said. "Many businesses may have moved away. Some of them are going to come back. We can't damage ourselves by doing any harm to those waterways." 
The 50th Senate District race could be one of the most competitive state legislative contests in New York. The incumbent, state Sen. John DeFrancisco, has said it's unlikely he will seek re-election this year. DeFrancisco, R-DeWitt, is seeking the Republican gubernatorial nomination. 
With DeFrancisco's likely retirement, there are several Democrats and Republicans interested in the race. The number of active Democratic and GOP voters is nearly identical in the 50th district. Republicans hope to retain control of the seat, but Democrats view it as a pickup opportunity. 
Mark English, chairman of the Onondaga County Democratic Committee, named three "active" candidates seeking the party's nomination: Mannion and two DeWitt town board members, Joe Chiarenza and Kerin Rigney. Rigney announced her candidacy last week. 
There are at least two other Democrats interested in the race, according to English. But they haven't made a formal announcement. 
Democrats in the 50th Senate District will meet April 28 to designate a candidate. 
"It's a very high priority and we're going to be working very hard to support whomever our designee is," English said in a phone interview. 
Online producer Robert Harding can be reached at (315) 282-2220 or robert.harding@lee.net. Follow him on Twitter @robertharding.