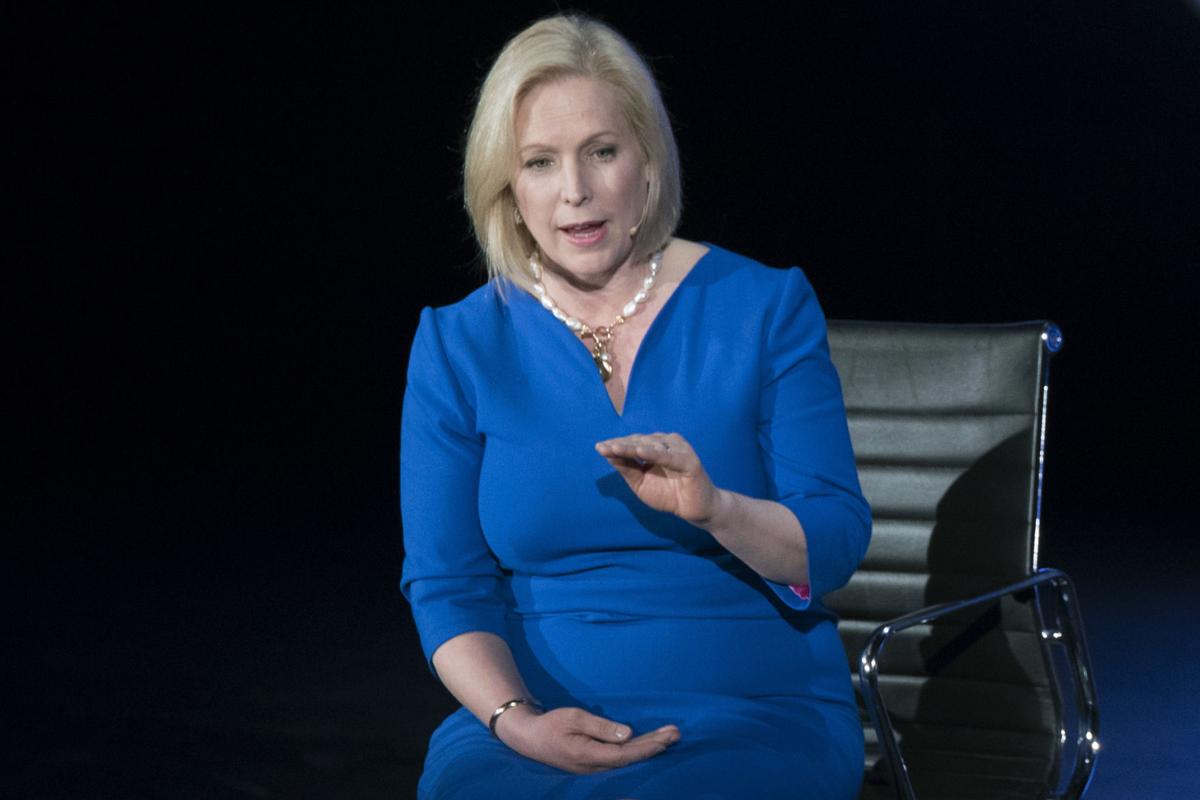 At a Senate subcommittee hearing Wednesday, U.S. Sen. Kirsten Gillibrand made the case for why her paid family leave proposal is the best option for Congress to establish a national program. 
Gillibrand, D-N.Y., and U.S. Sen. Joni Ernst, an Iowa Republican, testified at the Senate Finance Subcommittee on Social Security, Pensions and Family Policy hearing and shared their competing proposals for implementing a national paid family leave program. 
Gillibrand's bill, the FAMILY Act, would be funded through employee and employer contributions — less than $2 a week, she estimated — and provide up to 12 weeks of paid leave. Workers could use the benefit for the birth of a child or to care for a sick family member. 
While some states, including New York, have paid family leave programs in place, there isn't a federal benefit available. The existing Family and Medical Leave Act allows employees to take up to 12 weeks off, but they aren't paid for the duration of their leave. 
"Whatever the case is, no working American should ever have to choose between their family members and a paycheck," Gillibrand said at the hearing. "But if you don't have paid leave, that's exactly the choice you have to make and this is especially true if you are working in a low-wage job." 
Gillibrand explained that 85 percent of workers lack access to paid leave. The United States is the only industrialized country that doesn't have some form of national paid leave system, she added. 
A growing number of Republicans support the concept of paid leave, even if they aren't backing Gillibrand's proposal. 
Ernst, R-Iowa, relayed the story of a constituent, Jessica, who had to return to work after only two weeks off despite having a cesarean section when delivering her second child. 
During her breaks at work, Jessica would pump milk and rush it home so that her husband could feed their newborn son. And with the couple expecting their third child, they are unsure how much time they will have to spend together as a family. 
"Jessica's experience is a similar story in households around the country," Ernst said. "As a nation, we know that we can do better for our families." 
Republicans, including Ernst, are warming to a proposal that would allow new parents to receive Social Security benefits early. This would be a form of paid leave, but it would require the parents to delay their Social Security benefits upon retirement. 
In her testimony to the subcommittee, Gillibrand panned the Republicans' plan. She said her bill "does not create a false choice between having to take money early from your Social Security account. It keeps your Social Security account secure so your retirement benefits are there for you." 
There was one notable attendee at the hearing: Ivanka Trump, advisor to the president and President Donald Trump's daughter. She has called for the creation of a paid family leave program. 
Ahead of Wednesday's hearing, Ivanka Trump authored an op-ed urging both parties to work on a proposal that can receive congressional approval. 
"If executed responsibly, paid family leave is targeted government action with the right incentives — designed to increase the independence, health and dignity of our citizens," she wrote.
There is an aggressive push for paid family leave — at the hearing, Gillibrand said, "We need a national paid leave program now" — but it may not be achieved in this Congress. The midterm elections are less than four months away and there are other priorities at the moment, including the Senate's consideration of Supreme Court nominee Brett Kavanaugh. 
Gillibrand first introduced the FAMILY Act in 2013. The bill has yet to receive a vote in the Senate. 
Be the first to know
Get local news delivered to your inbox!