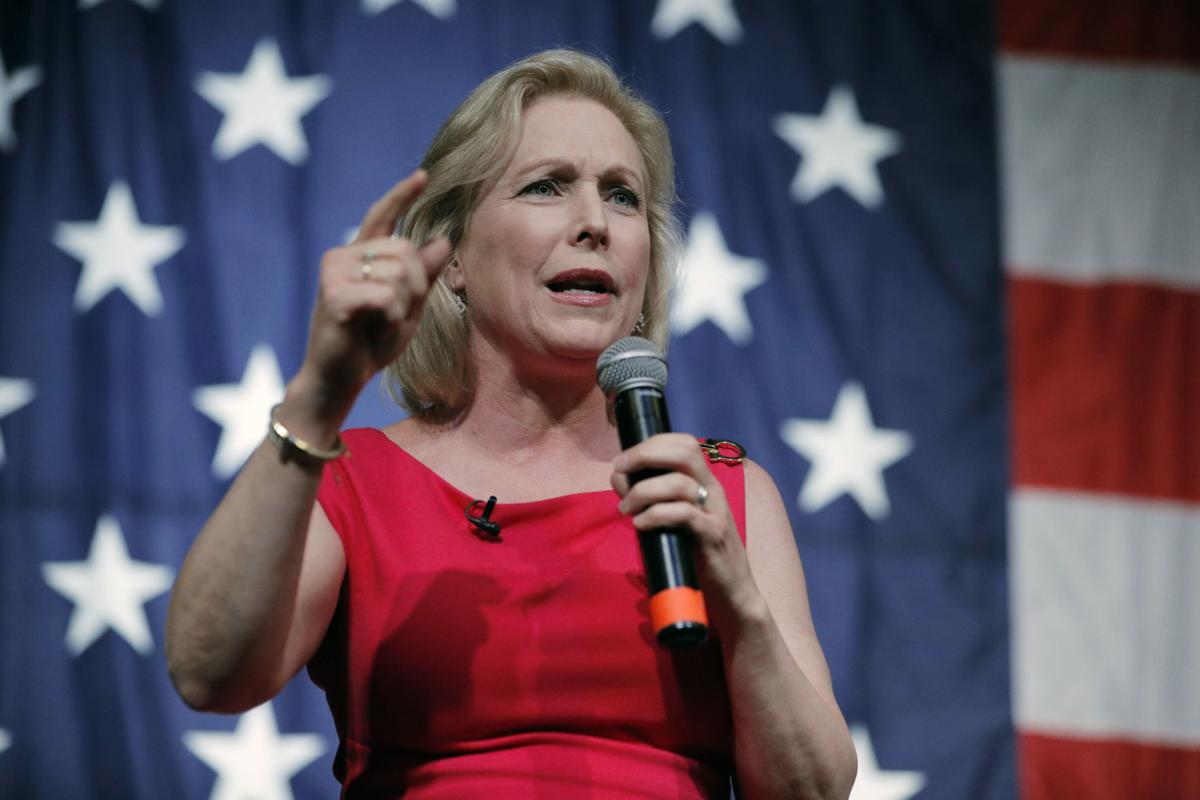 The White House hosted a summit on child care and paid leave Thursday, but there was a notable omission from the guest list: U.S. Sen. Kirsten Gillibrand, who has long advocated for establishing a national paid leave policy.
The summit featured CEOs, lawmakers and members of President Donald Trump's administration, according to White House officials. During a call with reporters Wednesday, Joe Grogan — assistant to the president and director of the Domestic Policy Council — said paid leave is "a priority for this administration." 
But Gillibrand, D-N.Y., questioned whether the Trump administration is serious about establishing a paid leave program. In a series of tweets, she referred to the summit as "nothing more than a photo-op" and said the proposals supported by the White House "fall short of true paid leave" and "would do little to meet real needs of our families."
One of the White House-backed measures is a bill introduced by U.S. Rep. Elise Stefanik, a New York Republican. Stefanik attended the White House summit to discuss her bill, which would allow families to receive a child tax credit advance of up to $5,000. It could be used to cover leave and other child-related expenses, according to a bill summary. The advance would be offset by future reductions in the child tax credit. 
Stefanik, who described her plan as "pro-family" and "pro-business," told The Citizen the proposal is supported by the White House and Ivanka Trump, the president's daughter and senior adviser. 
Gillibrand has been critical of proposals like Stefanik's that don't establish a national paid leave program. Another Republican-backed bill would allow recipients to dip into their Social Security benefits to cover leave and other expenses related to the adoption or birth of a child. But the bill would require individuals who choose that option to delay receiving Social Security benefits when they retire. 
"Unlike the White House proposals, my legislation, the (FAMILY Act), is comprehensive and would ensure every worker can take up to 12 weeks of paid leave no matter the caregiving needed," Gillibrand wrote. "It's an earned benefit, it's self-sustaining, and the idea is supported by a majority of voters." 
Gillibrand's bill would create a national paid leave program that would be funded by a 0.2% payroll tax. Employees and employers would pay the tax, and paid leave would exist as an independent trust fund within Social Security. 
While many of the paid leave proposals only apply to the adoption or birth of a child, Gillibrand's plan would allow workers to take paid leave for the care of a sick family member. 
There are at least eight states, including New York, with paid family leave. New York's program is similar to what Gillibrand's bill proposes for the federal government. In New York, paid leave is funded by a payroll tax and, once fully phased in, employees will be able to take up to 12 weeks of leave to care for a child after adoption or birth, aid a sick relative or assist during a family member's military deployment. 
There isn't a paid leave program at the federal level, although there has been some progress on the issue recently. Congress reached an agreement on a defense policy bill that includes up to 12 weeks of paid parental leave for federal workers. The leave can be used for the adoption or birth of a child. 
With discussions continuing about which paid leave proposal to pursue, Gillibrand believes her bill is the best option. 
"We should not do American workers the disservice of settling for half-measures when the true goal is in sight," Gillibrand said. "The time has come for full paid family and medical leave — and we owe it to the American people to get it done." 
Online producer Robert Harding can be reached at (315) 282-2220 or robert.harding@lee.net. Follow him on Twitter @robertharding.