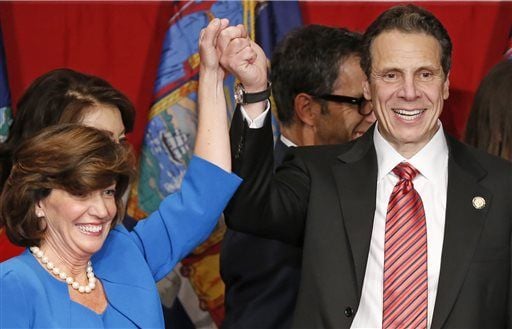 Republican candidate for governor Rob Astorino and running mate Chris Moss defeated Cuomo, a Democrat, and his running mate Kathy Hochul by more than 1,600 votes in Cayuga County.
It was one of several counties Astorino and Moss won Tuesday night, but it wasn't enough to erase the advantage Cuomo and Hochul had in New York City and in some other parts of the state, including Erie County. 
One other Republican statewide candidate won Cayuga County on Election Day. John Cahill, who challenged state Attorney General Eric Schneiderman, a Democrat, received 10,406 votes Tuesday. He won Cayuga County by more than 3,000 votes. 
The state comptroller's race featured the only Democratic candidate to win Cayuga County. And it also featured one of the biggest surprises of the night. 
State Comptroller Tom DiNapoli received 9,770 votes in Cayuga County, beating Republican challenger Bob Antonacci by 1,610 votes. 
Why is that a surprise? Because Antonacci currently serves as comptroller in neighboring Onondaga County. And out of all of the statewide candidates, no one campaigned in Cayuga County more than Antonacci. Yet, he lost by nearly nine percentage points to DiNapoli, who was one of the few statewide candidates not to campaign in Cayuga County. 
Some other tidbits from the Cayuga County results:
- Green Party candidate for governor Howie Hawkins, a Syracuse resident, received 1,168 votes, according to the unofficial vote totals.
When Hawkins ran for governor in 2010, he received 714 votes in Cayuga County. 
- Cayuga County voters rejected Proposition 1, which would establish a new redistricting commission to redraw congressional and state legislative district lines. The proposal received 9,570 no votes and 7,597 yes votes on Tuesday. 
- While Prop 1 wasn't a hit with Cayuga County voters, they did approve Proposition 2, which allows the electronic distribution of state legislative bills. 
The proposal received 12,168 yes votes and 5,183 no votes. 
- The third and final ballot proposition, the $2 billion Smart Schools bond act proposal, divided Cayuga County voters. 
According to the county's unofficial tally, there were 8,898 yes votes and 8,803 no votes for Prop 3. 
Be the first to know
Get local news delivered to your inbox!