In his State of the State address, Gov. Andrew Cuomo sought to address a growing problem on New York college campuses: students who lack access to food. 
Cuomo's proposal, which was included in his 2018-19 executive budget, would require State University of New York and City University of New York institutions to either have food pantries on campus or provide an alternative program for students to receive food. 
Many of New York's public colleges and universities already have a campus food bank. Holly Liapis, press secretary for the State University of New York, said 70 percent of the system's 64 institutions, including Cayuga Community College in Auburn, have food pantries on campus or offer students food through community partnerships.
Some campuses have other programs, including community gardens, emergency food vouchers for students and dining center meal donations. 
"We applaud Governor Cuomo for his proposal to ensure that no SUNY student goes hungry, and we look forward to making this important vision a reality through an expansion of SUNY's current efforts and the work of our food insecurity task force established by the SUNY Board of Trustees in November," Liapis said. 
The problem 
"Hunger on Campus," a study released in 2016, found 48 percent of students surveyed experienced food insecurity within the previous 30 days. Nearly one-quarter of respondents — 22 percent — reported "very low levels of food security that qualify them as hungry," according to the study. 
Food insecurity affects two-year and four-year colleges. One-quarter of community college students and 20 percent of four-year college students said they have low food security. The rates are higher among students of color, with 57 percent of African American students saying they experienced food insecurity. 
Clare Cady, co-founder and co-director of the College and University Food Bank Alliance, tied food insecurity to the rising costs of attending college. 
"Financial aid has not kept pace with that and so students are often finding themselves in situations where they can't make ends meet," Cady said. 
She cited another study that focused on community college students. The survey's key finding was that 33 percent of community college students experience very low food security based on the U.S. Department of Agriculture's standards. 
Cady noted that the number of community college students experiencing food insecurity is more than twice the national average, which is close to 15 percent. 
The study was the second to highlight the food insecurity problem affecting college students. Cady said another study, which will focus on four-year institutions, will be released this year. 
The response
Before Cuomo rolled out his plan to address food insecurity on college campuses, some SUNY institutions have already established food banks to assist students. 
At Stony Brook University, one of the largest institutions in the SUNY system, the campus food pantry has been open since 2013. Anyone with a university identification card — students, faculty and staff — may access the food pantry, which is open primarily during the fall and spring semesters.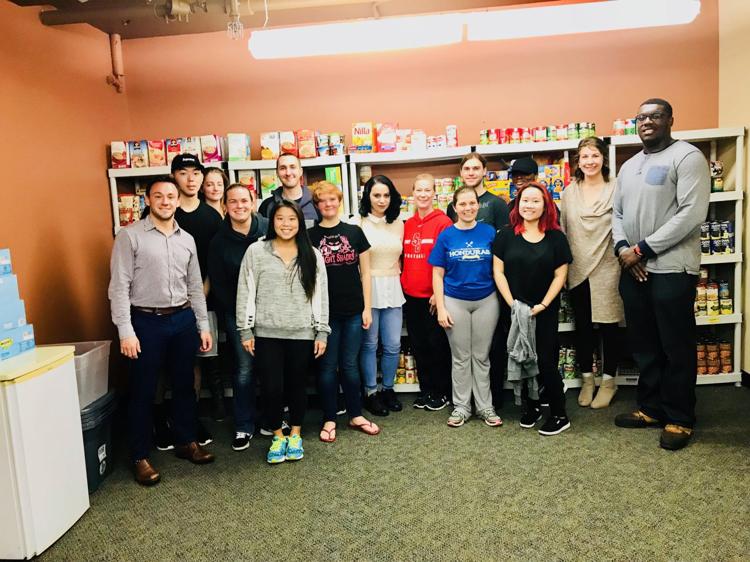 Over the last five years, the Stony Brook food pantry has served at least 4,100 people and averages 15 to 20 visitors a week. 
Donna Crapanzano, a professor at Stony Brook's School of Health Technology and Management and co-director of the food pantry, said most of the food — she estimated about 90 percent — is donated to the pantry. One of the primary sources of food is a large food drive that's held during the spring semester. 
Stony Brook learned more about its food insecurity challenges through an informal survey conducted by a graduate social work student. From that survey it was determined that food insecurity affects faculty, staff and students. 
How Stony Brook administers its food pantry differs from other campus food banks. Since its inception, the food pantry works with a dietitian and nutritionist to design balanced meals for students. That guidance is used to request certain food donations to stock the pantry. 
"One of the things that we do is every guest gets a complete bag of food," Crapanzano said. "It's not a meal replacement. It's really to supplement the meals that you have during the week. So we make sure that every guest receives a fruit, a vegetable, a protein and some type of starch."
The bags don't include chips, cookies and other snacks, but Crapanzano said there is a "junk food table" for guests. 
Many of New York's community colleges have campus food pantries. Schenectady County Community College opened its food bank in January 2017. The decision to establish an on-campus food pantry came after professors noticed students were struggling because they lacked access to food. 
Eileen Abrahams, an English professor at the college, said the food pantry began in a hallway. The school's administration supported their efforts to secure more space for the food pantry.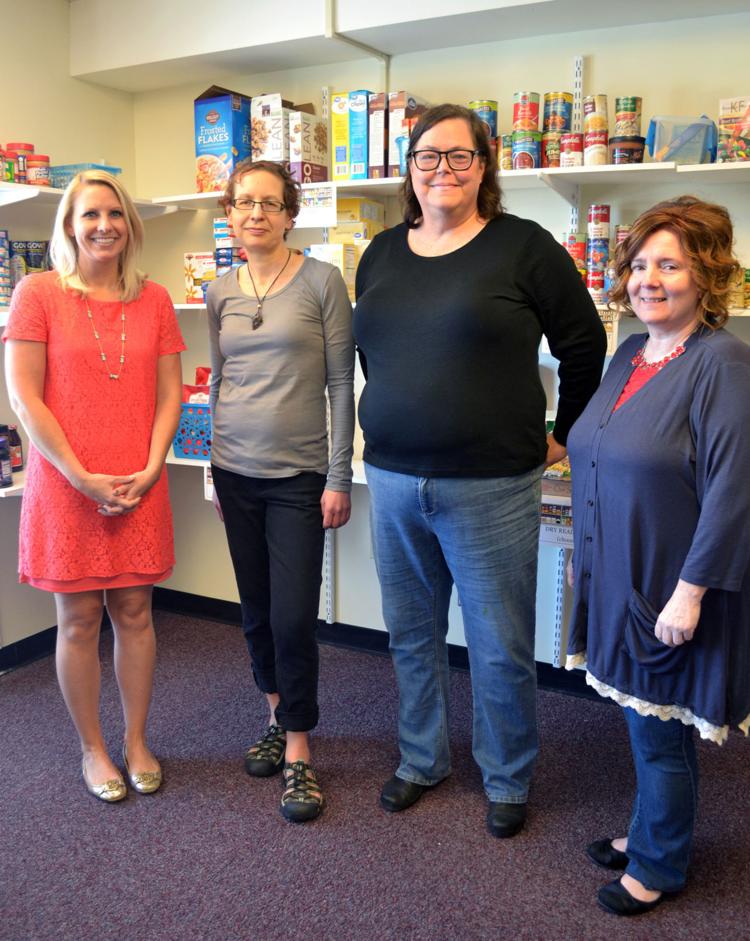 For months, the pantry relied on donations to ensure there was enough food for students. Financial contributions helped organizers keep the shelves stocked. 
SCCC's food pantry is now associated with the Northeast Food Pantry, Abrahams said. They will begin buying food from the Northeast Food Pantry this semester. 
Dr. Aaron Tolbert, interim dean of SCCC's liberal arts department, said the food pantry has served more than 175 students. In addition to food, the pantry also has hygiene products available for guests. 
One of the major differences between food insecurity at four-year schools compared to community colleges is that most students don't live on campus. SCCC, like other community colleges, does not have any on-campus residential facilities. 
For students experiencing food insecurity, the added cost of commuting could pose problems. 
"Our goal is to help all range of students who come to our college be successful, be able to graduate and if they're making those kind of choices between gas money for the car to attend class or food, they're not going to make it to every class," Tolbert said. 
One of the newest on-campus food pantries in the SUNY system is at Cayuga Community College in Auburn. Dr. Jeff Rosenthal, vice president of student affairs at the college, said the food pantry opened in December. 
The college decided to open a food pantry to assist students, primarily those living in Lattimore Hall in downtown Auburn, who were experiencing food insecurity. Rosenthal said one reason why food insecurity is a problem is students attending fall classes don't receive financial aid disbursements until October — roughly the halfway point of the semester. 
"There was a period of time where Lattimore Hall students were struggling to find food because they didn't have money and this was something I thought we could address in a reasonable way," Rosenthal said. 
The food pantry is led by Toni Giannettino, executive director of the Faculty-Student Association of Cayuga Community College and head coach of the men's and women's cross country teams. A fundraiser was held to stock the pantry. While Lattimore Hall students were a main motivator for opening the food pantry, it is open to any student in need.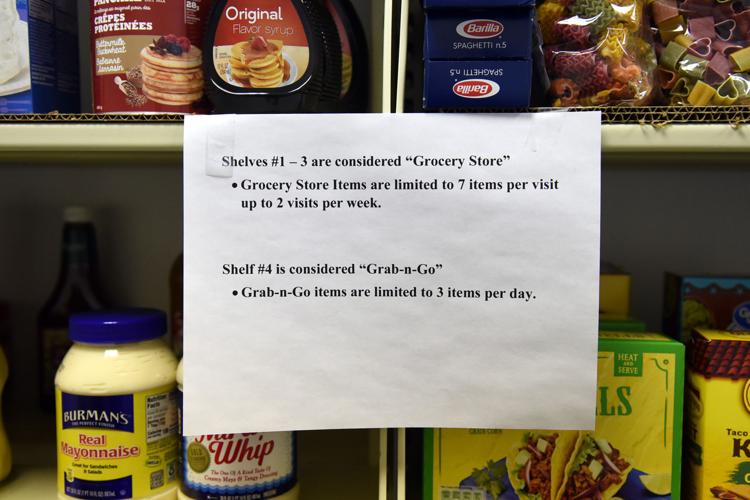 CCC plans to open a food pantry for students at its Fulton campus. Rosenthal said a location has been secured and there has been a fundraiser to collect food donations. The next step in the process is to stock the food pantry and open it for students. 
The college is already considering improvements to the food pantry on its Auburn campus. Rosenthal said they may need a larger room because there are so many food donations. There is also a need for refrigerated items, he added. They are exploring the possibility of buying a refrigerator for the pantry. 
What's next? 
Cuomo included his proposal in the 2018-19 executive budget. Whether it's in the state budget or not, the state Legislature must sign off on requiring SUNY campuses to have food pantries for students. 
So far, Cuomo's proposal has faced little resistance. A factor in that lack of opposition may be that many SUNY campuses already have food pantries or existing relationships with community food banks.
Rosenthal doesn't view the governor's plan as a challenge for institutions, especially community colleges. 
"The colleagues that I talk to at the SUNY community colleges really already have food pantries, so I don't think it's necessarily an undue or additional burden," he said. "They already have it. It's already in place. They're already serving students. So I don't think it's really an issue." 
Clare Cady of the College and University Food Bank Alliance lauded Cuomo for his statewide proposal. She called a "really positive step in the right direction" and believes New York could be a leader in addressing food insecurity on college campuses. 
However, she hopes the mandate will not be the end of the state's efforts to combat food insecurity among college students. 
"What we're seeing across the country are campuses coming up with longer term and more proactive approaches to addressing food insecurity among students," Cady said. "What they might be doing is connecting students with public benefits like food stamps or providing students with food scholarships or vouchers that allow them to get meals more frequently." 
As examples, she mentioned Bunker Hill Community College in Boston and Houston Community College in Texas. Bunker Hill offers food vouchers for students. Houston has a food scholarship program. 
She also noted that several schools in the CUNY system have joined a nonprofit that helps connect students to the Supplemental Nutrition Assistance Program, commonly referred to as food stamps, and other public benefits. 
"I think that campus pantries, which is part of (Cuomo's proposal), is a great start. I think that students needed food yesterday, so to make sure that we set them up with what they need in a quick manner so that they can get it when they have an emergency is excellent," she said. "My hope is that that becomes a catalyst for further action." 
Online producer Robert Harding can be reached at (315) 282-2220 or robert.harding@lee.net. Follow him on Twitter @robertharding.
Be the first to know
Get local news delivered to your inbox!