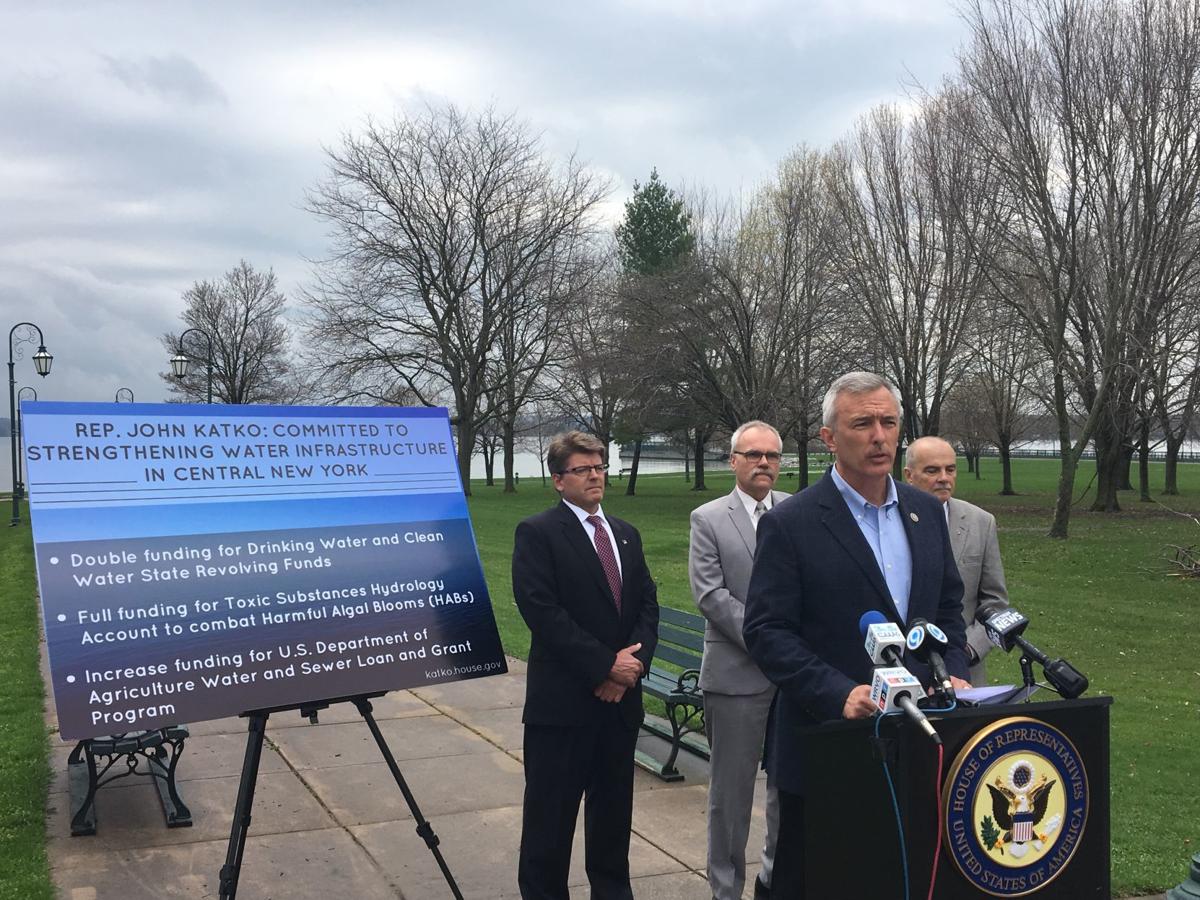 A bill co-authored by U.S. Rep. John Katko that would provide more than $23 billion in funding over five years for water infrastructure projects cleared a congressional committee Tuesday. 
The legislation proposes $20 billion for Clean Water State Revolving Funds. The programs provide local governments with loans and other financing to fund wastewater infrastructure projects. 
Other provisions include $1.5 billion for state water pollution control programs, $900 million for local governments for the reuse or treatment of sewer overflows or stormwater, $600 million for clean water pilot programs to manage stormwater and strengthen treatment plants to withstand storms, and $375 million for water source projects. 
The difference between this bill and past legislation is it would provide a multi-year federal investment in water infrastructure projects. The Clean Water State Revolving Fund hasn't been reauthorized by Congress since 1987, and the authorization for the program expired in 1994. For the last 25 years, Congress funded it through annual appropriations. This includes $1.784 billion for the fund in the 2020 fiscal year. 
"We must ensure central New York and communities across our nation have access to reliable and clean water sources," said Katko, R-Camillus, a member of the House Transportation and Infrastructure Committee.
He continued, "By increasing federal investment in local water projects, authorizing $20 billion in grants for the Clean Water State Revolving Fund and allocating $3 billion toward grants for water pollution and treatment, the bipartisan Water Quality Protection and Job Creation Act will promote economic growth, create jobs and bring our nation's water infrastructure into the 21st century." 
The legislation was introduced by U.S. Rep. Peter DeFazio, an Oregon Democrat and chair of the House Transportation and Infrastructure Committee. The original cosponsors include Katko, U.S. Rep. Grace Napolitano — a California Democrat who chairs the Water Resources subcommittee — and U.S. Rep. Don Young, an Alaska Republican. 
In a statement, DeFazio detailed the effect the bill would have on local governments across the country. He explained that water infrastructure is in "dire need" of federal investment. 
"It's clear communities across the country need a partner to carry out critically important protections, which is why our bill authorizes more than $16 billion to improve wastewater infrastructure, make it more resilient to disasters and affordable for all communities," he said. 
DeFazio added that investments in water infrastructure projects will create jobs and "provide communities with infrastructure that will last for decades." 
With the committee's approval, the bill is a step closer to passage in the House. There are 50 cosponsors, most of whom are Democrats. Katko and Young are two of the three Republicans who cosponsored the bill. 
Online producer Robert Harding can be reached at (315) 282-2220 or robert.harding@lee.net. Follow him on Twitter @robertharding.
Be the first to know
Get local news delivered to your inbox!