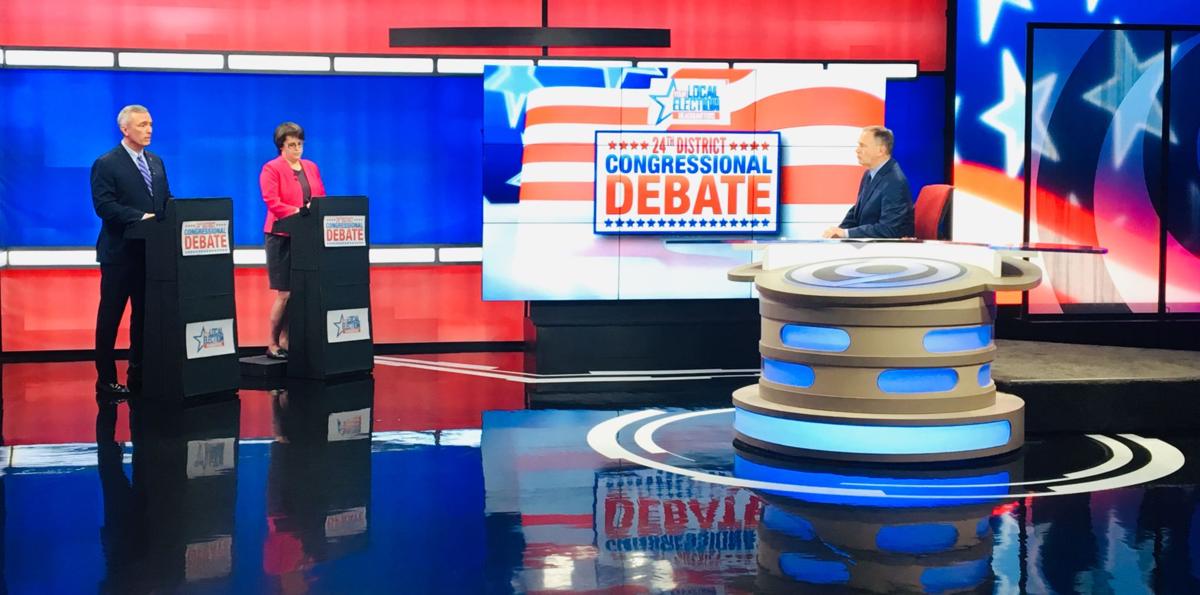 DEWITT — With two days to go until Election Day, U.S. Rep. John Katko and Democratic challenger Dana Balter clashed early and often Sunday during the final televised debate of the 24th Congressional District race. 
A question about Medicare and Social Security from NewsChannel 9 moderator Dan Cummings led to the first of many exchanges between the candidates. Katko, R-Camillus, said the programs are solvent for now, but he's willing to work with members of both parties to preserve them. Balter, D-Syracuse shared that sentiment, saying that the programs are "contracts our government makes with our people."
But the conversation shifted when Balter accused Katko of being willing to cut Social Security for younger Americans. Katko has repeated his position throughout the campaign — that he wouldn't change the programs for anyone receiving benefits or paying into the system now, but would be open to reforms for those entering the workforce. 
From Balter's perspective, that translates to Katko supporting Social Security cuts for younger workers. The incumbent disputed that claim. 
"You can't take words and twist them around," he said. "We should sit down in a bipartisan manner, which is a pretty clear my opponent has a hard time doing." 
Balter fired back by noting that Katko voted for a balanced-budget amendment, which opponents say would harm social insurance programs. 
"He has repeatedly said he is willing to cut Social Security for younger generations," she said. 
They shared different positions on the future of the Interstate 81 project. Katko touted his work to designate I-81 as a high priority corridor, which would put the highway in position for federal funding when the project advances. However, he didn't name a preferred option. Cummings pressed him for an answer, but Katko maintained his long-held stance that he would support whatever the community decides. 
Once a decision is made, he explained, he would "try to build consensus." 
Unlike Katko, Balter took a position. She supports the community grid, which would replace the viaduct by using Syracuse's street network. She believes the grid would encourage economic growth in the city and region, while a tunnel would cause environmental damage. 
Katko argued that Balter was ignoring her potential constituents by stating a preference. He mentioned the concerns raised by town supervisors about the possible increase in truck traffic on local roads if a community grid is installed. 
Balter denied that she was ignoring the town officials. But after several years of discussions, listening sessions and studies, she thinks it's time to make a decision. 
"Let's move forward and make the best choice and make the best of that option," she said. 
Balter and Katko disagreed on more issues throughout the debate. Katko claimed Balter supports establishing a new tax on carbon emissions — she described it as a "revenue-neutral carbon dividend" — and opposes nuclear energy. 
Katko opposes a carbon tax and emphasized the benefits of nuclear energy, especially in central New York. The 24th district is home to three nuclear power plants. 
"I am pro-nuclear," Katko said. 
Later in the debate, the candidates were asked about one of the top issues in the campaign: health care. Balter supports Medicare-for-all, a single-payer health insurance program that would be open to all Americans. 
On the question of how Medicare-for-all would be paid for, Katko claimed Balter was avoiding the "dirty 'T' word" — taxes. 
"She wants to tax everybody to death in this country," Katko said. 
Balter has said that Medicare-for-all would be funded by increasing the Medicare payroll tax. But she has defended the proposed tax hike by explaining that out-of-pocket medical costs would be reduced or eliminated. 
With the repeated questions about how Medicare-for-all would be paid for, Balter accused Katko of a double standard because of his vote for the tax overhaul last year. She has criticized the GOP congressman for supporting the law, which the Congressional Budget Office projects will add nearly $2 trillion to the deficit over the next 10 years. 
"Every independent analysis of Medicare-for-all shows it will save money," she said. 
Balter and Katko participated in three televised debates and an online-only debate organized by Syracuse.com. Now, the focus shifts to Election Day.
Katko, a two-term congressman, will appear on the Republican, Conservative, Independence and Reform party lines. Balter is running on the Democratic, Women's Equality and Working Families ballot lines. 
The polls will be open from 6 a.m. to 9 p.m. Tuesday. 
Be the first to know
Get local news delivered to your inbox!