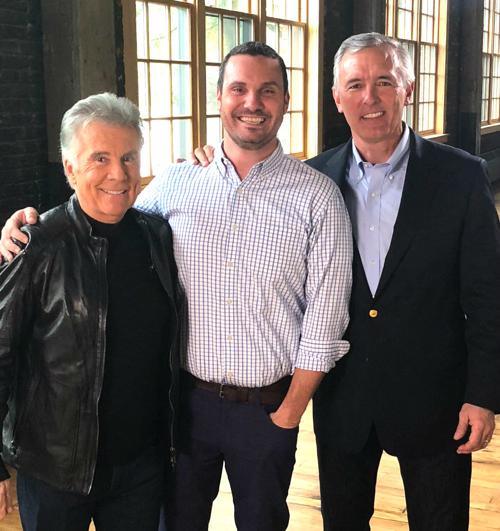 U.S. Rep. John Katko has won three elections. Bob Honold has been behind the scenes of each victory. 
Honold, a Syracuse native and political consultant based in central New York and Washington, D.C., produces television commercials for Katko's campaign. The Katko-Honold duo has been recognized before at the American Association of Political Consultants' annual Pollie Awards. 
This year, the Katko campaign and Honold won two top awards. 
Katko for Congress and Honold Communications won a bronze Pollie in the "Best in Show - Republican Series" category and silver in the "Best Television Campaign - Republican" category. 
For both categories, Honold submitted the campaign's complete television campaign ad portfolio. During the 2018 election, the Katko campaign aired 10 television commercials in the Syracuse market. 
The ads included a 30-second spot featuring Teresa Woolson, an Oswego County resident whose son died after using synthetic marijuana. She has supported Katko's legislative efforts to combat synthetic drugs. Another ad starred John Walsh, an Auburn native and the creator of "America's Most Wanted." 
Honold and the Katko campaign competed against other GOP campaigns across the country. In the "Best in Show" category, finished behind Alabama Gov. Kay Ivey's campaign and Indiana U.S. Sen. Mike Braun's campaign. In the "Best Television Campaign" contest, Maryland Gov. Larry Hogan's campaign beat out Katko for the top spot. 
Honold explained that several factors are considered by judges, including creativity, effectiveness, ethical integrity, strategy and uniqueness. Electoral outcome is also part of the assessment. 
In many cases, winners of Pollie Awards won their elections last year. 
Honold has enjoyed success as a political consultant assisting campaigns across the country. He told The Citizen that he's most proud of his work with Katko's campaign because of his central New York ties. 
"John Katko is more than a client and a friend. He's my congressman," Honold said. "And if we had more like him, Washington would function better and America would be even greater. Way more important than the awards, helping John Katko improve the community I love has been one of the most rewarding achievements of my career." 
Since Katko first ran for Congress in 2014, Honold has produced commercials for the Camillus Republican. The ads have been filmed in the 24th district and Honold's production work is in Syracuse. 
He is planning to shift more of his work to Syracuse instead of splitting time between central New York and Washington. 
Honold has been a go-to political consultant for New York Republicans. In 2010, he was the National Republican Congressional Committee's New York state director. His efforts helped Republican win six House seats in the state. 
"In addition to his record of service, John Katko is especially well served by having Bob Honold, one of the best political consultants in the country, right in his district," former House Speaker John Boehner said in a statement.
Be the first to know
Get local news delivered to your inbox!