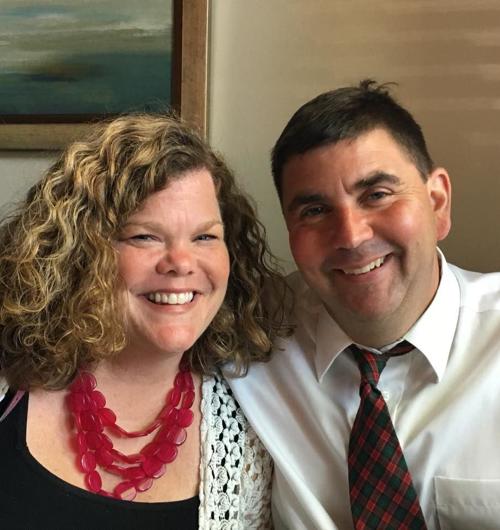 Schiller Park in Syracuse is where it began. 
In the summer of 1991, they attended summer orientation for Syracuse Parks and Recreation employees. John saw Jennifer walk up the stairs. She sat next to him as they waited for orientation to start. 
"I see her and I think I could marry her," John recalled in an interview with The Citizen Wednesday. 
Following orientation, they were assigned to the same parks: LeMoyne Elementary and Norwood. They led various activities, such as arts and crafts, kickball, softball and tennis. Neighborhood children participated in the programs. 
While Jennifer and John worked alongisde each other for the summer, their relationship didn't begin until February 1992. Jennifer, who attended Le Moyne College, visited a friend at SUNY Oswego. She reconnected with John, who was a student at SUNY Oswego. That's when they began dating. 
After five years of dating, Jennifer and John got married. Both are educators and have been married for 22 years. The couple has three children. 
"As fate would have it, she ends up being my greatest ally, my best friend, the funnier half of a two-person comedy team and the mother of my kids," John said. 
Mannion, a Democrat, shared his story because it's his main motivation for running. He was the Democratic nominee in 2018 when he faced Bob Antonacci, a Republican, in the 50th Senate District race. Antonacci won by 2,332 votes. The campaigns and outside groups spent nearly $3 million. 
In September, Mannion told The Citizen he was considering another run for state Senate. One reason for his interest is Antonacci opted to run for a state Supreme Court judgeship. If he was successful, Antonacci would resign from the Senate and Gov. Andrew Cuomo could call a special election. 
On election night, Antonacci received the second-most votes in the five-person race for three state Supreme Court seats. He will give up his Senate seat by Jan 1. If Cuomo calls a special election, the earliest it could be held is mid-March. 
Mannion told The Citizen last week that his platform is the same as it was in 2018. He wants to boost central New York's economy, advocate for equitable education aid, advance ethics reform measures and push for environmental protections. 
With his campaign launch event at Schiller Park Wednesday, he shared the story of meeting Jennifer and what they've created together in central New York. He hopes other central New Yorkers can do the same. 
"I wanted to highlight that because we've had a great life, an enriched life and we want that for our kids," he said. "I know the importance of having a strong advocate in Albany for the district. That's why I want to do it again." 
Online producer Robert Harding can be reached at (315) 282-2220 or robert.harding@lee.net. Follow him on Twitter @robertharding.
Be the first to know
Get local news delivered to your inbox!