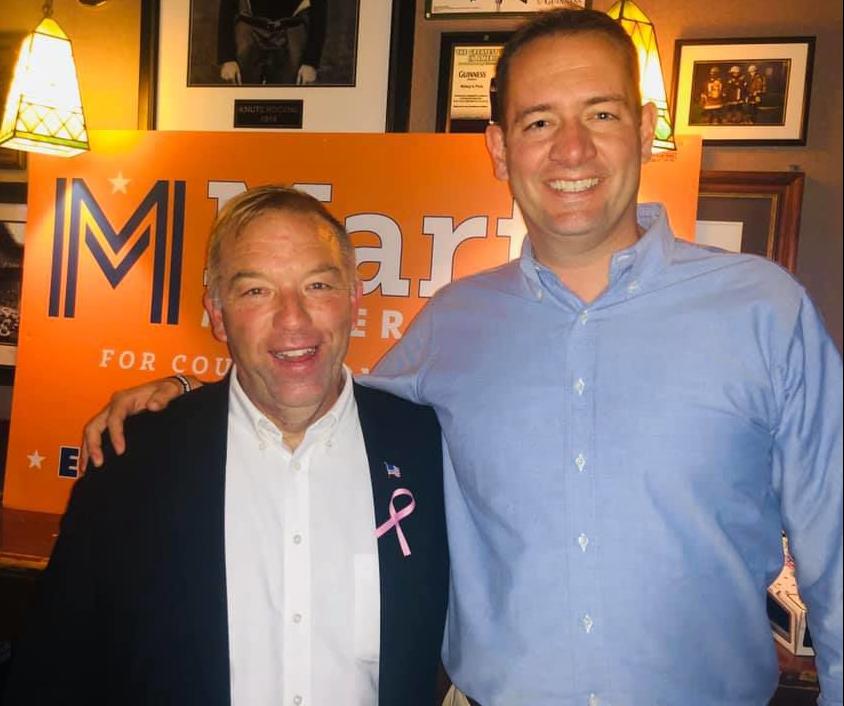 Fresh off his election night victory, Marty Masterpole is taking sides in the Democratic primary for the 24th Congressional District seat. 
Masterpole, who is the first Democrat elected to serve as Onondaga County comptroller and the first Democrat to win a county-wide seat since 1987, endorsed Francis Conole for Congress. 
Conole, D-Syracuse, is one of three Democrats seeking the party's nomination to challenge U.S. Rep. John Katko, a three-term Republican, in the 24th district race. Dana Balter, who challenged Katko in 2018, and Roger Misso are the other contenders. 
Masterpole, who received Conole's support during his bid for county comptroller, explained why he's backing Conole for Congress. 
"My campaign was about bringing fresh leadership and real experience to the office of Onondaga County comptroller to serve the people of our community," Masterpole said. "Now at a time when our national security, election security and democratic institutions are all under threat at the federal level, we need to nominate a congressional candidate that will bring fresh leadership and real experience to central New York." 
He continued, "Francis' 20-plus years of service at the tactical, operational and strategic levels of our military, along with his deep roots in our community, and juggernaut campaign operation makes him the only candidate that can beat John Katko next fall and serve the people of New York's 24th district." 
You have free articles remaining.
The endorsement is the third Conole has received from an elected Democrat in Onondaga County. He received the first endorsement in the 24th district race when Onondaga County Legislator Peggy Chase, who also chairs the 5th Ward Democratic Committee in Syracuse, announced her support of his candidacy in May. 
There have been other endorsements in the race for the Democratic nomination. Balter has won the support of three national organizations in her second campaign for Congress. She received endorsements from Democracy for America, an organization founded by former Democratic National Committee chair and presidential candidate Howard Dean, and EMILY's List, a group supporting pro-choice Democratic women for political office. 
Masterpole's endorsement comes two days before the congressional candidates are scheduled to appear before the Onondaga County Democratic Committee. The committee is beginning its process to formally designate a candidate in the 24th district race. The designation will be made in February before the petition process commences. 
In a statement, Conole said he's honored to receive Masterpole's support. 
"Marty has served our community nearly two decades as Syracuse common councilor, Onondaga County legislator and city of Syracuse auditor. His historic victory proves the people of our community are tired of the same politics as usual and hungry for change," Conole added. "I look forward to working with Marty Masterpole to bring forward fresh leadership and new ideas that serve the people of central New York." 
Online producer Robert Harding can be reached at (315) 282-2220 or robert.harding@lee.net. Follow him on Twitter @robertharding.