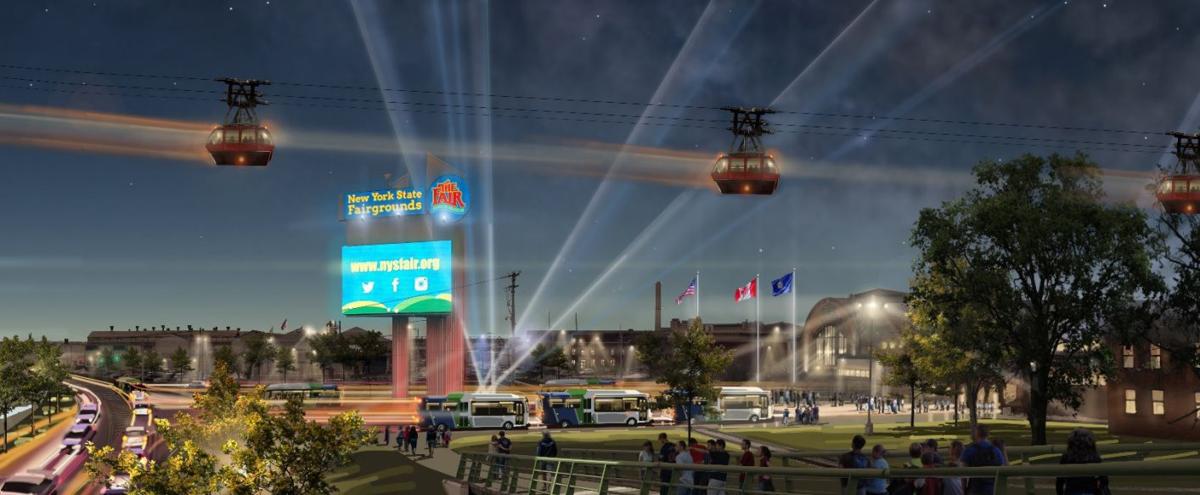 There's a good possibility the proposed $15 million aerial gondola at the New York State Fairgrounds will be delayed, according to Onondaga County Executive Joanie Mahoney. 
During the exchange with Axe, Mahoney revealed that higher than expected costs for a new expo center at the fairgrounds may require state and local officials to abandon the gondola project, at least for now. 
Mahoney cited experts who have said that to attract major horse shows, the expo center would need to be bigger. The state has already allocated $35 million for the design and construction of the facility. 
"If the price tag gets too big, that will come before the gondola and we have to put it off again," she said. 
The idea for a gondola was included in Gov. Andrew Cuomo's plan to invest $70 million for a second phase of improvements at the fairgrounds. Along with the expo center and gondola, he called for $20 million to improve the Orange Lot and install an on ramp from the lot to Interstate 690 west. 
The 2017-18 state budget deal included the funding for the three projects. 
Despite the agreement, critics have dismissed the gondola as an example of wasteful government spending. State Sen. John DeFrancisco, who served on a state fair task force responsible for making recommendations to the governor, said the panel didn't endorse the gondola. 
Mahoney defended the task force's work in an interview last week and said the 21-member committee discussed the gondola before it was included in Cuomo's $70 million plan. 
The plan for the gondola was to make it a year-round attraction, Mahoney told The Citizen. A terminus near gate 10 of the state fairgrounds would feature an area where visitors could sample New York-made beverage and food products. 
The gondola would transport passengers from the fairgrounds to Lakeview Amphitheater. It would also be used to link the fairgrounds with the county's "Loop the Lake" trail system. 
A private operator would be tapped to run the gondola, Mahoney said. 
But now the gondola faces uncertainty due to the needs of the expo center. The 80,000-square-foot facility, as proposed by the governor, would feature open space for events and up to 5,000 seats. For equestrian events, there would be a removable arena and as many as 2,000 removable bleacher seats. 
A fact sheet released by Cuomo's office said the center could host large farm and tractor shows, boat shows and other events.
"The biggest car auctions, the biggest trade shows, it will be one of the largest venues in the country, literally to host shows" Cuomo said in January. "So it would open up an entirely new market."