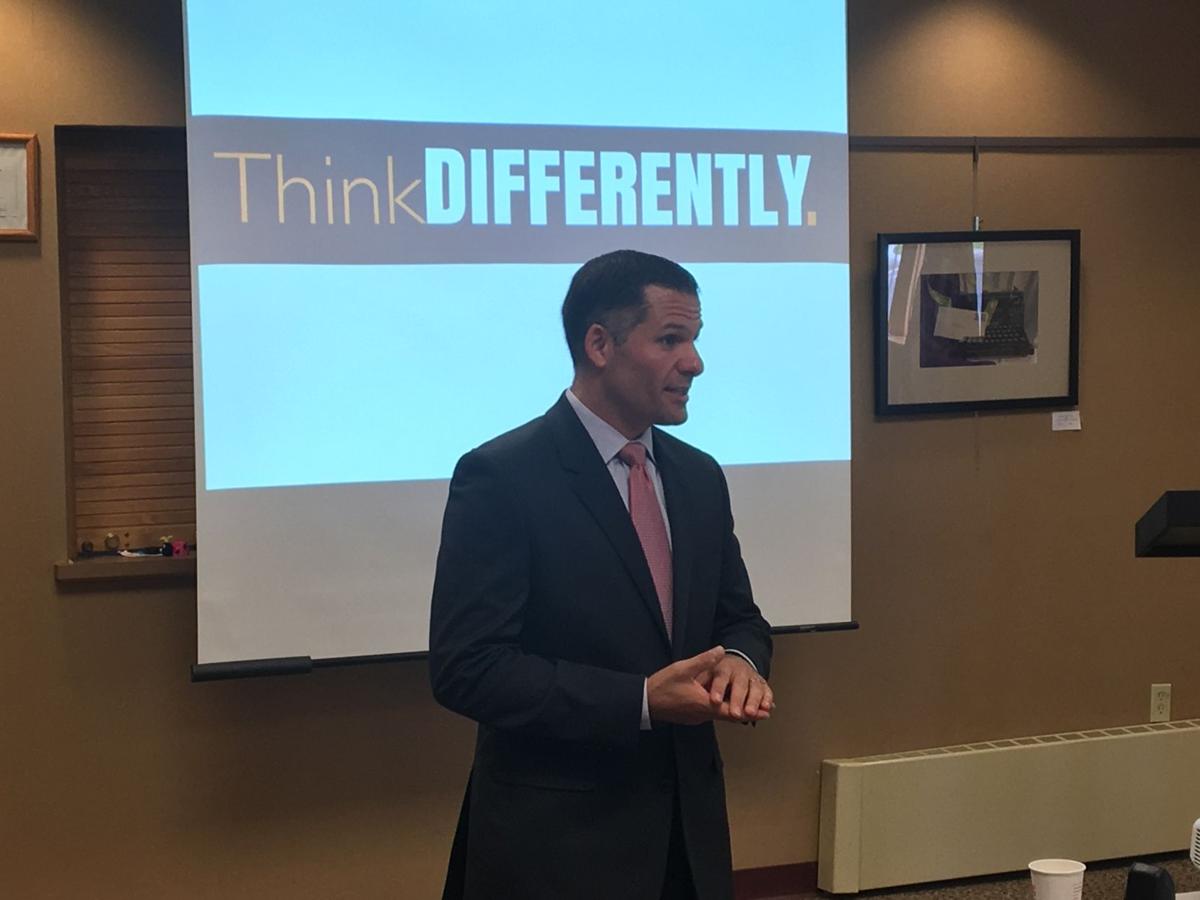 SENECA FALLS — Dutchess County Executive Marc Molinaro recalls the moment he began thinking differently about how to address issues affecting people with special needs. 
It was four years ago. His daughter, Abigail, was crying in her bedroom. She was unable to tie her shoes. 
For a young child, tying shoe laces isn't an unusual challenge. But Abigail, who is on the autism spectrum and has a seizure disorder, was 9 years old at the time. 
Without hesitation, Molinaro wanted to help. He offered to tie his daughter's shoes when his wife quickly intervened. 
"You can't do that," she said, according to Molinaro. "You have to think differently about the way we teach her." 
The moment motivated Molinaro to take action. In 2015, he launched the "ThnkDifferently" campaign. Dozens of local governments in New York, including the village of Weedsport in Cayuga County and the town of Tyre in Seneca County, have adopted resolutions to support a more inclusive environment for individuals with special needs. 
Molinaro's home, Dutchess County, passed a "ThinkDifferently" resolution of its own. The New York State Association of Counties also embraced the campaign, he said. 
The goal of spreading the initiative, Molinaro said during a presentation in Seneca Falls last month, isn't to promote his county or himself. It's about spreading the message that "anyone of any ability has the ability to achieve."
"And with that, if we see the humanity in each person, we can solve problems that maybe too often we don't want to confront," he said. "We can help empower. We can help promote. We can help support. We can ensure that we're helping as many individuals live as independently as possible." 
Dutchess County leverages $2 million annually through the federal Community Development Block Grant program to fund projects that achieve compliance with the Americans with Disabilities Act. The funding supported several notable projects, including Julie's Jungle, a playground with accessible equipment. 
Molinaro appointed Toni-Marie Ciarfella as Dutchess County's first deputy commissioner of special needs. Ciarfella is the county's "resident expert," Molinaro said. She serves as a one-stop shop for those who are seeking more information about how to access various government services. 
The county also has a $50,000-a-year contract with the renowned Anderson Center for Autism to educate businesses and organizations on how to communicate with consumers and prospective employees with autism. 
The educational component of the campaign extends to law enforcement officers and other first responders. The county is providing crisis intervention and mental health first aid training to encourage police officers to de-escalate situations involving individuals with special needs. 
Dutchess County hosted the Special Olympics New York State Winter Games in 2016 and 2017. A separate sporting event, the "ThinkDifferently" dash in Poughkeepsie, was held June 10. 
As more local governments embrace the "ThinkDifferently" message, Molinaro is hopeful that the campaign will spread across the state and, possibly, the country. He relayed the story of a woman from San Francisco who read about the initiative and "fell in love" with the concept. 
"If we do this right," he said, "we'll be changing a lot of lives." 
Be the first to know
Get local news delivered to your inbox!