EYE ON NY
Nozzolio reflects on 34-year career in NY Legislature, work with Auburn constituents
Former U.S. Rep. Gary Lee remembers first meeting Michael Nozzolio.
It was the early 1970s and Lee was chairman of the Tompkins County Republican Committee. He was at the county GOP headquarters when Nozzolio, then a student at Cornell University, walked in. He was interested in volunteering for the party.
"I'd never met him," Lee said in a recent phone interview. "He introduced himself. He was a very polite, very neat, very clean looking young man."
For Nozzolio, the son of working class parents from Seneca Falls, the seed was planted for a career in public service. More than four decades later, he's retired after 34 years in the New York state Legislature — 10 as a member of the state Assembly and 24 as a state senator.
The last day of his final term in office was Saturday.
Between that meeting with Lee more than 40 years ago and the end of his legislative career, Nozzolio recorded several achievements, built friendships and drew positive — and some negative — reviews of his work. He's been called a champion for his constituents and nicknamed the "Senator of the Finger Lakes." He's been hailed for his sharp political mind and criticized for his role in the state's redistricting process.
His impact can be seen throughout the Finger Lakes region, including in Auburn and Cayuga County — an area he's represented for the entire duration of his time in Albany.
VOLUNTEER, THEN STAFFER
It wasn't long after the meeting at the Tompkins County GOP headquarters that Lee, who also was the chairman of the Tompkins County Board of Representatives at the time, decided to run for higher office.
Assemblywoman Connie Cook was retiring and Lee entered the race. Nozzolio worked on his campaign and, after Lee won the election, helped at his legislative offices.
Lee, with the help of the late state Sen. William "Cadillac" Smith, secured a $3,000 stipend to help Nozzolio with his expenses — he was still a student at Cornell University at the time — and to reimburse him for his work.
"His character just radiates excellence," Lee said of Nozzolio. "He was a very compassionate young man and he always had a sense of purpose, which I was always impressed by that."
As a member of the state Assembly, Lee was one of the early supporters of boosting New York's wine industry. In the 1970s, the state lagged behind others, including California, in grape production.
Lee partnered with a Democrat to introduce legislation that increased the amount of grape juice that could be converted into wine each year. He said Nozzolio, who would support wineries and grape growers throughout his legislative career, played a role in crafting the legislation.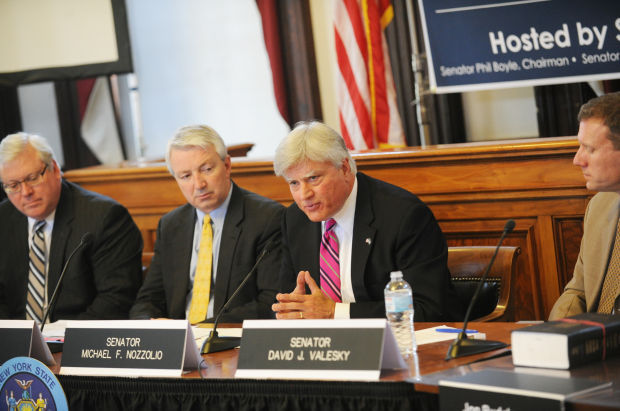 When Lee successfully ran for Congress, Nozzolio followed him to Washington. Nozzolio was Lee's legislative counsel and worked on a host of policy matters, including Indian land claims — another issue that Nozzolio was actively involved in during his time as a state legislator.
After working in Albany and Washington, Nozzolio's time as a legislative aide was coming to an end. He had followed and assisted Lee, among others, during and after he completed his studies at Cornell and Syracuse University law school. Now, he was thinking about his own run for public office.
RUNNING FOR OFFICE
Following Ronald Reagan's win in the 1980 presidential election, Nozzolio had an opportunity to work in the White House. But back home, there was another opening.
Assemblyman Lloyd "Steve" Riford opted to run for the state Senate in 1982. Riford's district included Nozzolio's home county, Seneca, and Cayuga and Wayne counties.
Nozzolio, who was 31 at the time, was encouraged to run to succeed Riford in the Assembly.
"I never had any desire to be in elected office," Nozzolio recalled in an interview. "I trained myself through graduate school and law school to be a contributing member of a policymaking staff, but never really had considered running for office. I mean that.
"I have a last name that I'm very honored to have, but it's difficult to pronounce and impossible to spell. I never thought that we could even fit Nozzolio on a bumper sticker let alone be able to get elected."
But with Riford's decision to seek higher office, Nozzolio knew it was an opportunity he couldn't pass on.
"To me, I probably would never have this type of experience available to me again," he said. "It wasn't an easy decision, but it was a decision that my wife and I decided was the appropriate thing to do."
Nozzolio remembers that there were at least 11 candidates in the race for the 128th Assembly District seat when he first announced his candidacy. He faced Lawrence Wilkins Sr. in the Republican primary and won by more than 1,300 votes.
In the general election, Nozzolio's Democratic opponent was George Souhan, the son of former state Assemblyman Francis Souhan.
Francis Souhan also was a textile manufacturer. Nozzolio's parents were employees at one of Souhan's mills.
Nozzolio knew it would be a tough race.
"I didn't have anywhere near the resources that my opponent had, but I did know how to work hard," he said.
With 21,976 votes, Nozzolio was elected to the state Assembly. He defeated the younger Souhan by nearly 6,600 votes.
FROM ASSEMBLYMEN TO LIFELONG FRIENDS
As a young assemblyman in Albany, Nozzolio forged friendships with two colleagues, Bill Paxon and Richard Wesley, who would go on to have distinguished careers in public service.
After winning their respective elections in 1982, the trio spent time together during orientation for new members of the Assembly Republican Conference. It was during those sessions that a lifelong bond between the three upstate Republicans was born.
Nozzolio, Paxon and Wesley lived together while in Albany and had their offices adjoining each other. They sat together on the Assembly floor during legislative sessions.
"Most political friendships are friendships of accommodations," said Wesley, who is now a U.S. Circuit Court judge. "You have mutual interests. You work on bills together and stuff like that. But Michael, Bill and I became really, really close friends."
The nature of the friendship was evident when Nozzolio announced early in 2016 that he wouldn't seek re-election due to a health issue. He needed to have surgery to repair faulty heart valves. He underwent successful surgery in April at the Cleveland Clinic.
"When Michael had his surgery, we were on the phone. We were ready to go to Cleveland at a moment's notice," Wesley said.
Paxon, who served in Congress from 1989 to 1999 and is now a lobbyist, recalled other moments when the men were there to support each other.
"We've been through family times, good and bad," he said. "We've been through the loss of Mike's parents and Dick's mother and my father. We've been through the births of children — our two children. We've always been there for each other and supported each other as we made changes in our political careers — Dick to the bench and Mike to the Senate and me first to the (U.S. House of Representatives) and then to the private sector.
"It's been a great and enduring friendship. We talk to each other regularly. We get together for dinner regularly. It's been terrific."
STATE ASSEMBLY
Nozzolio's tenure in the Assembly stretched from 1983 to 1993. Together with Paxon, Wesley and others, he focused on an array of issues that affected his Finger Lakes district.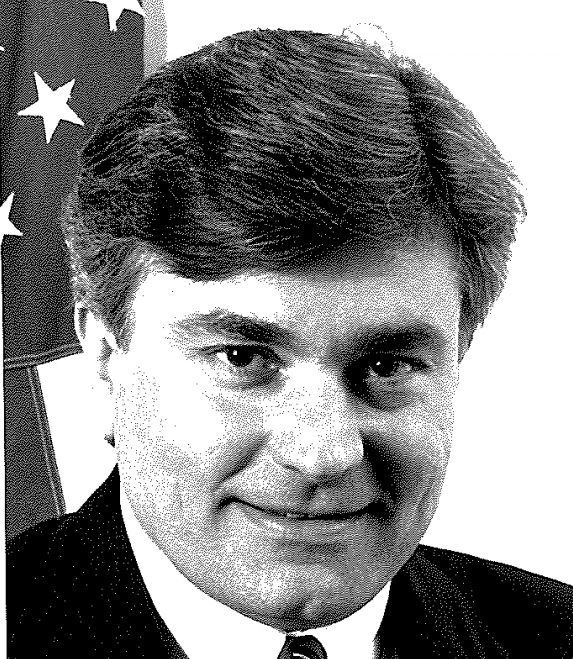 The inspiration for his first bill in the Assembly came from an Auburnian. Nozzolio was campaigning in 1982 when he met Bill Jacobs, who was an Auburn fire captain at the time. Jacobs also worked as a firefighter trainer.
In a conversation with Nozzolio, Jacobs discussed the challenges firefighter trainers faced. That led Nozzolio to draft legislation to ensure trainers were protected if they were injured while performing their duties.
He was the first member of his Assembly class — Republican or Democrat — to have a bill signed into law.
Nozzolio said the state Assembly was "a wonderful place to enhance your creative ideas."
"We had an excellent leader (the late Assembly Minority Leader Clarence "Rapp" Rappleyea) who encouraged our participation, encouraged our creativity," he said. "It was a great place because of the people that we had on our side of the aisle who ended up being congressmen, who became important judges, members who had run for governor ... It was a place where, at that time, there was a great deal of energy and creativity.
"It was a place that we all learned from each other. The future of government service into the next 25 to 30 years was established by the young men and women who were elected to the Assembly in the mid 1980s."
Nozzolio partnered with his friends Paxon and Wesley on issues that affected their respective districts.
Wesley, whose district included the westernmost Finger Lakes, said Nozzolio focused on legislation that would encourage the development of vineyards to boost New York's wine production.
"That was one of the things that Michael really zeroed in on and took an interest in," Wesley said. "I had a little slice of the Finger Lakes, so I had some interest in it also."
Paxon noted that Republicans, much like they are today, were the Assembly's minority party. There was also a Democratic executive, Gov. Mario Cuomo. But that didn't prevent Nozzolio from finding consensus on legislation, particularly bills to help those working in the state's correctional facilities.
"Mike worked on a whole host of legislative initiatives, many of them to do with corrections because he had and still has in his district a huge presence of correction officers and corrections department employees and that was something he did right from day one as he walked into office," he said.
"Mike cared very deeply about those men and women who had to work in a very tough and demand environment and so he worked hard on those issues. Mike, even though we were in the minority in the Assembly, worked across the aisle with his Democratic colleagues. He worked with the Cuomo administration and his Senate colleagues on issues like that and many others and became well known and respected as someone who could figure a way through the legislative process to solve problems."
During his time in the Assembly, Nozzolio rose to the No. 2 leadership post — deputy minority leader. On the political side, he was tapped to lead the Republican Assembly Campaign Committee.
After a decade in the Assembly, he ran for the state Senate.
STATE SENATE
Nozzolio was elected to the state Senate in 1992. The move from the Assembly minority to the Senate majority gave him a better platform to advocate for the Finger Lakes.
He continued to focus on the state's correctional facilities and criminal justice issues. He served as chairman of the Senate Crime Victims, Crime and Correction Committee and later chaired the Senate Codes Committee.
Beginning with his Assembly term and during his Senate career, Nozzolio heard from correctional facility employees, including some who work at Auburn Correctional Facility, about the conditions in the prisons and the need for better protections. Those conversations led to legislation that increased penalties for harming correction officers and other prison personnel.
One such bill Nozzolio sponsored sought to increase penalties for inmates who engaged in "dousing," which involve the use of bodily fluids as weapons against prison personnel.
"That heinous behavior was risen to the level of a felony when we enacted this legislation," Nozzolio said. "But again, it was legislation that will protect every member of the correctional personnel across our state but had its genesis in Auburn and with constituents who were working every day at the Auburn Correctional Facility."
Nozzolio also introduced "Brittany's Law," a measure that would create a statewide violent felony offender registry, similar to the state's existing sex offender registry. The bill is named for Brittany Passalacqua, who was killed along with her mother by a man with a previous violent felony conviction.
One of the few disappointments Nozzolio has with his tenure in Albany is the inability to enact Brittany's Law before his retirement. The Senate passed the legislation year after year, but it didn't gain enough support in the Assembly. He's hopeful that someone else will take up his cause and get the bill signed into law.
"I most certainly will advocate as a private citizen to continue the work to get Brittany's Law established," he said.
There were more successes than failures, however. One success was inspired by the loss of his nephew, who was entering his senior year at Cornell University and a midshipman in the Naval ROTC program.
Nozzolio's nephew, Matthew, was on board a ship during summer maneuvers when he contracted meningitis. Less than a day after his diagnosis, he died.
"It was a very tragic situation," Nozzolio said.
As his family grieved Matthew's death, Nozzolio learned that a couple from Auburn, Bob and Sharon Penafeather, had lost their son, Patrick, to meningitis. The Penafeathers organized a scholarship in their son's honor and Nozzolio attended the golf tournament to support the scholarship fund.
Nozzolio joined forces with the Penafeathers and drafted legislation to better educate college students about meningitis and how it could be prevented.
He worked with another Auburnian, Cynthia Watkins, to improve privacy protection in New York. Watkins, a former kindergarten teacher, was the victim of identity theft during the early days of internet commerce in the mid 1990s. She was one of the first known identity theft victims in the region, Nozzolio said.
Watkins went to Nozzolio's district office to meet with the senator, then traveled to Albany to testify about her ordeal. Nozzolio served on a task force that focused on privacy protection.
"We enacted some very strong laws in the state," he said. "Internet crime and identity theft are still growingly pervasive in our society, but those initial protections that were established in law to help protect consumers and Cynthia Watkins is largely responsible for the state Legislature being involved in getting changes in the law."
Among the lasting pieces of Nozzolio's legacy is his role in the development of "A Call to Action: A Blueprint for Our Region's Future." He led a panel that explored ideas to boost economic development in Auburn and Cayuga County. 
A group of Auburn-area stakeholders, including Matteo Bartolotta and Jack Bisgrove, asked Nozzolio to help them create an agenda for the future of the city and county. Meetings were held. The sessions each lasted up to four hours. 
"This wasn't about me. I acted as a facilitator," Nozzolio said. "This was about them telling everyone, including me, what they would like to see established to help move Auburn forward. 
"This became something that generated a lot of energy among the group that we had put together. Their enthusiasm and support of a series of agenda items that they helped with created excitement in the community for those items. Sooner or later the local governments seized upon it and said that this is something that we understands need to be established and have the support from a variety of different sources." 
Several ideas highlighted in the Blueprint report were acted upon. Some are still in development. Others never materialized. 
"I think the Blueprint should be brought forward in a variety of different ways constantly," Nozzolio said. "You don't need your senator to do this." 
CORNELL
A constant throughout Nozzolio's legislative career was support for his alma mater, Cornell University. 
Nozzolio earned undergraduate and graduate degrees at the Ivy League school. He said that's where he not only learned much about the world, but became more informed about New York and state government. 
The first time he visited Albany was with Martin P. Catherwood, who was the dean of Cornell's Industrial and Labor Relations school. 
Catherwood was a state commerce commissioner and served under two governors. 
"He was just a walking encyclopedia of New York state history, New York state government," Nozzolio said. 
During graduate school, Nozzolio's minor was resource economics. His studies included a field trip to Cayuga County for a discussion about the future of Cayuga Lake. 
That experience proved useful later in his career when he helped Hobart and William Smith Colleges establish the Finger Lakes Institute. 
Nozzolio has also supported Cornell's agricultural experimental station in Geneva and the creation of the university's Institute of Food Safety. He secured a $2 million grant for the establishment of the food safety institute, which will be based in Geneva. 
"(Cornell) has played a tremendous role in the development of our agriculture industry, our wine and grape industry," he said. "As agriculture is our No. 1 industry in the state still, and Cornell has always been at the cutting edge of helping agriculture move forward." 
GOVERNORS
During a career that spanned more than three decades in Albany, Nozzolio worked with five governors. 
Former Gov. George Pataki, a Republican who was in office from 1995 to 2007, was one of them. Before he was elected governor, he served with Nozzolio in the Assembly and Senate. 
When asked during a recent interview about Nozzolio's career, Pataki offered high praise for his former colleague. 
"I got to know pretty much all the legislators from both parties in both houses while I was governor for 12 years," he said. "I have to say that among the handful of the best was Mike Nozzolio. He was always concerned about his district and knew it inside out and knew all the needs of the district." 
Nozzolio also served with both Cuomos — the late Gov. Mario Cuomo and current Gov. Andrew Cuomo. At a July event in Geneva, the younger Cuomo called Nozzolio "a truly extraordinary public servant." 
Although the Cuomos and Nozzolio belong to different political parties, he has great respect for the governors. He recalled Gov. Mario Cuomo spending more than an hour with the Auburn Little League baseball team, which had won the state title that year. The team was invited to visit the state Capitol by Nozzolio. 
"He could not have been more gracious, more engaging, more friendly to the team and their parents and chaperones," Nozzolio said of Mario Cuomo. "It told me a lot about the individual that he would spend so much time with Little Leaguers to congratulate them and to honor them as a governor." 
HEART SURGERY
When Nozzolio announced his retirement in February, he revealed the reason for his decision: He had faulty heart valves and needed to undergo heart surgery. 
Gary Lee, who had open heart surgery two years ago, advised Nozzolio to "Get to Cleveland" — specifically, the Cleveland Clinic. He told Nozzolio that he would call the doctors who operated on him and set up an appointment. 
Nozzolio had the surgery in April. He was out of work until June, when returned to Albany for the final days of his last legislative session. 
Richard Wesley said when he and Bill Paxon learned of Nozzolio's condition, they traveled to Albany to visit him. 
"Michael plans everything out, and Michael had it all planned out," he said. "He had researched everything. He was totally comfortable with the way he was going to have it done and he laid it all out for us." 
Nozzolio had the surgery at the Cleveland Clinic in April. The procedure was a success. But Nozzolio's plans were final. He would retire from the state Legislature. 
THE END
What do you do after a 34-year career as an elected official? 
While Nozzolio is retiring from the state Legislature, he plans to stay active. He was asked by Kathryn Boor, dean of Cornell's College of Agriculture and Life Sciences, to serve on her advisory board. He'll also serve as an adviser to Cornell's Institute of Food Safety in Geneva. 
He cited a quote by Justice Louis Brandeis, who said that the highest public office is that of private citizen. 
"It's a profound statement because it amplifies the fact that in the United States, people govern," Nozzolio said. "It's not the other way around." 
He added, "I said to my colleagues that now I'm going to ascend to the highest public office as a private citizen and that the honor of serving in public office is just that — it's an honor." 
Before departing, Nozzolio offered some final words to his constituents and the community he served for more than 30 years. 
"Thanks for providing the opportunity for me to serve in this capacity," he said. "Certainly Auburn and Cayuga County have just been terrific to me." 
Online producer Robert Harding can be reached at (315) 282-2220 or robert.harding@lee.net. Follow him on Twitter @robertharding.