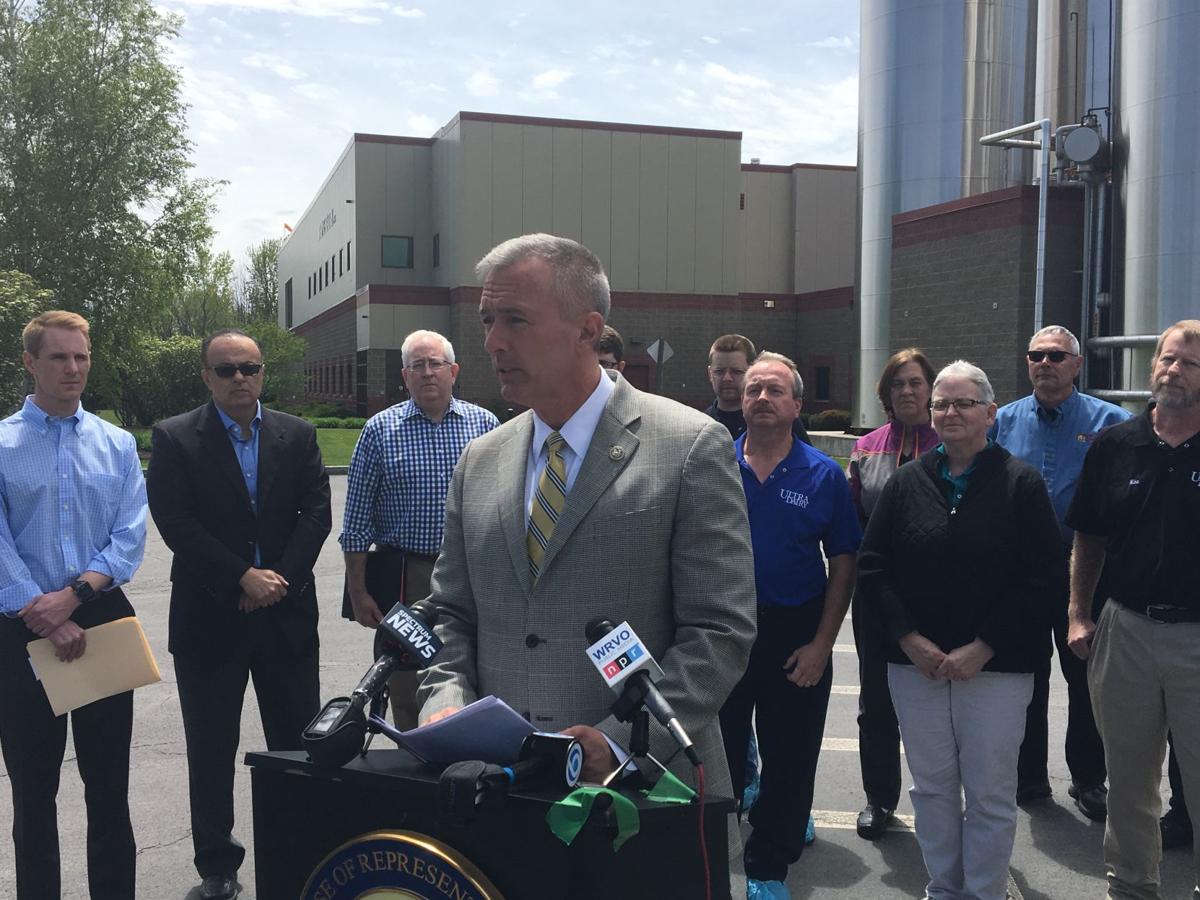 DEWITT — Byrne Dairy is feeling the effects of Canada's new dairy trade policies, and they aren't alone. 
The Canadian dairy industry changed its policies regarding ultra-filtered milk to favor domestic production. With lower prices for Canadian producers, U.S. producers, such as Byrne Dairy and Cayuga Milk Ingredients in Aurelius, have been shut out. 
U.S. Rep. John Katko drew attention to the trade woes Thursday during a press conference outside of Byrne Dairy's ultra-high temperature pasteurization plant in DeWitt. 
Katko, R-Camillus, said Byrne Dairy, which receives milk from 300 dairy farms in the region, is suffering due to Canada's "protectionist" trade policies. 
Ryan Elliott, an attorney for Byrne Dairy, said the DeWitt plant is one of four operated by the company. Free and open trade, especially with Canada, would be beneficial to its business and the farms that supply milk. 
"Trade should really be viewed as a door," Elliott said. "That door should swing both ways in order for this to be a functional trade relationship." 
For Byrne Dairy and other producers, the Canadian dairy industry's trade policies are on top of an existing oversupply of milk. The surplus continues to grow, Elliot said, and plants are being inundated with milk. 
"That obviously has real consequences for dairy processors," he said. 
Katko also highlighted trade challenges faced by other businesses in central New York. He visited Nucor Steel in Auburn Wednesday and has previously stopped at Novelis, a major aluminum manufacturer in Oswego County. 
The U.S. aluminum and steel industries have been dealing with the impact of dumping, which occurs when a product is exported at a price below market value. 
Katko said Novelis and Nucor Steel aren't competing on a level playing field with foreign manufacturers, especially entities from China and Turkey that are dumping heavily subsidized products in the global market. 
He sees similarities between what aluminum and steel manufacturers are facing and how the dairy industry has been affected by Canada's trade barriers. 
"While the industries are certainly different, they're all critical to our local economy," he said. "Surely global market fairness is vital to the competitive conditions facing our local dairy, steel and aluminum manufacturers, to name a few." 
Next week, Katko will testify at a public hearing held by the U.S. International Trade Commission. The panel will examine unfair trade practices in the steel rebar industry. 
Nucor Steel manufactures rebar at its Auburn plant. 
"Trade can be a force for economic growth, innovation and wealth creation — but only when it's fair," Katko said. "Unfortunately, other nations have been anything but fair. We owe it to our workers to do everything we can to level the playing field."