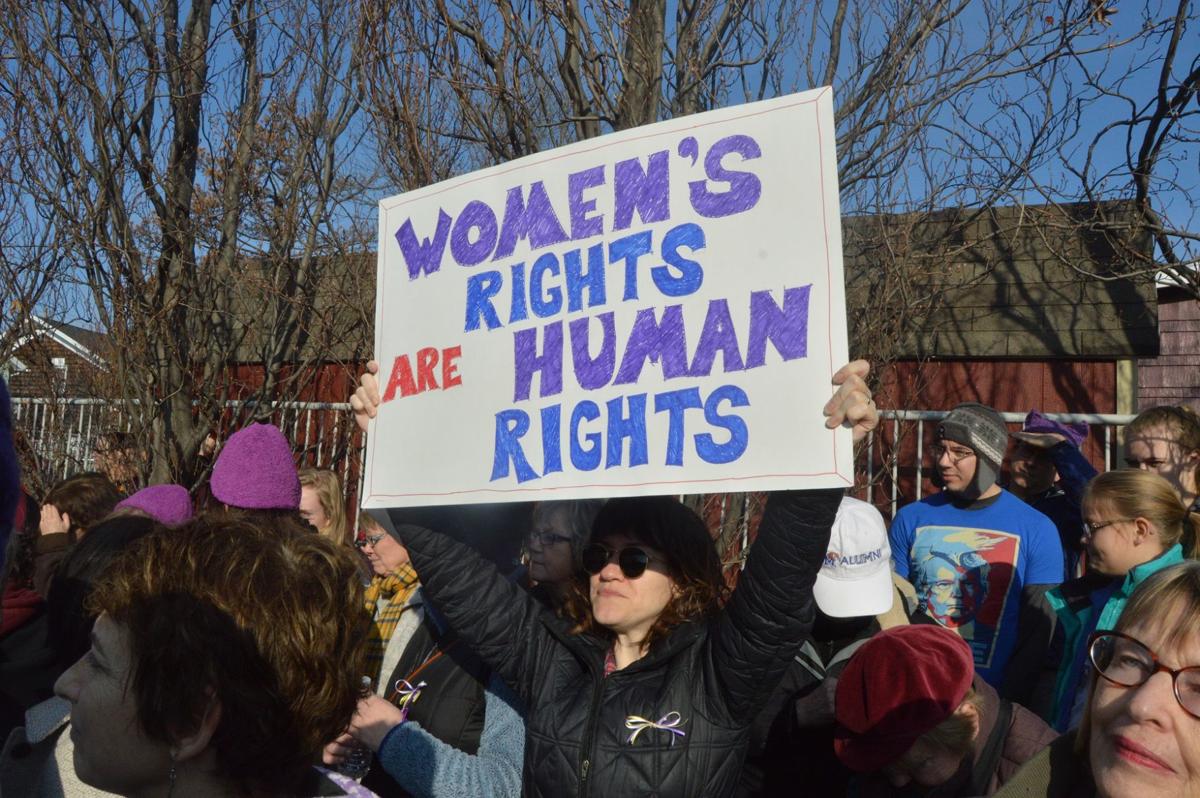 A group born out of the first Women's March in Seneca Falls is planning another that will be held on the one-year anniversary of President Donald Trump's inauguration. 
The newly formed per-SISTERS for Women's Equality will hold a rally at 10 a.m. Jan. 20, 2018 at the Women's Rights National Historical Park in Seneca Falls. 

While the rally is similar in terms of style, the substance has changed. For the first Women's March, many who participated had concerns about what Trump would do as president. Now that they have seen him lead the country for the last 10 months, organizers believe their fears have been confirmed. 
"We have seen the rollback of immigration laws. We have seen the rollback of (environmental) policies," said Leah Ntuala, a member of the per-SISTERS. "We've seen continued violence against women, the stripping of reproductive health rights. We have seen systemic racism in action with the calling out of some and the not naming of others." 
Former Auburn Mayor Melina Carnicelli added, "We have now actually seen concrete evidence of rollbacks and injustices in many of those areas on which we're focused." 
The first march in Seneca Falls, which was held one day after Trump's inauguration, was one of nearly 700 rallies held throughout the world. An estimated 4.9 million people participated in the events, according to the Women's March website. 
Three Auburnians who traveled to the nation's capital for the Women's March on Washington al…
The national Women's March organization was founded with the goal of harnessing "the political power of diverse women and their communities to create transformative change," according to its website. The main march in Washington drew hundreds of thousands of people, including a group from Auburn. 
A larger than expected crowd showed up in Seneca Falls. When they first started planning for the 2017 march in the birthplace of women's rights, organizers said they thought it might draw 300 or 400 people. When they filled out a permit application for the Women's Rights National Historical Park, they were told that space had a larger capacity. They planned for 800 people. 
And then the RSVPs began to stream in and the crowd estimate grew. A few days before the march, the group believed that 6,000 people would show up in Seneca Falls. 
On Saturday, Jan. 21, an estimated 10,000 people attended the march. Traffic was backed up on the Thruway. There were visitors from other states, including California and Connecticut, and even other countries. 
Three Auburnians who traveled to the nation's capital for the Women's March on Washington al…
Since the marches in January, women's groups have persisted. Nationally, the Women's March organization held The Women's Convention in Detroit. The event, which was held in October, featured several speakers, including U.S. Sen. Kirsten Gillibrand of New York. 
But a second Women's March in Washington doesn't appear to be in the works. Those behind the Seneca Falls march hope they can motivate others to once again march in Washington and other locations across the world. 
"To be persisters is much more apt about who we are and what we're about," Carnicelli said. "We are about equality and justice, period, for women in this country. And that is what our focus is and what we're leading on. And frankly, we are more motivated now than ever to persist because we've had concrete evidence of injustice."
Sandy Shutter, another member of per-SISTERS who is helping plan the rally, interjected. 
"And we're not going to give up," she said.