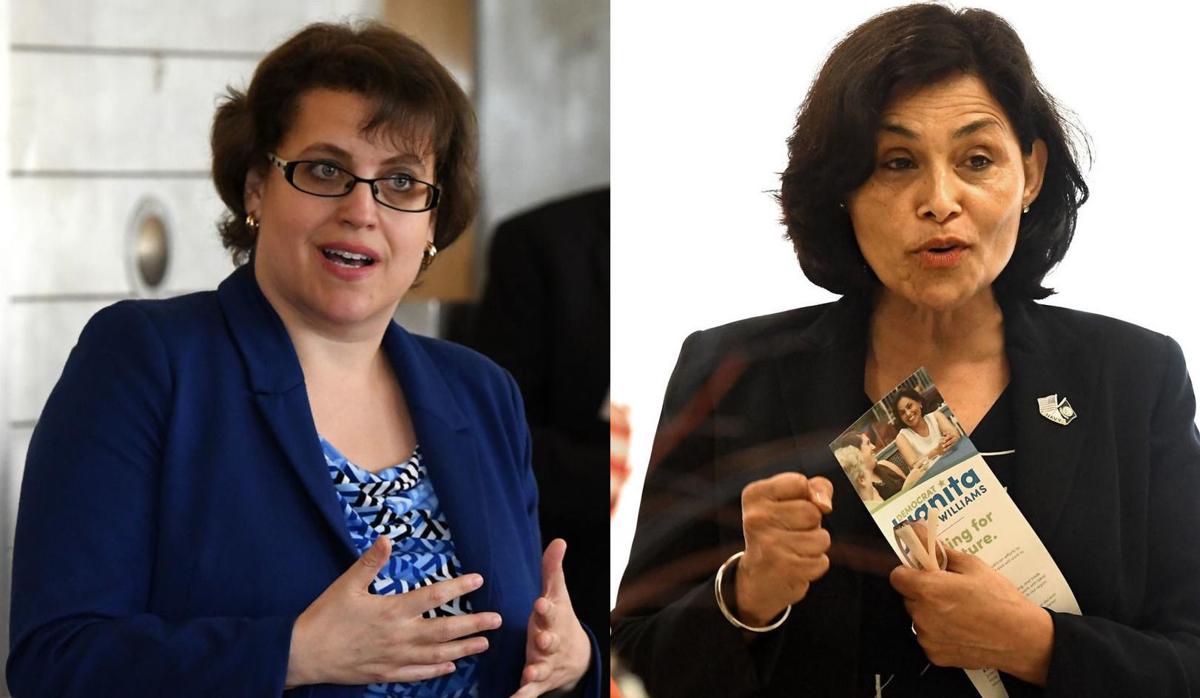 Despite her late entry in the race, a new poll released Wednesday shows Juanita Perez Williams leading the Democratic primary in the 24th Congressional District. 
The Spectrum News/Siena College poll shows Perez Williams, D-Syracuse, leading Dana Balter by 13 points, 45 to 32 percent, in the race for the Democratic nomination. 
Perez Williams leads by a 42 to 33 percent margin among men and by 15 points, 47 to 32 percent, among women. She has a 31-point lead in the city of Syracuse. Outside of the city, her lead is eight points. 
"(Perez Williams) comes in having just run a campaign for mayor of the city of Syracuse. It got a lot of attention and coverage in central New York, so she's not an unknown quantity," Siena pollster Steve Greenberg said. 
Younger voters favor Perez Williams, according to the poll. She has a 49 to 26 percent lead in the 18 to 34 age group. She also has a 24-point lead among voters ages 35 to 54. Voters in the 55 and over age group favor her by a 41 to 36 percent margin. 
However, Greenberg noted that there are openings for Balter to close the gap. The poll found 23 percent of voters surveyed are undecided. 
"These are often late-deciding races and it seems like a sizable portion of the electorate is going to decide late," he said. "(Perez Williams) does have a 13-point lead, but she's not at 50 and not right next to 50, so there's room there." 
The Spectrum News/Siena College survey is the first public poll released ahead of the June 26 primary. It was conducted June 10-12 and includes responses from 513 likely primary voters. The poll has a margin of error of plus or minus 4.5 percent. 
Balter, D-Syracuse, is the designated Democratic candidate in the race. She won the support of the four county Democratic committees in the district and has been endorsed by several progressive organizations. 
Prior to Perez Williams' entry in early April, it didn't appear Balter would face any serious opposition for the Democratic nomination. 
Since joining the congressional race, Perez Williams has won the support of several Democratic-aligned groups, including the political action committees for the Congressional Black Caucus and the Congressional Hispanic Caucus. The Democratic Congressional Campaign Committee added her to its "Red to Blue" program, an initiative that assists challengers against Republican incumbents. 
Balter continues to collect endorsements. This week, she was endorsed by Our Revolution, a group that was borne out of Bernie Sanders' 2016 presidential campaign, and 350 Action, an environmental organization. 
Both candidates have been active on the campaign trail in the weeks before the primary. Balter has held a handful of listening sessions and her campaign paid for two 30-second commercials, including an ad released this week that touts her abortion stance and criticizes Perez Williams' past comments regarding her "pro-life advocacy." 
Perez Williams is airing two television commercials and also has held events in the district. She recently held a few house parties to answer questions from voters. One of the parties was held in Skaneateles. 
The winner of the Democratic nomination will face U.S. Rep. John Katko, a Republican, in the general election. It's possible Balter could remain on the ballot. She has the Women's Equality and Working Families party lines. 
The 24th district includes all of Cayuga, Onondaga and Wayne counties, plus the western portion of Oswego County. 
Online producer Robert Harding can be reached at (315) 282-2220 or robert.harding@lee.net. Follow him on Twitter @robertharding.