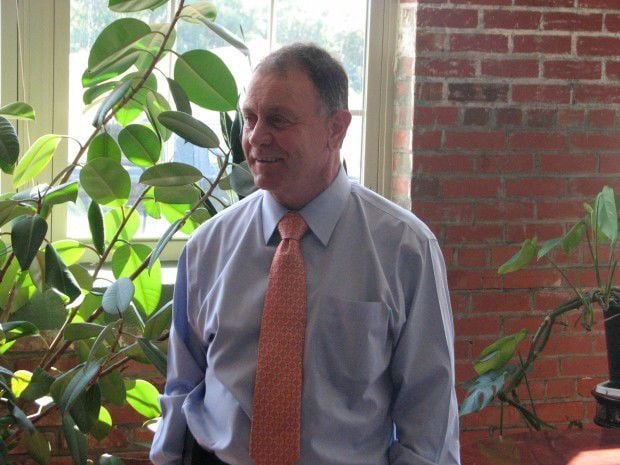 The last time I spoke to Richard Hanna, he asked me a question. 
He had done this before and I had to remind him that, for now, I don't have any children. I suspected he knew that and was really using this as a teachable moment — that I shouldn't wait until later in life to have children like he did. 
Richard felt strongly about that in my conversations with him over the years. He told me being a father was "the best thing I've ever done." And when you consider how he spent his 69 years on Earth, that's quite a thing for him to say. 
We lost Richard on Sunday. I have been covering the coronavirus story almost nonstop for several days. News of his passing stunned me. I immediately thought of his wife, Kim, and their two children, Emerson and Grace. They were his world. 
Richard's story is remarkable. When he was young, his father died. He stepped up and was the provider for his mother and four sisters. He went to college, then returned to upstate New York to start a construction company. Hanna Construction was a successful venture. He became a millionaire. 
I didn't know Richard when he was younger, but I feel confident saying that the money didn't change him. If anything, it made him even more selfless. Not only could he physically give back, he could add financial resources to the mix. He launched Annie's Fund, a charitable organization that assists women "striving to overcome obstacles and transform their lives," according to its website. There have been stories about him donating to numerous causes over the years. 
I met Richard in 2010. He was running for Congress after an unsuccessful bid two years before. I was new to the central New York political scene. 
We had a few conversations, but then there was silence. Apparently it was discovered that, while in college, I had been a political blogger and opinion columnist. That writing came with a certain slant. There were concerns about whether I would give Richard a fair shake.
You have free articles remaining.
Every other politician I know would've cut me off. That would've been the ballgame, especially in our current political climate. 
But Richard wasn't your run-of-the-mill politician. I was told he wanted to sit down with me. We met in Auburn, he shared his concerns and asked questions. I answered his questions and asked some of my own. We departed that meeting on good terms, and the line of communication was open for good. 
In 10-plus years at The Citizen, I haven't covered anyone like him. When you talked to Richard, you knew you would hear what he truly believed. He was philosophical. He didn't speak in sound bites. He always gave thoughtful answers. 
As people remember him, he has been described as "moderate" or "independent." But that simplifies who he was and how he approached these critical issues. He was fiscally conservative and socially liberal. He had a libertarian streak. He wasn't a partisan. He spoke his mind, but also listened to other points of view. 
I don't remember him as a moderate or independent. I remember him as a representative of what's best about America. 
When Richard announced that he wouldn't seek reelection to Congress in 2016, I interviewed him for a story. Even though his district no longer included Cayuga County, I felt it was newsworthy. 
There was speculation at the time that the reason he wouldn't run again is the possibility of a primary challenge. But Richard spoke honestly about his desire to spend more time with his family. 
"You don't know how much time you're going to have," he told me in 2015. "I don't want to look back and say I was in Congress two more years and then I could've been with my kids. I can do important work as long as they're with me, from anywhere, but I want them with me." 
And that's the essence of Richard Hanna. Throughout his lifetime, a successful professional career and three terms in Congress, it was never about him. It was about his community. It was about his country. It was about his family. 
There are times when we remember people for what they did instead of who they were. This shouldn't be one of those times. Yes, Richard Hanna built a successful business and represented the people of central New York, the Mohawk Valley and Southern Tier for six years. The titles he cherished most, though, were "husband" and "dad." 
Let's remember Richard for who he was: A family man. It was, as he said, the best thing he ever did. 
Politics reporter Robert Harding can be reached at (315) 282-2220 or robert.harding@lee.net. Follow him on Twitter @robertharding.
Be the first to know
Get local news delivered to your inbox!