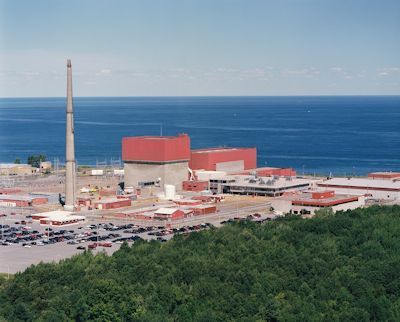 AUBURN — As opponents continue to criticize billions in state subsidies to support nuclear power plants in New York, U.S. Rep. John Katko defended the payments as a "net benefit" for the state during a meeting with The Citizen's editorial board Wednesday. 
Last year, the state Public Service Commission adopted a clean energy standard which included subsidies to ensure upstate nuclear power plants, including the James A. FitzPatrick Nuclear Power Plant in Oswego County, remain operational. 
The subsidies, which will be paid by utility ratepayers, will total $7.6 billion over 12 years. 
The clean energy standard was a main reason why FitzPatrick — a plant in Katko's district — didn't close. 
Entergy, the company that operated FitzPatrick, announced in November 2015 that the plant would close. Market conditions were cited as a major factor in the decision. 
Exelon retained FitzPatrick's 600 employees and will ensure that the plant, which is a significant source of tax revenue for local governments, continues to produce nuclear energy. 
The clean energy standard, though, has drawn criticism from some state lawmakers and activists. A group called Stop the Cuomo Tax formed to oppose the subsidies for nuclear plants. Lawsuits were filed challenging the payments.
On the Stop the Cuomo Tax website, the coalition said utility companies may pass on the burden to residential ratepayers.
"Higher electricity bills will disproportionately affect low-income households, including downstate, where they get little or no benefit from the electricity generated by upstate nuclear plants," the group said.  
Katko, R-Camillus, admitted that he's usually not a big fan of subsidies, but believes that the investment combined with the environmental impact will produce a net benefit for the state. 
"Short term, they look at it and say, 'Wow, that's a lot of money.' But if you look at how much money is generated per year from those power plants, it's stunning. Hundreds and hundreds of millions of dollars," he said. "And for every job at the plant, there's eight jobs that are there to support the plant." 
He added that the economic impact "far outstrips" the subsidies that the state will pay. 
It doesn't seem the subsidies will be going away, at least anytime soon. The state Assembly has held hearings on the clean energy standard and some members have spoken out against the plan. But in the state Senate, which consists of several upstate members, there doesn't appear to be an appetite to strip the payments. 
Gov. Andrew Cuomo, who played an active role in keeping FitzPatrick open, won't abandon one of his signature energy initiatives. 
"I believe if FitzPatrick closed it would be a financial crisis for the entire region," he said in August 2016. "Some people estimate central New York would lose $500 million. Central New York cannot lose $500 million. The county cannot lose FitzPatrick as a taxpayer." 
Online producer Robert Harding can be reached at (315) 282-2220 or robert.harding@lee.net. Follow him on Twitter @robertharding.