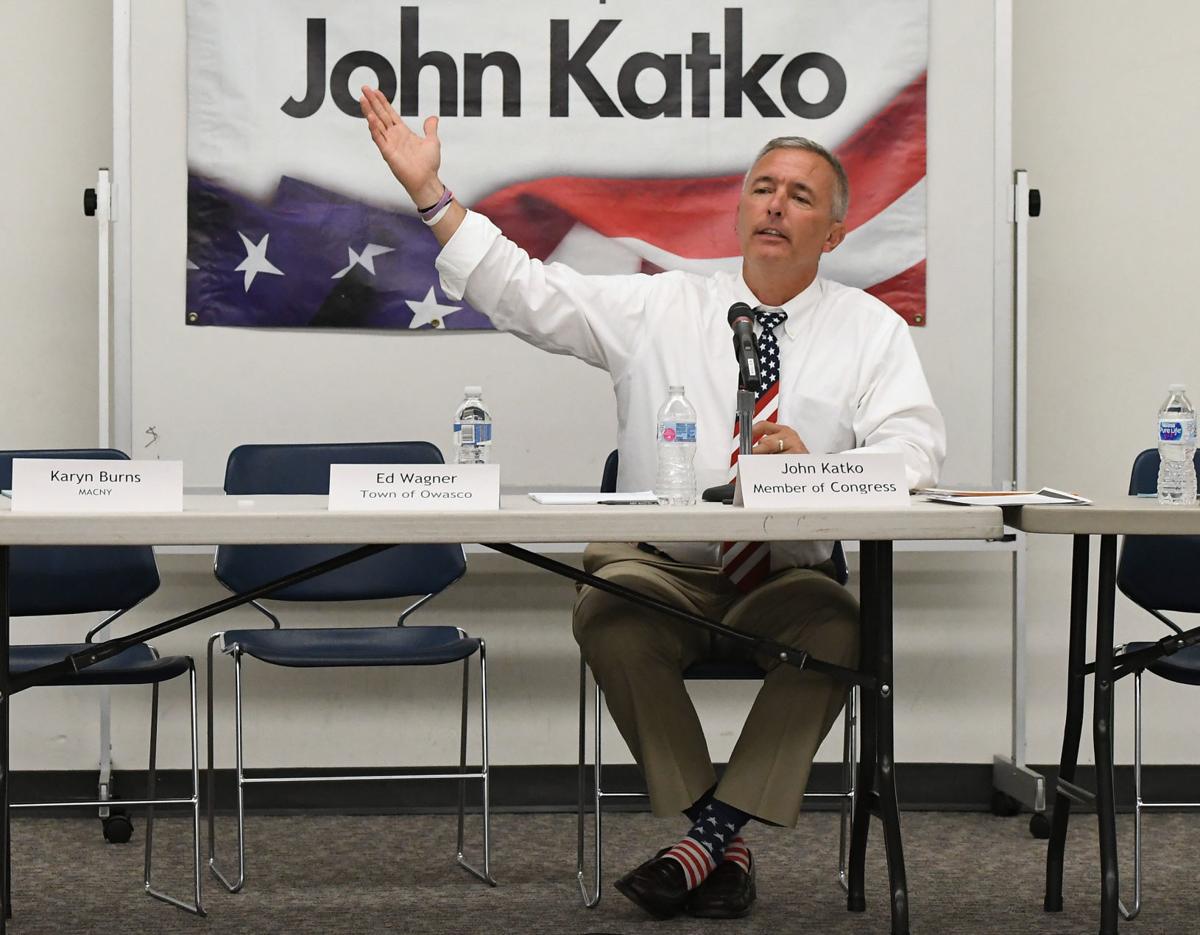 It's official: U.S. Rep. John Katko will seek a fourth term representing New York's 24th Congressional District. 
Katko, R-Camillus, officially launched his re-election bid by announcing he raised $521,623 in the second quarter of 2019 — his best fundraising quarter in non-election year. His previous high was more than $369,000 raised in the second quarter of 2017. 
It was Katko's second-best fundraising quarter ever. His personal best was a $525,105 haul in the third quarter of 2016, when he defeated Democratic challenger Colleen Deacon by 22 points to win his first re-election bid. 
In the 2018 cycle, his best quarter was the second quarter of the election year when he raised $514,976. He topped that figure in the most recent three-month fundraising period. 
At the halfway point of 2019, his campaign has more than $648,000 cash on hand. 
"We need more pragmatism and less divisiveness in Washington — and that's why I'm running for re-election in 2020," Katko said in a statement. "I'm incredibly grateful for the overwhelming support we've received this quarter, and for the tireless work of our volunteers and grassroots supporters from across Onondaga, Cayuga, Wayne and Oswego counties." 
More information about Katko's second quarter fundraising performance wasn't immediately available. The campaign's financial report will be submitted to the Federal Election Commission next week. 
Katko was first elected to Congress in 2014 and won re-election bids in 2016 and 2018. He won his first two elections by at least 20 points. 
Three Democrats are vying for their party's nomination to challenge Katko in November 2020. Dana Balter, who lost by five percentage points to Katko in last year's election, is seeking a rematch. Joining her in the race are Francis Conole and Roger Misso, a pair of U.S. Navy veterans who launched their congressional bids in April. 
So far, Misso is the lone Democrat to release any information about their quarterly fundraising performance. Misso's campaign said he raised more than $167,000 from April 1 through June 30, which would be a record for a first-time Syracuse-area congressional candidate. 
National Democrats have made the 24th district race a top priority. Katko has been listed as a target by the Democratic Congressional Campaign Committee, the House Democrats' political arm. Earlier this year, the DCCC added Katko to its retirement watch list, despite Katko's intention to seek re-election. 
On Thursday, he ended any speculation about his future plans. 
Onondaga County Republican Chairman Tom Dadey said he supports Katko's re-election campaign. 
"As he always has, John is working hard on behalf of CNY in Washington," Dadey said. "Now, his work is more important than ever. With the far left pushing a radical agenda on both the federal and state level, we need pragmatic and effective lawmakers like John in office." 
The 24th Congressional District is comprised of the western towns in Oswego County and all of Cayuga, Onondaga and Wayne counties. 
Online producer Robert Harding can be reached at (315) 282-2220 or robert.harding@lee.net. Follow him on Twitter @robertharding.
Be the first to know
Get local news delivered to your inbox!