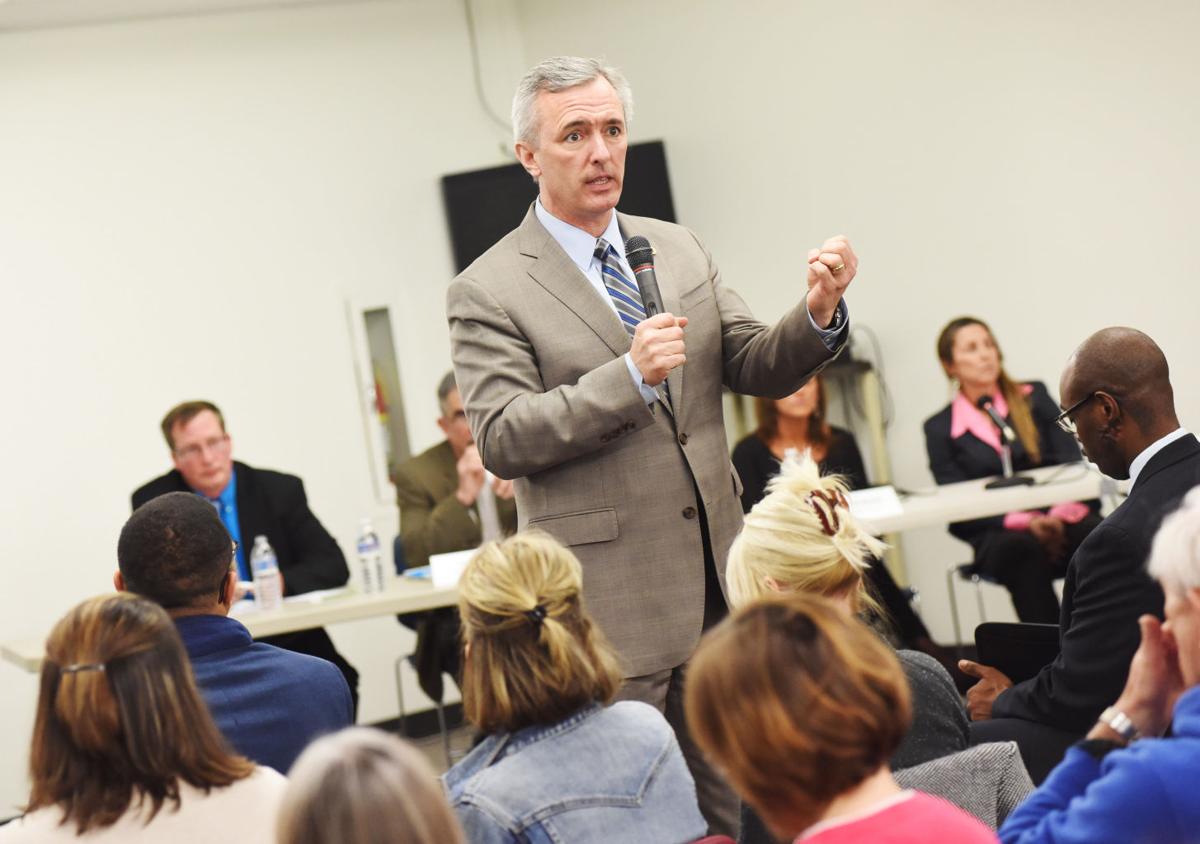 U.S. Rep. John Katko, who has been criticized for not holding town hall meetings during his two terms in Congress, is planning public forums while he's in central New York for the August recess. 
Katko, R-Camillus, made the announcement at the conclusion of a telephone town hall meeting Tuesday night. He told participants on the call that he will hold "town hall-style forums" in the 24th Congressional District. 
Erin O'Connor, Katko's spokesperson, confirmed Wednesday that there are plans for public forums. 
"They will the same issue-focused panel style forum discussions we've held in the past," she said. 
Katko has held forums on various issues in the past, including sessions on the drug crisis in Oswego County and agriculture in Wayne County last year. His last Cayuga County forum was in March 2016, when he led a discussion about the opioid and synthetic drug epidemic. 
He has participated in one general public forum since taking office in 2015. He answered questions during a televised town hall meeting in May 2017 at Onondaga Community College. And he's held more than 20 telephone town halls over the past 3 1/2 years. 
Katko defended his record of meeting with constituents after being asked by one participant on Tuesday's call why he wouldn't meet with district residents in person. 
"I do use the telephone town halls as a way to hit tens of thousands of people at once," he said. "Let's not forget, in addition to these telephone town halls, I've had a ton of town halls since I've been in Congress. I've had subject-based town halls. I've had town halls in all four counties, I believe. I even had a television town hall. I make myself as available as I possibly can on a regular basis and I'm proud of the fact that I'm very open. 
Last year, rallies were held by central New York progressive groups urging Katko to hold open town hall meetings. While he participated in the televised town hall meeting, he didn't hold another open forum that wasn't focused on a specific topic. 
Democratic challenger Dana Balter has criticized Katko's open meetings record. After she was found to have falsely claimed that Katko never met with her before she ran for office, Balter explained that she was part of a group asking the GOP congressman to hold open forums. 
"We never got that public meeting," she said in early July. 
On Tuesday, Katko said on the telephone town hall that he doesn't think "there's a lot of productivity to have a place where people are going to come in and shout at me and scream at me and have signs and yelling, which they do outside my office, just to make a spectacle." 
"I'd much rather have discussions like this and give you opportunities to ask me questions like you're doing right now," he continued. 
Be the first to know
Get local news delivered to your inbox!