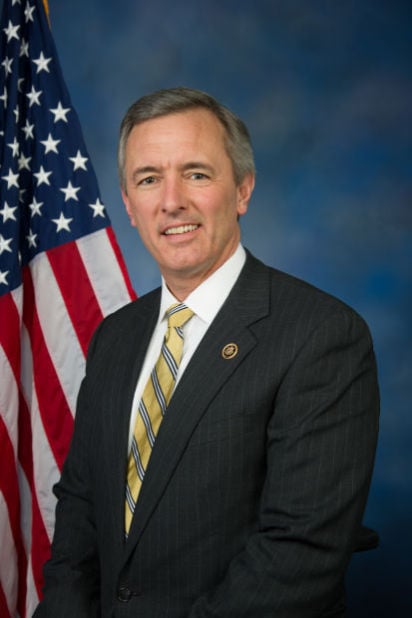 After another weekend of mass shootings in the U.S., there are calls for action. 
U.S. Rep. John Katko on Monday renewed his push for "red flag" legislation. His bill would give states priority for federal grants if they adopt extreme risk protection orders. The so-called "red flag" laws establish a process for removing guns from an individual's possession if they pose a risk to themselves or others. 
Katko, R-Camillus, introduced the legislation last year. The measure didn't advance in the House. He reintroduced the bill in January and it has seven cosponsors — Republican U.S. Reps. John Curtis, Rodney Davis, Mario Diaz-Balart, Steve Stivers and Fred Upton and Democratic Reps. Henry Cuellar and Collin Peterson. 
There has been bipartisan support for red flag proposals. President Donald Trump, who addressed the nation Monday, said a gun safety package should include extreme risk protection orders. 
With the president supporting red flag laws, Katko asked him to consider his bill. 
"Action is long overdue," Katko said in a statement. "I urge the White House and both houses of Congress to look carefully at this bipartisan measure so that we can prevent these heinous acts of violence." 
The mass shootings in Dayton, Ohio, and El Paso, Texas, killed 31 people and injured dozens more. While the shooter in Dayton was killed by police, the El Paso attacker was arrested. Federal prosecutors are planning to pursue domestic terrorism charges against the man. 
In his address Monday, Trump blamed "violent video games" and mental illness for the rash of mass shootings in the U.S. Past studies haven't found a conclusive link between video games and mass shootings. And while mental health conditions have been a factor in some of these attacks, not all perpetrators are mentally ill. 
"There is no singular solution to stopping this type of violence — but we must act," Katko said. "That means working across the aisle to enact commonsense reforms to keep firearms out of the hands of those who should not have them." 
One of the proposals supported by Trump is expanding background checks for gun purchases. Earlier this year, the House voted on legislation that would require background checks for internet gun sales and transactions at gun shows. 
Another bill approved by the House extends the period from three to 10 days that a gun retailer is required to wait for the results of a background check before completing a firearm sale. 
The House-passed background check bills received support from some Republicans, including five members — U.S. Rep. Peter King, a New Yorker, was one — who cosponsored the Bipartisan Background Checks Act. Eight Republicans voted for the bill. 
With Congress in recess this month, Democrats want Senate Majority Leader Mitch McConnell to call the Senate back and vote on the background check bills. That's unlikely to happen since McConnell and other Republicans oppose the measure. 
Online producer Robert Harding can be reached at (315) 282-2220 or robert.harding@lee.net. Follow him on Twitter @robertharding.
Be the first to know
Get local news delivered to your inbox!