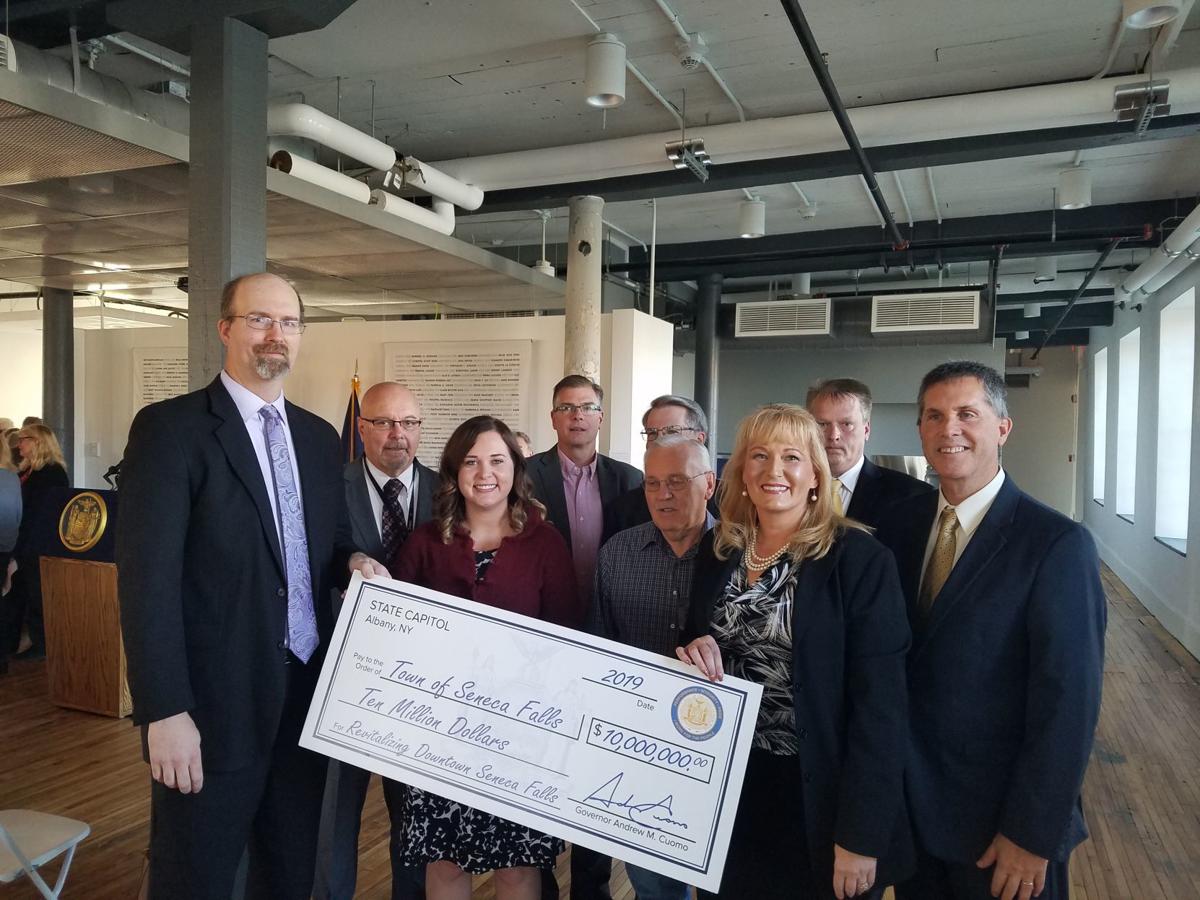 It's a wonderful day for Seneca Falls. 
The Seneca County town learned Wednesday that it won a $10 million state grant through the Downtown Revitalization Initiative, an annual program that aims to improve downtown corridors across New York. Seneca Falls is part of the Finger Lakes region for the DRI, which names winners in regions across the state.
Past DRI winners have included Auburn, which was awarded $10 million in 2018 as the central New York region choice. Earlier this year, the city finalized the list of projects that will be supported by the funding. 
Seneca Falls' DRI application focuses on increasing housing, filling vacant storefronts, quality of life, improved parking, highlighting the town as a year-round destination and attracting new professionals to downtown.
Local leaders will determine the final projects. Some of the proposed projects include a new culinary incubator, revitalizing the Sackett Business District, installing interactive parking kiosks, creating biking and walking trails and establishing a museum and history pathway. 
You have free articles remaining.
Greg Zellers, director of the Seneca Falls Development Corp., said they didn't consult an outside expert to draft the plan. He described the proposal as a "homegrown application that was rooted in community collaboration." 
"One of our key priorities was to better showcase the rich heritage of Seneca Falls while also communicating its promise and potential," Zellers said in a press release.
The Downtown Revitalization Initiative launched in 2016. Seneca Falls aimed to win the $10 million grant in 2018, but Penn Yan was selected instead as the Finger Lakes winner. The Seneca Falls Development Corp. continued working on its DRI application ahead of this year's competition. 
Those efforts proved to be successful this time around. Lt. Gov. Kathy Hochul announced Seneca Falls as the DRI winner during an event at the new home of the National Women's Hall of Fame. 
Seneca Falls Supervisor Greg Lazzaro said he had "full confidence" in SFDC to submit a strong application. 
"We knew our community would be fully represented throughout the application process and this is such an amazing day for the town of Seneca Falls," he said in the press release.
Online producer Robert Harding can be reached at (315) 282-2220 or robert.harding@lee.net. Follow him on Twitter @robertharding.