The Centro Park-N-Ride shuttles will no longer transport fairgoers to the New York State Fair's main gate. 
The fair announced the change Friday. The new drop-off location will be in the Gray Lot at Gate 10 on the western end of the state fairgrounds. 
Fair Director Troy Waffner explained that the new location will be "safer for fairgoers" and will ease congestion along State Fair Boulevard, the main road that passes in front of the fairgrounds. 
The new drop-off site also gives the fair an opportunity to promote the newly developed west end of the fairgrounds, which features the Dairy Cow Birthing Center, the New York Experience Festival grounds and the 110,000-square-foot Exposition Center. 
"We'll have new signs and people there to help you find your way," Waffner said in a statement.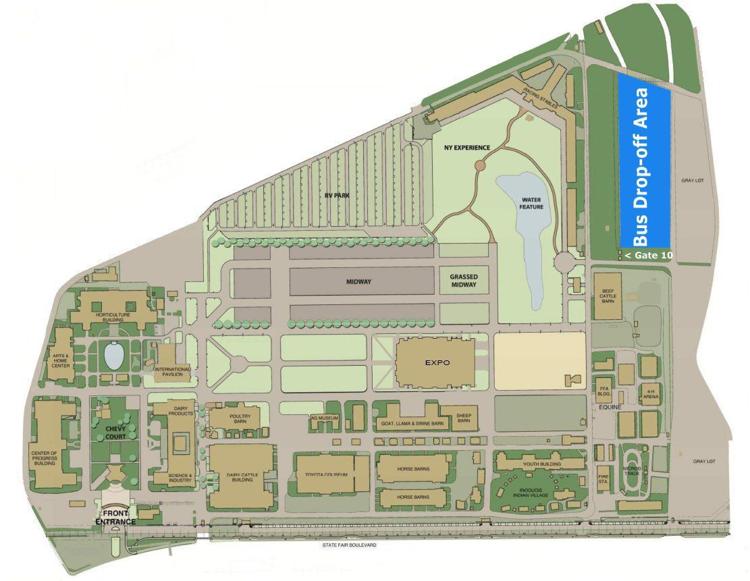 The fair established the bus drop-off location near the main gate in 2016. It was part of the first phase of improvements at the fairgrounds. The state has invested $120 million to construct new facilities, upgrade existing buildings and improve the fairgrounds' appearance. 
But the fair has outgrown the 1.25-acre bus drop-off lot. The fair has set all-time attendance records three years in a row. In 2018, fair attendance was 1,279,010. A single-day attendance record was set on Sept. 1 when the fair drew 134,115 visitors. 
With the move to the Gate 10 area, a new six-acre lot will provide more space for Centro shuttles and charter buses. There are plans to renovate the location for the 2020 fair. 
For this year's fair, there will be a guest relations presence and tram services provided at Gate 10. Free trams operate throughout the fair, but officials plan to offer express trams to transport fairgoers from the Gate 10 stop to the Gate 12 stop near Chevy Court. 
"We think many fairgoers will find new state fair favorites," Waffner said. 
The fair also announced parking changes for this year's event. The Pink Lot, located near the main gate and Gate 3 of the fairgrounds, will be exclusively for people with disabilities. 
The former bus drop-off lot near the main gate will be used as a premium parking lot. At the new Emerald Lot, motorists can park there for $25 on a first-come, first served basis. Cash is the only payment method that will be accepted at the lot. 
A new valet parking service will debut on the ramp entering the Brown Lot. Valet parking will cost $20. 
The 13-day fair will run from Aug. 21 through Sept. 2.