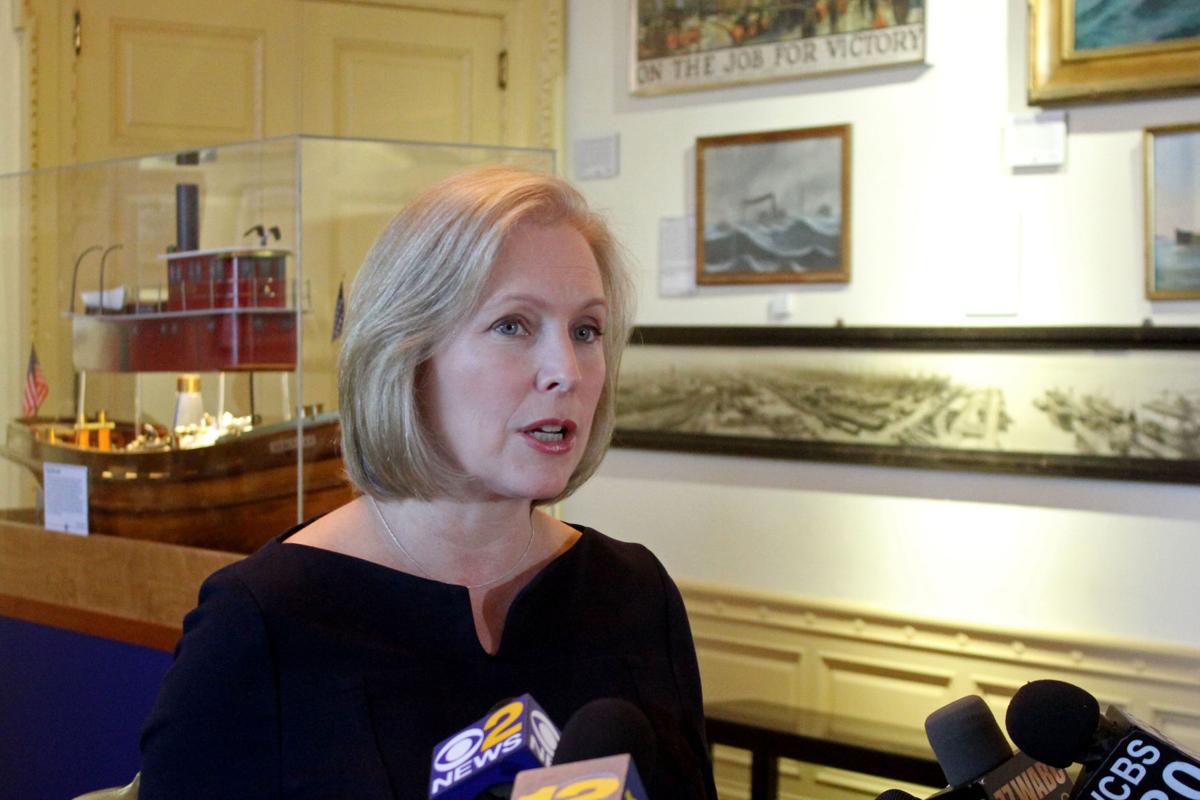 Gillibrand, D-N.Y., reintroduced the Family and Medical Insurance Leave Act — known as the FAMILY Act — in the Senate. The bill would provide workers with up to 12 weeks of paid leave for the birth or adoption of child, recovery from a serious illness or to care for a sick family member. 
The gender-neutral program would be funded by modest employee and employer contributions — roughly $1.50 per week, according to U.S. Rep. Rosa DeLauro, who's reintroducing the bill in the House. 
Those who use the program would receive up to 66 percent of their wages for the duration of their leave. 
Gillibrand repeated a point she's made in previous attempts to establish a national paid leave program — that the U.S. is the only industrialized country in the world without such a benefit for its workers. The federal government has the Family and Medical Leave Act in place, which protects employees from losing their jobs if they must go on leave. But it's an unpaid benefit. 
"This is hurting our families, but it's also hurting our economy and our employers," she said on a conference call with reporters Tuesday. "The business community knows that if we had a national paid leave plan it would put a lot of money — potentially $21 billion — back into the economy every single year." 
DeLauro, a Connecticut Democrat, shared a personal story about how she benefited from paid leave. 
When she was a staffer for then-U.S. Sen. Chris Dodd in 1986, she was diagnosed with ovarian cancer. She called herself "lucky" that her employer provided paid medical leave. 
"He encouraged me to take all the time that I needed in order to get well," DeLauro recalled. "I was fortunate, but most working Americans are not." 
DeLauro said 40 percent of American workers are provided paid personal medical leave. Fourteen percent have access to paid family leave, she said. 
There have been other proposals floated for a paid leave program. President Donald Trump, a Republican, supports providing six weeks of paid leave to new mothers after the birth of a child. 
DeLauro said Trump's plan wouldn't be extended to men, adoptive parents or same-sex families. And it would be funded through the federal unemployment system, which she noted is already strained. 
The FAMILY Act, she said, would help with "what is biggest economic challenge of our time."
"Too many American workers are not paid enough to make ends meet and losing weeks worth of wages in order to care for and deal with a challenge of this magnitude when a loved one is ill would push families over the financial edge and some past the point of no return," DeLauro said. 
DeLauro and Gillibrand's bill is supported by 26 senators and several organizations, including the American Academy of Pediatrics, Family Equality Council, Small Business Majority and various labor groups. 
Debra Ness, president of the National Partnership for Women & Families, said paid leave is necessary because of changing demographics and to boost the economy. 
"Now more than ever, we need national paid leave," she said. 
The push for a paid leave program will likely face opposition from Republicans who have been resistant to the proposals in the past. Trump's advocacy for a paid leave program could make a difference, but it likely won't mirror what DeLauro and Gillibrand have proposed. 
Be the first to know
Get local news delivered to your inbox!