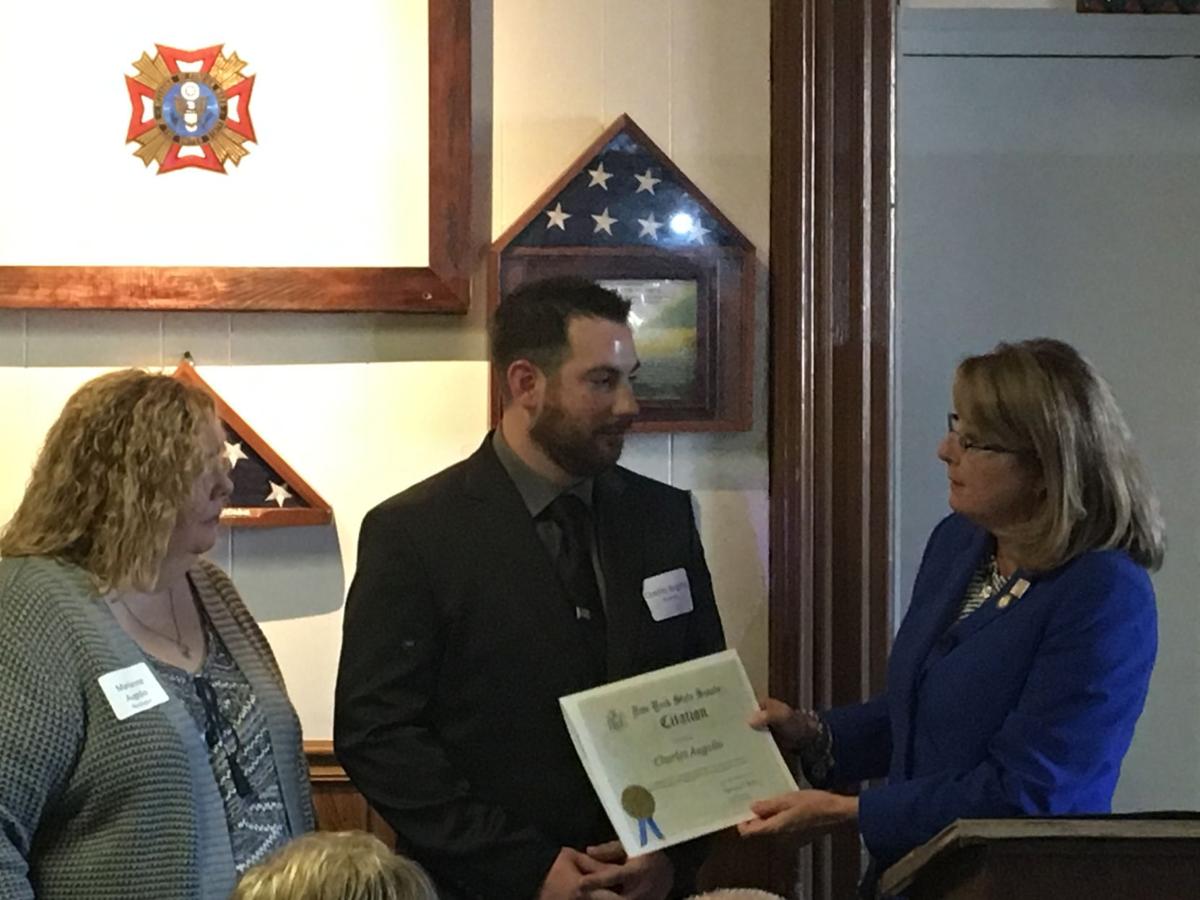 AUBURN — State Sen. Pam Helming visited the city Wednesday to honor five Cayuga County veterans who were nominated for induction into the New York State Senate Veterans Hall of Fame. 
Each year, one veteran from each of the 63 state Senate districts is added to the hall of fame. Helming, who represents a portion of Auburn and several towns in Cayuga County, said her office received 48 nominations. This year's inductee from Helming's district was W. Michael Bowen, a Navy veteran from Seneca Falls. 
But Helming, R-Canandaigua, wanted to honor the other nominees. She decided to hold veterans recognition events throughout her district, including the ceremony Wednesday at Auburn VFW Post 1975. 
"What we enjoy today are freedoms we owe to you," she said. 
There were five nominees from Cayuga County, four of whom attended the ceremony. Charles Augello, of Weedsport, is an Auburn police officer and serves part-time as a Weedsport police officer. He enlisted in the Army in 2003 after graduating from high school. He received several awards during his military career, which included a one-year deployment to Afghanistan. 
"It was an honor to serve my country and it's one of the best things that I've ever done," Augello said. "I wouldn't change a thing about it." 
Timothy Coretti, of Auburn, didn't attend the ceremony. Helming, reading from his nomination application, said he convinced his parents to sign his paperwork to join the Army. He served as a medic and received multiple honors, including the Afghanistan Campaign Medal and the Army Good Conduct Medal. 
You have free articles remaining.
Kim Bennett, a former Genoa town justice and corrections officer, received numerous medals and commendations during his service in the Air Force and Army. He had a 20-year military career, which included combat tours in Panama and Vietnam. 
Clarence VanOstrand, of Auburn, served in the Marine Corps and National Guard for nearly 40 years. He was a master sergeant during the Korean War. After his discharge from the Marine Corps, he joined the National Guard. 
At the time of his retirement, VanOstrand earned the rank of command sergeant major. 
Auburn Mayor Michael Quill rounded out the honorees. He enlisted in the Marine Corps and served in Vietnam. After he was discharged, he joined the Auburn Fire Department and served in various roles, including fire chief, for 32 years. 
He is now serving his third term as mayor. 
"I'm very, very proud and pleased to be with all of you," Quill said. "Anytime I'm with a veteran it's as good as being with family, and it is a family." 
Helming hopes there are more nominees for the state Senate Veterans Hall of Fame next year. She challenged local leaders to triple or quadruple the number of nominations in 2018. 
"There are so many more veterans that should be recognized," she said. 
Be the first to know
Get local news delivered to your inbox!