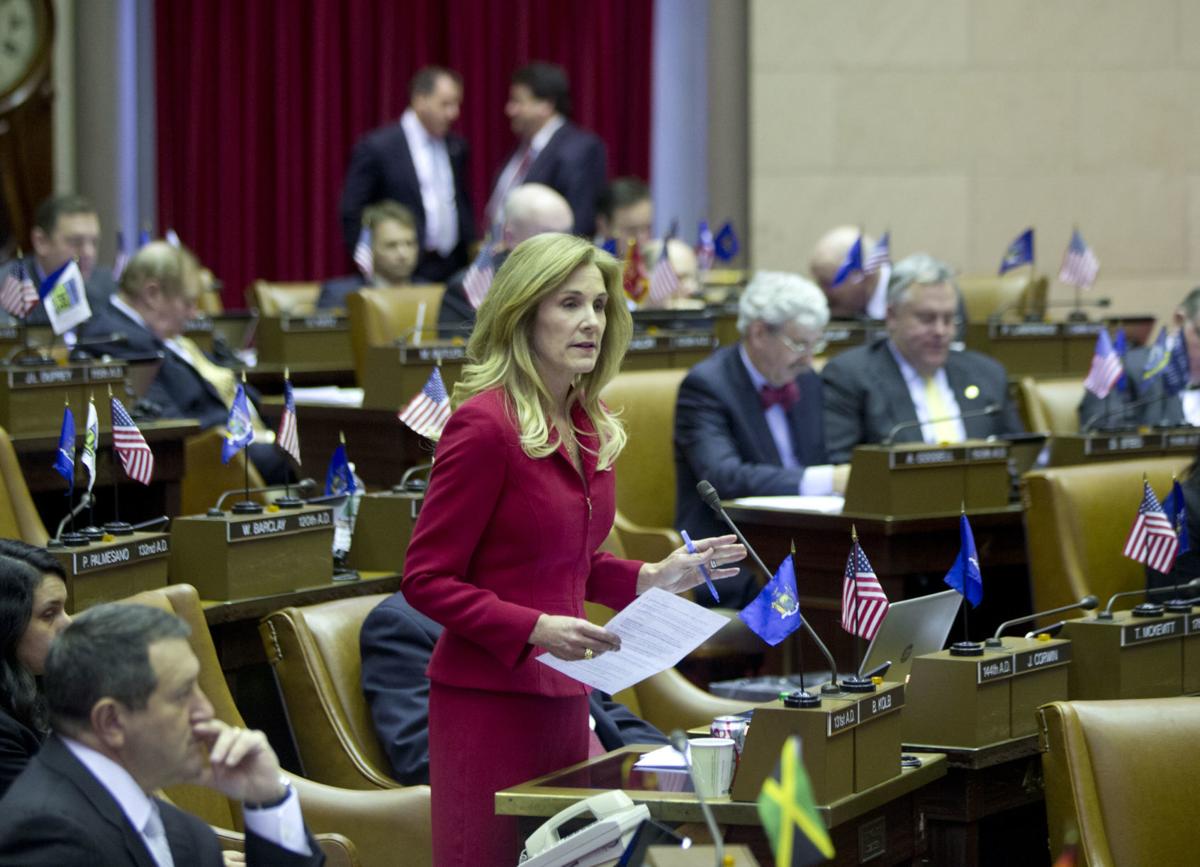 A New Yorker and two others have been confirmed to serve on the International Joint Commission, a bi-national panel responsible for overseeing shared boundary waterways between the U.S. and Canada. 
Former state Assemblymember Jane Corwin, a western New York Republican, will be sworn in as U.S. section chair of the six-member commission. Rob Sisson, of Michigan, and Lance Yohe, of North Dakota, will join her on the commission. 
The Senate confirmed the nominations by unanimous consent Thursday. 
Senate Minority Leader Chuck Schumer called the confirmations of Corwin, Sisson and Yohe "a major step in the right direction" as New York prepares for flooding along Lake Ontario. 
"With Lake Ontario's high water levels continuing to rise and a repeat of 2017's historic Lake Ontario flooding looking more possible by the day, ensuring that the International Joint Commission — which plays a paramount role in setting Lake Ontario's water levels — is fully staffed and fully functional couldn't be more important," Schumer, D-N.Y., said. 
You have free articles remaining.
President Donald Trump first nominated Corwin, Sisson and Yohe in August 2018, but the Senate didn't vote to confirm them before the end of the year. Trump renominated the trio earlier this year. 
Corwin, Sisson and Yohe will join the commission at a turbulent time for the U.S.-Canadian agency. There has been criticism of the IJC for its handling of Lake Ontario water levels, the flooding that occurred in 2017 and the high water levels present this year. 
Much of the criticism has targeted Plan 2014, a regulatory guide adopted by the IJC in 2016 to manage Lake Ontario and St. Lawrence River water levels. While the IJC says heavy rainfall has caused the rising water levels, Cuomo, U.S. Rep. John Katko and some other elected officials believe Plan 2014 is the culprit. 
Corwin is familiar with Plan 2014 from her time as an Assemblymember representing a western New York district that included some towns along Lake Ontario. She told The Citizen in August 2018 that withdrawing from Plan 2014 may not be possible, but she would seek a reevaluation of the regulations. 
As the incoming section chair, Corwin will succeed Lana Pollack. Pollack was appointed chair by then-President Barack Obama in 2010. Rich Moy, the other U.S. commissioner remaining on the panel, was also an Obama nominee. He will depart now that Sisson and Yohe have been confirmed. 
Online producer Robert Harding can be reached at (315) 282-2220 or robert.harding@lee.net. Follow him on Twitter @robertharding.