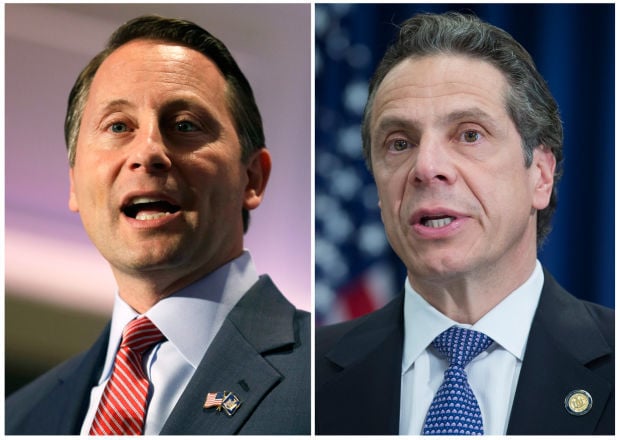 It is Gov. Andrew Cuomo's race to lose. 
Cuomo, a Democrat, leads Republican challenger Rob Astorino by 36 points, according to a new poll released Monday by the Siena Research Institute. 
If the election was held today, 57 percent of respondents said they would support Cuomo, while 21 percent said Astorino would get their vote. Green Party candidate Howie Hawkins was backed by 4 percent of voters. 
When Siena last released a poll in April, Cuomo led Astorino by 30 points — 58 to 28 percent. Hawkins wasn't included in the survey question. 
While Astorino has been critical of Cuomo on a range issues from Common Core to natural gas drilling and the SAFE Act, a gun control law Cuomo signed into law in January 2013, the Republican challenger faces an uphill battle in his bid to unseat the Democratic incumbent.
Most voters — 69 percent — said they don't know or have no opinion of Astorino. He also trails Cuomo among several key demographics. Cuomo leads 51 to 20 percent among independents, has the support of 65 percent of Latinos, 60 percent of women and 55 percent of voters from the New York City suburbs.
When voters were asked a generic question about whether they would vote for Cuomo or prefer another candidate in this year's election, 57 percent said they would support Cuomo's re-election bid. 
Siena pollster Steve Greenberg said the contest isn't over yet, but Astorino has a tough job ahead of him. 
"There are five months till Election Day. No race is over in June. This is a snapshot of all registered voters, not just those likely to vote in November. All true," Greenberg said.
"But true, too, are two other facts: Astorino has a huge gap to close, and it's hard to beat a popular incumbent when you face a two-to-one party disadvantage and you are unknown to two-thirds of voters, including 70 percent of your own party." 
There might not be a lot of good news in the poll for Astorino, but there's plenty for Cuomo.
Cuomo's favorable rating rebounded in June, with 63 percent of voters saying they view him favorably. That's up from six points from April, when 57 percent of voters said they have a favorable opinion of the governor. 
Voters also gave Cuomo slightly higher job performance ratings. Nearly half of respondents — 49 percent — said the governor is doing an excellent or good job, while 50 percent said he's doing a fair or poor job. 
In April, 45 percent of voters gave Cuomo an excellent or good job rating and 54 percent said he was doing a fair or poor job. 
Voters also align themselves with Cuomo on a myriad of issues. More than half of voters say their views are closer to the Democratic incumbent's on making the state more business friendly, policies to create jobs, improving public education and medical marijuana. 
The survey of 835 registered voters was conducted between June 8 to 12. The margin of error is plus or minus 3.4 percent.