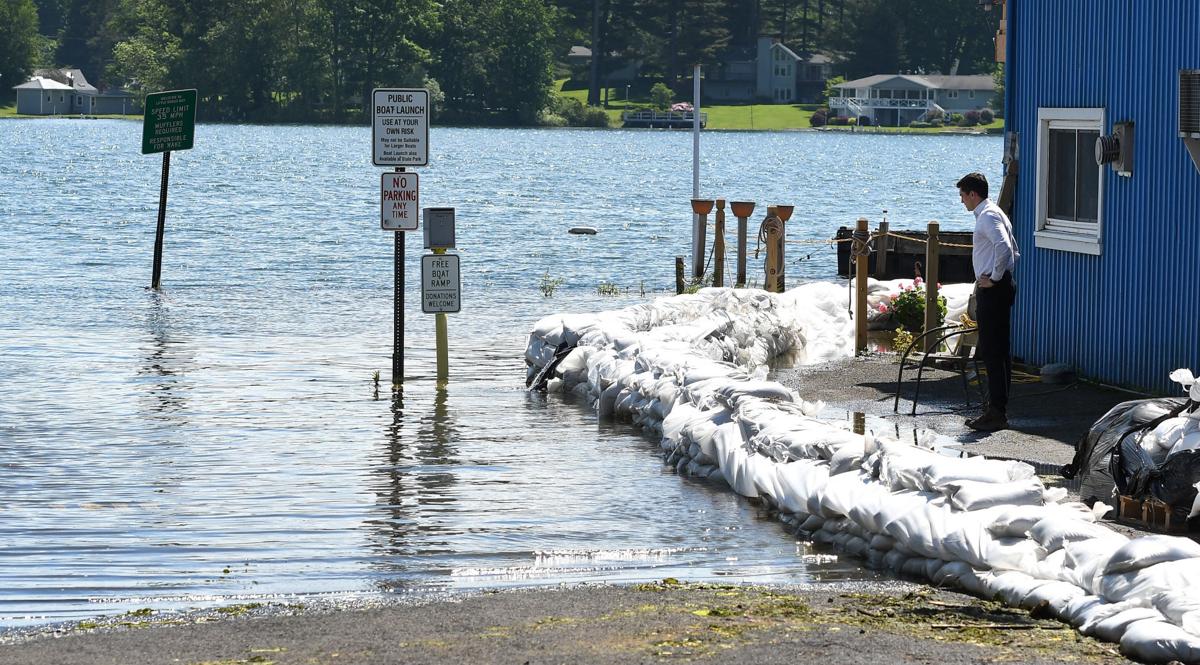 Senate Minority Leader Chuck Schumer is the latest elected official who says Plan 2014, a water regulatory plan for Lake Ontario and the St. Lawrence River, isn't working. He wants the International Joint Commission, a bi-national panel consisting of members from the U.S. and Canada, to reexamine the plan. 
Schumer, D-N.Y., isn't alone. Not only are there elected officials who agree, but business owners and residents echo calls to do something with Plan 2014.
As the saying goes, it's easier said than done. 
What is Plan 2014? 
The plan was adopted by the International Joint Commission in December 2016 to replace Plan 1958-D, which set how lake and river levels would be regulated for decades. According to the preface within Plan 2014, one of the main reasons for the adoption of a new plan was the degradation of 64,000 acres of shoreline wetlands under Plan 1958-D. 
Plan 2014, the report reads, "is designed to provide for more natural variations of water levels of Lake Ontario and the St. Lawrence River that are needed to restore ecosystem health." The plan "will continue to moderate extreme high and low levels, better maintain system-wide levels for navigation, frequently extend the recreational boating season and slightly increase hydropower production." 
The commission acknowledged in Plan 2014 that the south shore of Lake Ontario, which includes the village of Fair Haven and town of Sterling in Cayuga County, is more vulnerable to "occasional higher waters." 
Can it be repealed? 
The likelihood of the International Joint Commission terminating Plan 2014 is low. The commission has six members: Three from the U.S. and three from Canada. According to the commission's website, the panel must reach a consensus to issue an order of approval. The reason for that is to ensure both countries are involved in reaching consensus on issues affecting shared boundary waters. 
Any talk of repealing Plan 2014 has been rejected by current and former Canadian commissioners who support the plan. 
An alternative
If Plan 2014 isn't repealed, could the International Joint Commission modify the existing plan? Yes, and there is precedent for such action. 
The 1958 plan several elected officials have referred to experienced problems, according to historical information available on the commission's website. Record flooding led the commission to examine whether there should be a new regulatory approach to address concerns raised by Lake Ontario property owners. 
Plan 1958-A was adopted in 1960, but the commission revised the plan after low water levels were reported in the Port of Montreal and other locations. Plan 1958-C took effect in 1962 and "provided more stable minimum water levels through reductions in summer flows and minimum winter flows." 
However, the commission wasn't done. There were more studies conducted to determine how to improve the regulatory plan. Plan 1958-D was adopted in October 1963 and remained in place until Plan 2014 replaced it as the water regulation plan for Lake Ontario and the St. Lawrence River. 
Other factors to consider
As much as Plan 2014's opponents say it's not the weather, the record rainfall in the Great Lakes Basin in 2017 and 2019 — the two years there has been flooding along Lake Ontario — is hard to ignore. 
In the Lake Ontario basin, there were above average precipitation totals in April and May when water levels began to spike. Conditions worsened because the other Great Lakes drain into Lake Ontario. Nearly all of the other lakes also had above average precipitation in April and May. 
It's possible that Plan 2014 would need to be adjusted to account for heavy precipitation, but that's something the commission would have to consider before taking action. 
Will the commission modify Plan 2014? 
It's possible. The six commissioners from the U.S. and Canada participated in a conference call Friday, according to a commission spokesman. Details about the call weren't disclosed. 
Last week, Rob Sisson — a Michigander and one of the three U.S. commissioners — said the U.S. members have "an unparalleled sense of urgency" to address Lake Ontario flooding. However, it's unclear what options they are considering to provide Lake Ontario residents relief. 
A commission spokesman said Monday that the six commissioners didn't issue a communique following Friday's conference call. Until the commissioners agree on a statement, the spokesman added, he couldn't provide information about what was discussed. 
New Yorkers agree that they are pleased Jane Corwin, a former state assemblyman, is on the commission. Corwin, a western New Yorker who opposed Plan 2014 as a state lawmaker, is the U.S. section chair of the commission. 
Corwin has taken a balanced approach in her new role. In an interview last year after she was first nominated, she told The Citizen that it would be a "big lift" to withdraw from Plan 2014. Her comments acknowledged that any action taken by the commission would need the support of at least one Canadian member. 
She hinted, though, there could be improvements to Plan 2014. 
"I think it's important to keep in mind with Plan 2014 that in the methodology leading to the recommendation leading to the final product, they did take into consideration worst-case scenarios as far as weather events," she said. "The problem is it didn't take into consideration an extreme enough event which is what we ended up experiencing." 
Online producer Robert Harding can be reached at (315) 282-2220 or robert.harding@lee.net. Follow him on Twitter @robertharding.
Be the first to know
Get local news delivered to your inbox!