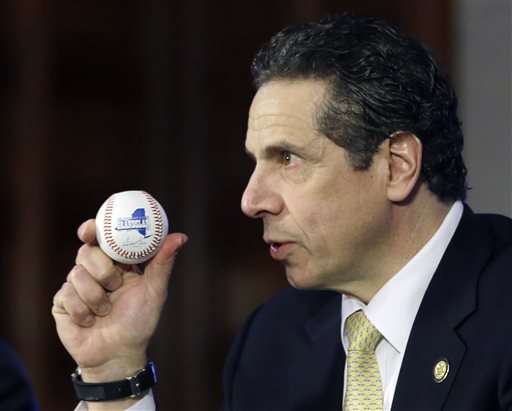 State legislators approved the 2014-15 budget Monday — the fourth straight year the Legislature has passed an on-time budget. 
The $140 billion budget includes increased school aid, property tax relief, business tax cuts, Common Core reforms and prison closures.
Here's what you should know about this year's budget:
(1) There is a property tax freeze (or credit) in state budget agreement. Cuomo wanted to include a property tax freeze in this year's budget and he got his wish.
The goal of the program, according to Cuomo, is to encourage local governments to consolidate or share services with neighboring municipalities. Here's how it works:
- Residents will be eligible for the credit if their local government stays within the property tax cap in the first year of the program.
- In the second year, the local government must stay within the cap and develop a plan to consolidate or share services that will save 1 percent of their tax levy each year for three years. The Division of Budget will be tasked with reviewing the plans.
On a conference call with reporters, Cuomo said the credit would be paid out in the form of a check to the property taxpayer.
The property tax freeze program is expected to generate more than $1.5 billion in property tax relief for nearly 3 million taxpayers, according to Cuomo's office.
(2) Tax cuts for businesses. The budget includes two major provisions to provide tax relief for manufacturers. One is a 20 percent property tax credit for manufacturers that own or lease property in the state. The other is a reduced tax rate on income — from 5.9 percent to zero — for all manufacturers in New York.
The latter was initially limited to upstate manufacturers. But the final budget agreement allows all manufacturers in the state to take advantage of the reduction.
The budget also includes an accelerated phase-out of the 18-a utility surcharge, which has been a thorn in the side of many businesses and pro-business groups. The assessment will be phased out over the next three years. As the 18-a is being phased out, business and home ratepayers will save $600 million.
"The reduction in the 18-a energy tax, lowering the corporate tax rate and a real property tax refund for manufacturers have long been advocated for by Unshackle Upstate and are all necessary measures to improve New York's economy," Unshackle Upstate executive director Brian Sampson said in a statement.
(3) Funding for statewide universal full-day pre-kindergarten. New York City Mayor Bill de Blasio started a discussion that led to a pledge of more than $1 billion for pre-k throughout New York over the next five years.
The state will provide $1.5 billion over the next five years to help school districts implement full-day pre-kindergarten programs (if they don't have them already). School districts will be able to establish pre-k programs at their own speed. There's no deadline or competition. The state will provide the support if a district wants to set up a pre-k program.
(4) An increase of more than $1 billion in aid for school districts. The budget contains a $1.1 billion increase in state school aid. Thanks to the large increase, Cayuga County area school districts will be getting more aid in 2014-15.
Case in point: the Auburn Enlarged City School District. Auburn received $31,025,630 in state aid last year. In Cuomo's executive budget, Auburn's proposed state aid would only increase by $240,000.
In the final state budget agreement, Auburn will receive $33,823,665 in state aid — a nearly $2.8 million increase over last year's aid total.
The three Republican state senators that represent Cayuga County, state Sens. John DeFrancisco, Michael Nozzolio and Jim Seward, all fought to get Auburn additional aid in the budget.
"Securing this assistance for the Auburn City School District was a monumental effort and I worked with Senator DeFrancisco and Senator Seward to include this important aid in the state budget," Nozzolio, R-Fayette, said in a statement Sunday.
"This funding reflects a nearly $2.6 million increase over last year's levels of funding and an almost $2.7 million increase over what was in the governor's proposed budget. We fought hard together to achieve this important objective."
(5) Common Core reforms. You know addressing Common Core's implementation was a top priority when reforms end up in the state budget agreement.
There's a slew of reforms included in the budget dealing with testing and student privacy, among other issues.
Here's a sampling of the reforms:
- Ban on standardized tests for students in prekindergarten through second grade.
- Time devoted to required state-administered exams should be no more than 1 percent of the minimum required annual instructional hours for that grade level.
- State education commissioner will appoint a chief privacy officer. The chief privacy officer will serve a three-year term. The chief privacy officer's duties will include implementing practices to maintain the privacy and security of educator and student data.
- Parents Bill of Rights for data privacy and security. The bill of rights says a student's information cannot be sold or released for commercial use and allows parents to review their child's education records.
(6) Tougher texting while driving penalties. The state continues its crackdown on texting while driving with increased penalties for new and young drivers convicted of texting while operating a vehicle.
The new penalties: For a first offense, if a new or young driver is convicted of texting while driving, their license will be suspended for 120 days. If the driver commits a second offense, their license will be suspended for one year.
(7) Four prisons will close in July. The state budget includes plans to close four prisons, including Butler Correctional Facility in Wayne County, in late July. The plan was first unveiled last summer, when the state Department of Corrections and Community Supervision said it would close the facilities due to a declining inmate population and decreasing crime rate.
Closing the four prisons will save the state $30 million annually, according to DOCCS. The prisons slated for closure are: Butler Correctional Facility in Wayne County; Chateaugay Correctional Facility in Franklin County; Monterey Shock Incarceration Correctional Facility in Schuyler County; and Mt. McGregor Correctional Facility in Saratoga County.
To help communities deal with the prison closures, the state will designate the four properties as tax-free zones within the Start-Up NY program. The program was one of Cuomo's top initiatives last year and aims to attract new businesses to New York.
With the four closures, 13 state prisons have been shuttered since Cuomo took office in 2011.
(8) Millions to address a post-winter problem: Potholes. The budget will help local municipalities fill in the gaps — literally — left behind by the horrible winter New York endured this year.
The state will provide $40 million in aid for municipalities to help with bridge and road repairs. According to state Sen. Jim Seward, the funding will be distributed using the Consolidated Local Street and Highway Improvement Program formula, which is used by the state to determine how much state funding a municipality will receive for road reconstruction projects.
Speaking of the CHIPS program, the state will provide $438 million through the program for highway infrastructure repairs. This funding will go directly to local governments throughout the state.
(9) Funding to address heroin and opioid abuse. With heroin abuse becoming more of a problem in New York, the state budget includes $2.45 million to support efforts aimed at preventing heroin and opioid abuse and treatment.
Along with the funding, state legislators will continue to look at ways to combat the heroin and opioid problem.
Two Cayuga County state senators — Michael Nozzolio and Jim Seward — will serve on a heroin and opioid addiction task force. The goal of the task force is to create a plan to address heroin and opioid addiction.
(10) Fourth on-time budget in a row. The fourth on-time budget in a row is a big deal for Cuomo and state legislators. Prior to 2011, the state budget process was in shambles. Budgets were approved long after the March 31 deadline. There were years when the budget wasn't approved until August. 
But that has changed since Cuomo took office. He made it a top priority to address the budget process and focus on wrapping up the state budget before the March 31 deadline. 
This is the first time in nearly 40 years that the state budget has been approved on time four consecutive years. While that's the way the state should operate, it's still a major feat. 
Be the first to know
Get local news delivered to your inbox!