ELECTION 2017
What you should know about proposal to strip pensions from corrupt NY officials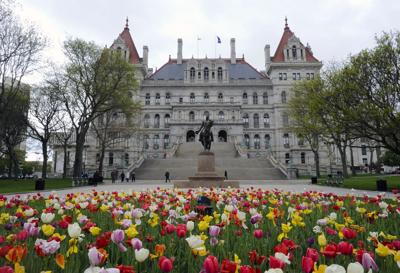 A question on the election ballot in New York will determine whether public officials can keep their pensions after being convicted of corruption. 
Proposal 2 would amend the state constitution and allow a court to strip pensions from public officials who are convicted of felony offenses that have "a direct and actual relationship to the performance of the public officer's existing duties," according to a summary of the proposition published by the state Board of Elections. 
It's a question New Yorkers are asked every 20 years, and it could reshape state government. 
The pension forfeiture amendment was introduced in response to a slew of corruption cases involving state lawmakers. Two of the state Legislature's longtime leaders, ex-Assembly Speaker Sheldon Silver and former state Senate Majority Leader Dean Skelos, were convicted of federal corruption charges. Those verdicts were overturned. Both will be retried next year. 
What is Proposal 2? 
The question, which will appear on the back of the ballot, is: "The proposed amendment to section 7 of Article 5 of the State Constitution would allow a court to reduce or revoke the public pension of a public officer who is convicted of a felony that has a direct and actual relationship to the performance of the public officer's existing duties. Shall the proposed amendment be approved?"
Two successive sessions of the state Legislature, by overwhelming margins, approved the proposed amendment. But it must receive final approval from New York voters. 
The amendment is necessary because the constitution protects pensions from being reduced or stripped. 
How would it work?
The pension forfeiture amendment could apply to officials convicted of felony corruption charges. A court would determine if they should lose all or part of their pension as punishment for their crime. 
Several factors would be considered by the court when determining whether an official should lose their pension. The factors include the seriousness of the crime and whether revoking the pension would cause undue hardship to the official's spouse, children or other family members. 
If the voters approve the amendment, it would apply to crimes committed on or after Jan. 1, 2018. 
What is a "public official" for the purposes of this amendment?
This was an initial concern of some public employee unions because earlier drafts of the amendment could apply to non-elected officials, such as low-level employees at government agencies. 
The amendment's definition of a public official would include: 
• Any elected official in New York
• Any person who is appointed to a position by the governor
• Administrators or managers of counties, cities, towns or villages
• Heads of state and local government departments, boards, bureaus, commissions, divisions, public authorities or public benefit corporations
• The chief fiscal officer or treasurer of a municipal corporation or political subdivision in New York
• A judge or justice of the state Unified Court System
• Any legislative, executive or judicial employee who "directly assists in the formulation of legislation, rules, regulations, policy or judicial decision-making and who is designated by law as a policy-maker"
Supporters call it a win-win, but it first needs approval from New York voters. 
Who supports it?
The proposed amendment is backed by good government groups and many legislators from both major political parties. 
Assemblyman Bob Oaks, whose district includes northern Cayuga County, supported the proposal when it was approved by the state Legislature. 
He recently reminded voters to support the ballot proposal on Election Day. 
"On Nov. 7, the public has the opportunity to ensure their tax dollars are no longer spent to subsidize the lifestyle of public officials who have been convicted of a felony directly related to their office," Oaks, R-Macedon, said. 
There is strong support among voters, according to a Siena College poll released this week. 
The survey found 82 percent of likely voters support the amendment. A vast majority of every demographic group will vote for the proposal. 
Who opposes it?
There isn't a lot of opposition to the amendment. 
The Siena poll found 14 percent of likely voters oppose the proposal. There were very few lawmakers who opposed the measure when it was considered by the state Legislature. 
One of the opponents was state Sen. Ruben Diaz Sr., a Bronx Democrat. He called the pension forfeiture amendment "wrong."
"If I do something, then, yes, I go to jail," he said. "But then my wife is out on the street? Just to please the media?" 
How to vote
Proposal 2 is one of three questions on the back of the ballot. There is a question about the constitutional convention and another on the creation of a forest preserve land bank. 
To vote, flip over your ballot and fill in the "yes" or "no" bubble. Election Day is Tuesday, Nov. 7. 
Online producer Robert Harding can be reached at (315) 282-2220 or robert.harding@lee.net. Follow him on Twitter @robertharding.