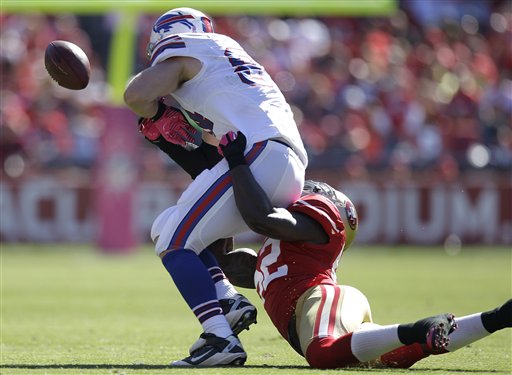 Talk about an embarrassment. 
The Buffalo Bills followed up their blowout loss to the New England Patriots last week with a 42-point loss this week to the San Francisco 49ers. 
The 49ers racked up more than 600 total yards in the 45-3 win, while the Bills couldn't do anything right. Another turnover late in the first half cost the Bills and they never recovered. The 49ers went on to score 28 points in the second half to seal the deal.
GRADING THE UNITS
The only thing that stopped me from giving the offense an "F" for this game is that they did have a couple of solid drives. The Bills had a 12-play, 75-yard drive in the first quarter that led to a field goal. Buffalo also had a five-play, 60-yard drive in the third quarter, but that drive ended when quarterback Ryan Fitzpatrick threw a horrible interception.
But other than those two drives, the Bills "O" did nothing. The Bills' top two running backs -- Fred Jackson and C.J. Spiller -- combined for 16 carries and 53 yards. Tight end Scott Chandler caught four passes for 40 yards, but he also lost a fumble that led to a San Francisco touchdown. 
With the defense playing so bad, there wasn't much the offense could do to make up the gap. But they were bad. Putting up only three points in any game isn't a good outing. 
Let's see... You give up 45 points (second straight game the team has given up more than 40 points) and you give up more than 600 yards? That's a recipe for disaster. 
The Bills defense couldn't do anything right. They couldn't stop Alex Smith, who threw for more than 300 yards. (His first 300-yard passing effort since 2010.) They couldn't stop the 49ers rushing attack. They did not sack Smith. 
There are flaws at every level of the defense. The best front four in football hasn't done much this season. Mario Williams hasn't made an impact. The linebackers are mediocre at best. The secondary has some youth on the outside and teams have taken advantage of that. 
Will the defense get better as the season progresses? I'm pessimistic. They need some more pieces (an outside linebacker/pass rusher and experience in the secondary) before that occurs. 
This was the lone bright spot. Leodis McKelvin had two nice returns (one was called back because of a penalty) and Rian Lindell scored the only points for the Bills. Shawn Powell had a decent day punting the football. Powell had a 47.7 yards per punt average and pinned the 49ers inside the 20 twice. 
Forget the play calling this week. When your team loses 45-3, it's about the entire game plan and the entire coaching staff, not just the play calling. Chan Gailey failed. He isn't an NFL head coach. He shouldn't have a job after this season. Period.
But first things first. Dave Wannstedt should be fired. This defense doesn't look any better than it was in previous years and yet, they have better players. (Supposedly.) His defensive unit has given up 40-plus points two weeks in a row and more than 500 yards two weeks in a row. He needs to go. He isn't cutting it and it's not going to get any better.
The Patriots game was bad, but this game was worse. There are no excuses. Something needs to change and it needs to change now. 
Game Ball
San Francisco 49ers. This was a complete game. And when I say that, I mean it. The offense was superb. The defense did its job, limiting the Bills to 204 total yards, 10 first downs and three points. Even though it was painful to watch from my perspective as a Bills fan, it was still impressive. The 49ers are for real. Don't be surprised if they are playing for the Super Bowl in a few months. 
Needs Improvement
Aaron Williams. I hate having to single out one player this week, but since I mentioned the Bills defense in this space last week, I figured I would go back to "calling out" one player. This week, it's Aaron Williams.
Let's face it: Williams got burned twice. The Kyle Williams touchdown was bad. Kyle made Aaron look foolish in the battle of the Williamses. Later in the game, Mario Manningham made a move and beat Williams for a touchdown. 
Right now, Williams doesn't look like a starting cornerback. He needs more work, maybe as a nickelback. But as a starter on the outside? He isn't good enough.
Up Next
The Bills will stay out west next week. The Bills will play the Arizona Cardinals at 4:05 p.m. Sunday.