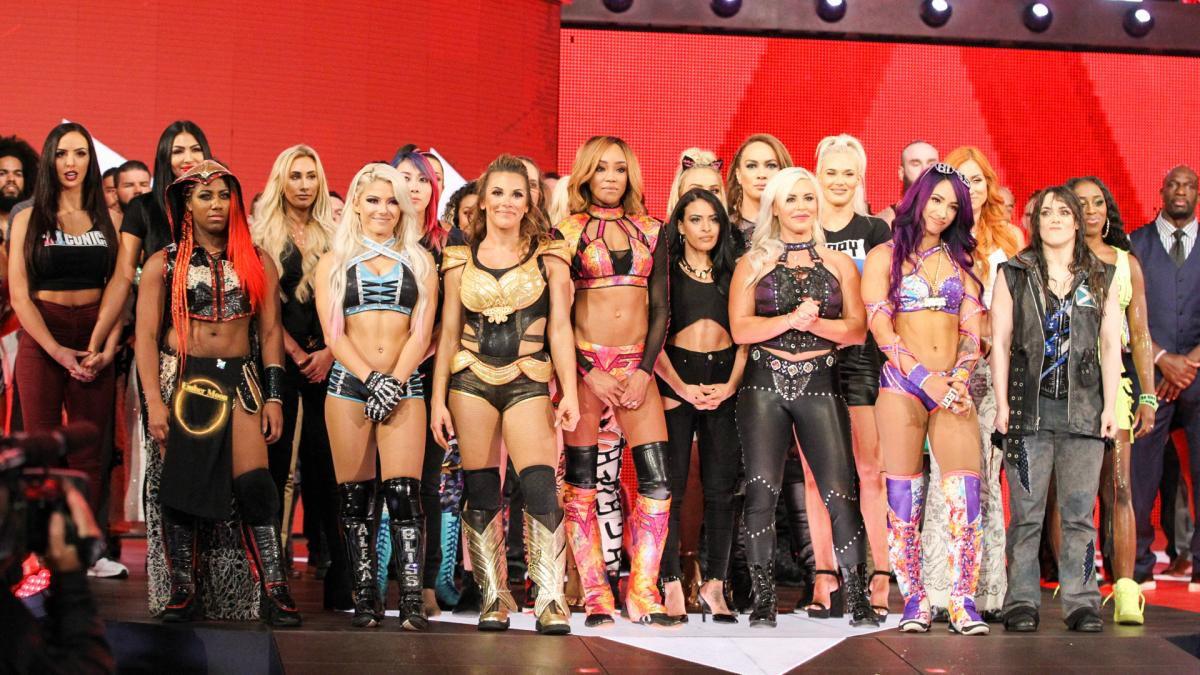 With rumors swirling over the weekend about what Stephanie McMahon's big announcement would be, we got our answer on Monday Night Raw: WWE will hold its first-ever all-women's pay-per-view in October. 
The event, named WWE Evolution, will be held Sunday, Oct. 28 at the Nassau Coliseum on Long Island. 
It has been more than three years since #GiveDivasAChance, a hashtag that trended on Twitter and urged WWE to, well, give its women superstars a chance. For years, women in WWE were an afterthought. They were lucky to get a few minutes of television time. That changed, albeit slowly, after #GiveDivasAChance. 
WWE Evolution is possible for another reason: The rise of NXT, WWE's developmental promotion. Most of the women superstars on the main roster got their start in NXT. Charlotte and Sasha Banks, two of the most recognizable women superstars, are former NXT champions. Alexa Bliss, the current Raw women's champion, is an NXT alumna. Other former NXT superstars include Asuka, Becky Lynch and Nia Jax. 
The pay-per-view will be the latest opportunity for WWE to showcase its women superstars. They have been able to compete in main events on television and at pay-per-views. At WrestleMania 34, there were four matches involving women. 
What should we expect at WWE Evolution? Michael Cole announced that the Raw and Smackdown women's championships will be on the line, and the NXT championship will be defended at the new pay-per-view. In addition, the card will feature the finals of the Mae Young Classic. 
You have free articles remaining.
There will likely be more than a few surprises. When McMahon made the big reveal, she said more than 50 women would participate in the first-ever all women's pay-per-view. If you include every woman on the Raw, Smackdown and NXT rosters, that's about 35 superstars. McMahon hinted that some former WWE women superstars could be at the event. The Bella Twins? Trish Stratus? Lita? All would be smart choices. 
The announcement of WWE Evolution comes at a time when WWE now has Ronda Rousey on its roster. The former UFC champion gives WWE even more mainstream credibility. She's a tremendous athlete and a movie star. You can bet that she will play a prominent role in the promotion of this historic pay-per-view. 
It will be interesting to see if another internet rumor comes to fruition. One of the ideas being floated was that WWE would create a women's tag team division. It's possible that could be announced at a later date ahead of the pay-per-view. 
Evolution is an appropriate name for this pay-per-view. It's not only symbolic of the development of the women's division over the last three years, it's also a reminder of the place women used to hold in WWE. During the Attitude Era, women were treated as nothing more than sex objects. There were mud wrestling matches and bra and panties matches. In a male-dominated industry with a male-dominated audience, that was the norm. 
Times have changed. Now, fans want to see women compete for titles and battle it out in the ring. They want to see great matches featuring women. The women, whether it's Becky Lynch, Bayley, Charlotte, Sasha Banks or the aforementioned Rousey, have delivered. 
WWE Evolution will be a great moment for the company. And it will be a great moment for the women who have put in the effort and excel in the ring. The women, like the men, can put on a show. 
On Oct. 28, it will be their show.