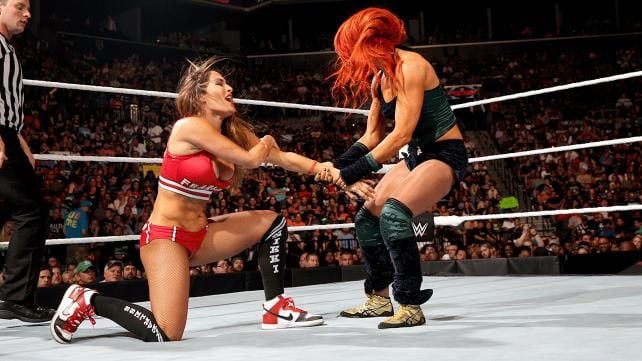 The crowd was one of the best parts of WWE's three-day run in Brooklyn, which included NXT TakeOver on Saturday, Summerslam on Sunday and Monday Night Raw. 
But during the Divas match on Raw, they tried a little too hard to get themselves over. 
Team Bella (Brie Bella, Nikki Bella and Alicia Fox) squared off against Team PCB (Paige, Charlotte and Becky Lynch). It was a decent match from beginning to end. Was it as good as, say, Sasha Banks versus Bayley at NXT TakeOver? No. But it was an OK match. 
The Brooklyn crowd, though, didn't care. At the start of the match, fans were chanting, "We want Sasha!" That was cool enough. Sasha Banks is gaining popularity and respect. People like her. They want to see more of her. (She didn't appear on Raw.) 
As the match rolled on, the fans started other chants. I believe I heard a "CM Punk" chant at one point. The worst moment was when the fans started doing the wave. Of course, WWE's production team couldn't ignore it. While a match is going on the ring, the cameras zoom out to get a shot of the crowd doing the wave. 
After the wave ended, fans started chanting, "We are awesome!" 
At least three of the women involved in the match took to social media to criticize the crowd. Paige tweeted, "You helped us create change and then did your best to disrespect. Niceeeee jobbbbbbb!" 
Brie Bella posted a photo on Instagram and wrote that the Brooklyn crowd "can kiss my ass!" 
Nikki Bella, in her own Instagram post, slammed the fans for "disrespecting women that put their bodies on the line for your entertainment." 
There are legitimate criticisms you can levy against WWE's Divas division. Are some of the women more capable than others? Yes. But that doesn't mean they are putting forth minimum effort. 
They are trying. They are trying to deliver a good match for fans on a big stage. Monday's match was fine. It wasn't a match of the year candidate, but it didn't need to be. The six women who were involved in the match did their jobs. And really, that's what matters most. 
The crowd reaction was disrespectful. The six women in that match deserve better. 
How fans react to this "Divas Revolution" has been a concern of mine since it started. WWE crowds have been conditioned to react a certain way when they see a Divas match. Usually that reaction involves lame chants to express their boredom. 
That's going to be tough to change. WWE has a big role in it. But the fans also have a responsibility to not treat women's matches as some sort of bathroom break or a segment during the show when they can act out and distract from the action in the ring. 
WWE is giving the Divas a chance. The fans should do the same. 
Be the first to know
Get local news delivered to your inbox!