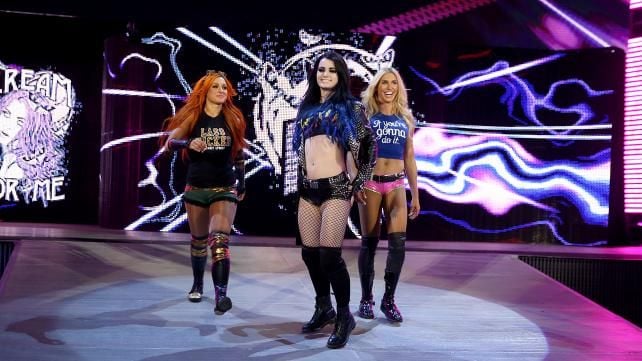 The latest "Stone Cold" Steve Austin podcast Monday on the WWE Network featured the WWE Hall of Famer talking to two-time Divas Champion Paige, who at 23 has already spent 10 years as a professional wrestler. 
The fact Paige is a veteran in the business was something that interested Austin from the start. He asked about the influence of Paige's family, a bunch of crazed wrestlers who really helped show her different aspects of pro wrestling. Her mom was singled out, particularly because she got in the ring with Paige and wrestled some matches against her. 
Here are 10 takeaways from Austin's interview with Paige: 
(1) Paige has scoliosis. One of the early revelations was that the WWE Diva has scoliosis. She said her spine looks like a question mark. When Austin asked if it could become an issue for her, she didn't deny that it could. She said she should be seeing a chiropractor and doing things like yoga, but it doesn't seem like she's doing any of that just yet. 
(2) Paige did some bartending and bouncing — when she was a teen. Paige told a story about the bar her parents operated and how they would leave her in charge. So, at 15 years old, she would be tending the bar and playing the role of bouncing. She recalled one story of two women fighting and she broke it up by sitting on one and putting the other in a headlock. 
(3) With her parents heavily involved in professional wrestling, she met a lot of big names. Paige said WWE Hall of Famer Jake "The Snake" Roberts lived with her family for awhile. He tore off a piece of his boot and gave it to Paige as a memento of sorts. She also met Yokozuna and the Bushwhackers, to name a few. 
"I loved it," she said. "I was always around a billion people, all the time." 
(4) Who did Paige admire in the professional wrestling world? She was a big fan of Bull Nakano and Lita. She also admired Rikishi. And, it just so happens, she was a big fan of "Stone Cold" Steve Austin. 
"I was in love you," she told the former WWE champion. 
(5) Paige tried out for WWE twice. She said her first tryout didn't go well. She tried to become a Diva. She had her hair styled and she got a spray tan. She hated the way she was dressed and was timid at the tryout. She didn't make the cut. 
The second time, she came in with the goal of being herself. She remembered trying out in front of Jamie Noble and Goldust. She was the only woman at the tryout, and this time, she was hired by the company and placed in NXT. 
(6) The impact of Dusty Rhodes. First things first: Paige does a decent Dusty Rhodes impression. She used it often during her story about The American Dream. 
She said Dusty helped keep her sane. She talked about the difficulties of the job and how she moved across the world to compete in WWE. 
"Dusty was so sweet and he took me in," she said. 
She said he advised her to save her money. She also remembered the time she was frustrated after he shouted at her during promo training. She called him an "M-Fer." 
Paige stormed off, but Dusty followed after her. They ended up sitting there for 20 minutes and talked. 
"I just want the best for you," Paige recalled Dusty saying to her. 
(7) Her confidence and why people want her autograph. Austin asked Paige about her reaction to people wanting her autograph. She wasn't sure if it's a confidence thing, but she just questions why people would want her autograph. 
Austin offered her a piece of advice: Take a step back and realize what you're doing, how powerful your presence is and how passionate the fans are. He asked her about the tip The Rock offered in a past conversation.
"Stay humble and hungry," Paige said. 
(8) Triple H's influence on her career. This was a bit of a backstory to when Paige won the first NXT Women's Championship. She was going through a rough period in her life. She got into a car accident, had to have surgery and her dog got hit by a car. On top of that, her bank account was hacked. 
Triple H, she said, gave her an opportunity to return and on her first day back from surgery, she captured the title. 
She seemed appreciative that Triple H gave her that chance at such a low time in her life. 
(9) The Divas Revolution. She credited Triple H with the rise of women in WWE and getting the time to tell a story and wrestle. She also named Sara Del Rey, an NXT assistant coach, for showing them a "man's way of wrestling." 
(10) Her future goals. Her first WrestleMania match was this year at WrestleMania 31. Apparently the experience was a great one because she wants to be part of WrestleMania 32. 
She wants to be Divas Champion again — she mentioned wanting to have the longest title reign in company history — and, as a long-term goal, she wants to be inducted into the WWE Hall of Fame. 
There was another goal she slipped in — changing the name of the Divas Championship to the "WWE Women's Championship." She kind of stepped back from that, but it was interesting she mentioned it at all.