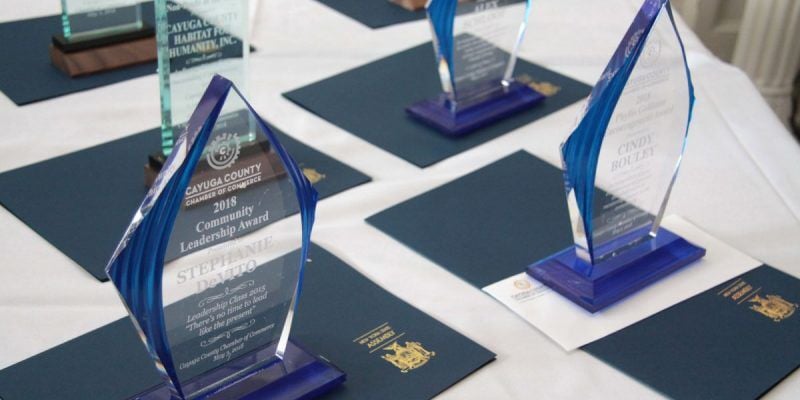 The Cayuga County Chamber of Commerce is recognizing business, nonprofit and community leaders for their contributions to the economy and overall development of the county.
The chamber this week announced its 2021 award winners. Because of restrictions on events and gatherings, the annual awards luncheon will be held at a later date.
Terri Bridenbecker Young Professional Award
Recognizes an individual who is pursuing excellence in their career. A young professional is a goal-oriented person under the age of 40. This year's recipient is Jeffrey Ludwig, director of education at Seward House Museum.
Honors businesses that continually invest in Cayuga County and have shown leadership by taking an active role in our community. This year's recipient is O'Hara Machinery, Inc.
Small Business of the Year Awards
These awards celebrate both a newly emerged and a more established small business.
In business less than five years: Cayuga Drug & Alcohol Testing, owned by Brian Muldrow.
In business five years or more: Nash's Framing & Art, co-owned by Jay and Kim Pearson
Nonprofit of the Year Award
Recognizes a nonprofit organization that contributes to the success of the community by enhancing the quality of life or contributing to the economic base of Cayuga County. This year's recipient is Booker T. Washington Community Center.
Phyllis Goldman Encouragement Award for Women
This award recognizes women in our community who have demonstrated noteworthy entrepreneurial and professional pursuits, who are committed to community and have served as a role model for other women and girls pursuing their career dreams. This year's recipient is Melody Johnson, CEO/Founder of Beverly L. Smith Empowerment Initiative, Inc.
Community Leadership Award
This award is open to Leadership Cayuga alumni. Leadership Cayuga is a chamber program geared toward empowering diverse individuals with the knowledge, skills, and inspiration to successfully achieve leadership roles while developing a collective resource and problem-solving network to address present and future community needs and challenges. This year's recipient is Ginny Kent, Class of 2003 and Associate Director of Development, Director of Alumni Affairs at the Cayuga Community College Foundation.