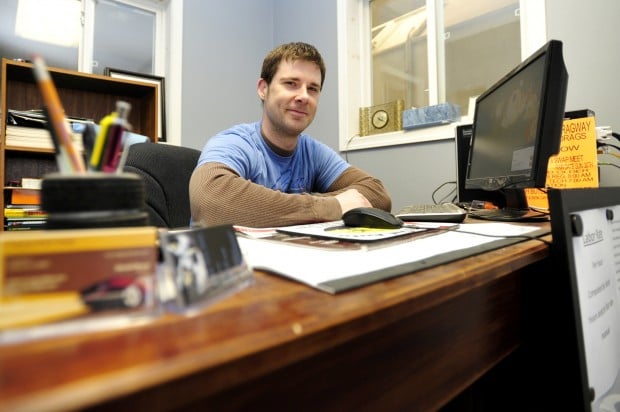 David Borst has been working on cars since he was 16.  At 31, he is finally opening up his own auto repair shop, Angry Owl Auto.
When Borst and his wife, Kelly, were having dinner at Applebees, they tried a beer from the brand, Angry Orchard.  They loved the name, and wanted the auto repair shop to be called something as memorable.
"Everybody uses their names," Borst said about other shops.  He mentioned seeing an auto body shop named "Dave's" before.  "It's kind of boring." So he combined his wife's love of owls and the beer brand they enjoyed to get Angry Owl Auto.
The shop sits on 8 State Route 31 in Jordan, and is open from 8 a.m. to 5 p.m. Monday through Friday.  Saturdays Borst will be available by appointment.
"I'm very open," he said.  "Basically, whatever anybody needs that I can make it easier for them, I would do."
Borst is offering a variety of services: auto body repair, collision services, detailing, restorations, oil changes, brake services, exhaust system and muffler repairs, painting and more. He works on more than just cars, too.  Borst has worked on plenty of tractors and motorcycles.  He even used to restore old toys.
Borst is the only one on staff for now, but he hopes to hire an auto mechanic once things get up and running. He has skills in both mechanical and restoration work, however, so he is able to handle just about whatever will come through the door.
"I'm a start-to-finish type of guy," Borst said.  "I've done restorations where you take every single thing off the car. The car basically has the engine and the roof. When the car leaves here, I'd like it to look new. If you see when I do collision work, it has to look like new. It has to be right. It's got my name on it."
Pricing will be competitive with other places, Borst said. Depending on the job, detailing may cost anywhere from $80 to $100. An oil change will cost about $30. 
"I'm not looking to get rich," he said.  "I just want to have fun and be my own boss."
Borst's grandfather and older brother inspired him to start working in the auto body world. His grandfather did a lot of auto body work, and left Borst with many of his tools. His older brother would "monkey around," on some friends' cars and projects when he was a teenager. 
One of Borst's favorite projects he worked on was a Harley Sportster motor cycle. 
"I did quite a bit of work on that," Borst said. "I had more fun working on it than riding it."
He has worked on Mustangs, John Deere tractors, and done restoration on old-fashioned cars including a '68 Chrysler New Yorker. He worked in a shop in Maryland for a year that only did custom jobs.
"I've done a lot," Borst said.
Borst has been looking for the perfect building for his business for the last five years. There are lots of requirements for picking out an auto repair shop building. One of the most important is having an adequate space for paint jobs. There needs to be at minimum 3 feet of breathing room around the vehicle. As soon as Borst found the building in Jordan, he nabbed it. He has rented it for three months so far, and is looking forward to the wheels starting to roll. 
"I do like every aspect, every type of car," he said.