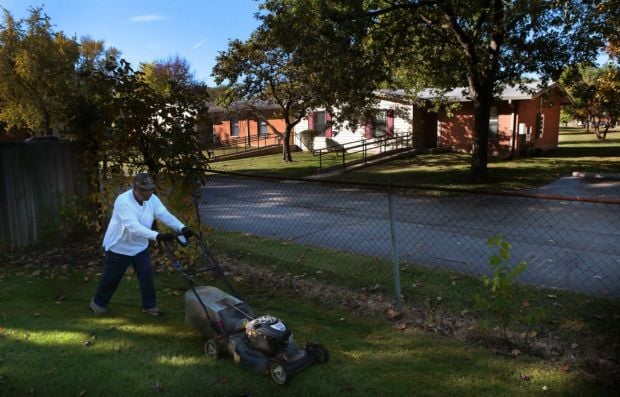 "I always thought a yard was three feet, then I started mowing the lawn."
Well, friends, here we are in the dog days of summer, a phrase that Miss Maggie (the puppy) seems to take a little too seriously, because every day she thinks the Hazy, Hot and Humid fairies will be dropping presents off for her like some trio of summer Santa Clauses. Unfortunately for her that's yet to happen. Luckily for me it's the rain we've been gifted with.
Finally, real mowing is in order. Granted, I say "real" mowing but honestly my "yard" is 12x12 so I could get the job done using barber shears, but it feels more masculine with power tools. I gathered all the equipment from my sweltering shed and felt a trickling of sweat rolling down my spine as I assessed the situation, deciding to start with the trim work around the bricked flower beds. This simple task, which should only take about five minutes at the very most, turned into the linchpin that would turn my outdoor chore into an afternoon of turmoil, because no sooner had I started the weed whacker when I heard a high-pitched whirling sound. There was no string left inside the spool.
With a sigh, I calmly walked back to the sunbaked shed and found a half used package, so I wasn't stressed just yet. No, the real tension began the moment I tried to unclip the trimmer head. No sooner had I pushed in the tabs to release the empty spool from its moorings it uncoiled like one of those cans of snakes disguised as peanuts. Plastic parts flying everywhere. Crawling on my hands and knees I tried to find all the pieces now playing hide and seek in the grass.
I was now sweating like a pig, but I managed to not only re-assemble the trimmer but also got enough string wound to knock that task off my list. I then plugged in the lawn mower (yes, I have a plug-in mower don't judge) and proceed to not only get the first two rows cut to size but the extension cord, as well! At this point, with nothing to do with the outside temperature, I was getting hot under the collar. After using some choice language, I gathered all the tools and put them back into the now oven-of-a-shed with the intent of buying a new cord and getting the job done once I returned from the store. But no sooner had I gotten back home with my new extension cord, it began to rain, again.
So there I was, drenched in sweat and rainwater trying to convince Miss Maggie that it was always my dream of having a yard with a mullet. She wasn't buying my story, so as soon as the rain stopped I plugged the mower back in and gave the grass the buzz cut it deserved.
Auburn native Bradley Molloy's column appears here each Sunday. He can be reached at lovonian@hotmail.com
Be the first to know
Get local news delivered to your inbox!