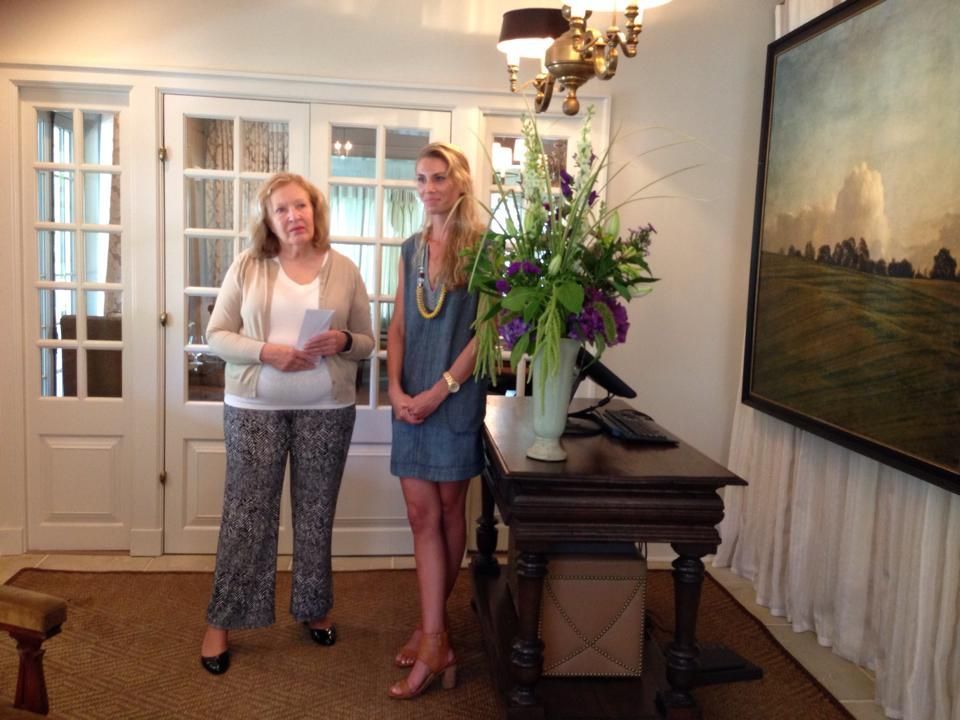 SKANEATELES | Krebs owner Kim Weitsman presented a check to Dr. Mary McLaughlin a rehabilitation psychologist, on behalf of her and her husband, Adam, at the restaurant Thursday afternoon.
It's part of the mission of the Weitsmans and The Krebs in the village of Skaneateles: Donate at least $100,000 per year to women and children charities.
McLaughlin told a story about how she got started with helping the less fortunate, the disabled and chronically homeless and her efforts after helping a veteran in Boston.
"He was outside when he gave me a call," she said, noting the call was received early in the morning. "He said that he didn't know which direction to go."
He was forced out of his home, and he literally had nowhere to turn to. Although she never gave his name, McLaughlin referred to him as a friend. 
The veteran is doing well now, receiving benefits and care that he deserves. However, life would have been different without McLaughlin.
"People with psychiatric disabilities and war-related brain injuries cannot fend for themselves," she said. "They have no spacial perception, they cannot fill out paperwork, and if they violate some rule they're unaware about, they will end up out on the street."
McLaughlin's services extend beyond lending an ear or extending a helping hand. Not only is she a psychologist, she is a humanitarian. She boasts her role as an advocate at court or social service hearings.
Of the disabled, she said, "85 percent will navigate the system, and they'll end up on their feet." The other 15 percent are constantly recycled — housed and cared for before being asked or forced to abandon their services. She works with the latter population to make sure they are being respected and services are being provided.
It's also almost impossible to yield change. For affected veterans or homeless individuals, depending on their condition, they may not be able to grasp the process.
There are often cases where impatience can get the best of a person, and they'll act impulsively and negatively.
"Create change through praise, encouragement and positive reinforcement," McLaughlin said.
Due to these kind gestures and promoting awareness, people do notice. Through social media, the Weitsmans came across her selfless endeavors, which is why she was accepting a $5,000 check in The Krebs' foyer.
Weitsman said the psychologist constantly talks about raising awareness through the digital platforms.
"We saw the impact," Weitsman said.
"Advocacy is a responsibility," McLaughlin said, adding that the love for people and the work keeps her going.
The humanitarian also said she would like to train advocates as well. There are a plenty of people out there who want to help.
Efforts as little as handing out bottled water and fruit speaks loudly, McLaughlin said. Every little bit helps, but it requires all of us to actually do something.
Skaneateles Journal reporter Christopher Malone can be reached at christopher.malone@lee.net or 282-2230. Follow him on Twitter @Skan_Malone.
Be the first to know
Get local news delivered to your inbox!