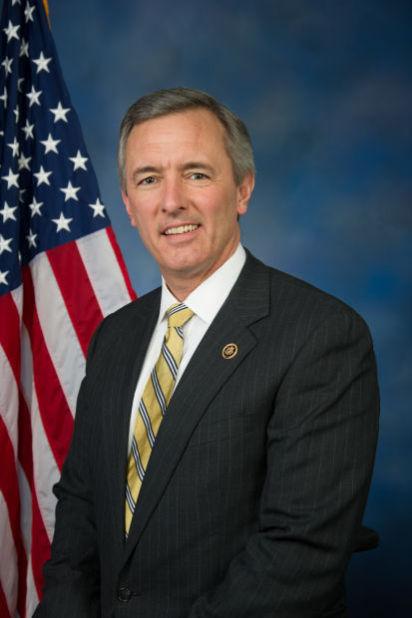 U.S. Rep. John Katko is among the lawmakers who support President Donald Trump's proposal to end the government shutdown, fund the installation of a wall along the southern border and provide temporary protections to undocumented immigrants who were brought to the U.S. illegally as children.
Katko, R-Camillus, released a statement Sunday endorsing Trump's plan, which he described as a "compromise." Katko attended two meetings at the White House last week to discuss how to end the nearly month-long government shutdown.
"I'm glad that, following these meetings, the president has acted to bring forward a compromise that would both secure our borders and provide status to (Deferred Action for Childhood Arrivals) recipients," Katko said.
Trump detailed the proposal during a speech Saturday at the White House. In exchange for reopening the government and $5.7 billion to fund the construction of a wall along the U.S.-Mexico border, 700,000 DACA recipients would receive three years of relief — protection from deportation, access to work permits and other benefits — and a three-year extension of temporary protected status for 300,000 more immigrants whose protected status is nearing expiration.
There are other provisions, including $805 million for drug detection technology, $800 million in humanitarian aid and 75 new immigration judges to reduce the growing backlog.
Trump, like Katko, described his proposal as a "compromise." He urged both parties to support it and defended his plan to build a barrier along a stretch of the southern border.
"Walls are not immoral," he said. "In fact, they are the opposite of immoral because they will save many lives and stop drugs from pouring into our country."
Senate Majority Leader Mitch McConnell pledged to allow a vote on Trump's plan this week. But House Speaker Nancy Pelosi doesn't support the president's proposal. She believes the government should be reopened, and then there can be a discussion about immigration policy.
Not only does Pelosi oppose the wall funding, but she noted the president's plan doesn't include a permanent solution for Dreamers and temporary protected status recipients. Democrats, she added, want increased infrastructure investments at ports of entry, advanced drug detection technology, additional customs personnel and more immigration judges.
"Next week, Democrats will pass a package of six bills agreed to by House and Senate negotiators and other legislation to reopen the government so that we can fully negotiate on border security proposals," she said. "The president must sign these bills to reopen government immediately and stop holding the American people hostage with this senseless shutdown."
The shutdown began in December when Trump demanded $5.7 billion in wall funding to be included in a government spending bill. At the time, Republicans controlled both houses of Congress and couldn't advance a proposal that included the wall money.
Now, Trump is picking a fight with Pelosi and House Democrats. The Democrats have said that they will negotiate border security and immigration solutions once the government shutdown ends.
While Pelosi and most Democrats oppose Trump's plan, Katko believes it should receive consideration.
"I am hopeful that members of Congress in the House and Senate, from both sides of the aisle, will thoroughly review this offer," he said. "I urge continued bipartisan negotiation from all sides so that we can end this shutdown."