It's become an Auburn cliché to say, but every winter evening, the city's skyline looks like Alfred Hitchcock's "The Birds."
Indeed, that's when thousands upon thousands of crows saturate Auburn's treetops and soar over its streets in numbers rarely seen outside the classic horror movie.
But the similarities end there. To be sure, Auburn's birds don't kill people. And, ominous as it may appear, the city's avian presence isn't shrouded in mystery like the movie's. Experts can explain why all those crows are drawn to Auburn. And, after being trained by those experts, the city's Department of Public Works can more or less control where the birds descend.
Despite those control efforts, which began 14 years ago, crows remain a fact of life in Auburn — especially for Mike Talbot. The city's DPW superintendent since 2011, and an employee of the department since 2000, Talbot has seen almost the entirety of Auburn's crow saga. Like clockwork, he said, they arrive alongside winter in late November and all but disappear by March 1.
"I bet someday they'll just stop coming here for whatever reason," he said. "Just like they started coming here."
Although reports of the birds amassing in the trees outside Auburn date back more than a century, it wasn't until the late 1990s that they started roosting inside the city in significant numbers, said Kevin J. McGowan of the Cornell Lab of Ornithology in Ithaca. Having observed the city's crows for more than two decades, as well as populations across the state, McGowan believes they come to Auburn along a diagonal migratory path that stretches from Quebec and Nova Scotia to the area where West Virginia, Maryland and Pennsylvania meet.
But there's a simpler explanation why, of all the places on that path, the crows congregate so strongly in Auburn, McGowan said. 
"The agricultural fields are the big draw. It's an area that has abundant food the crows can access during winter," he said. "The city is a central place for them to gather at night and go out into the fields during the day. So Auburn's great because it's geographically in a good spot for the crows and has big trees to roost and fields to forage." 
According to a 2008 report by the U.S. Department of Agriculture's Wildlife Services, the U.S. crow population has been steadily increasing since 1966. Researchers counted 63,800 in Auburn in 2005, the report said. Meanwhile, 25,740 were counted in Albany, 16,320 in Troy and 12,000 in Utica — all cities with at least twice Auburn's human population of 27,707 that year. At the time, Wildlife Services said Auburn had the most crows the department had ever documented in New York state. They outnumbered humans more than 2-to-1.
Wildlife Services also said its report was prompted by rising complaints about the murder of problems created by urban crows: picked-apart trash, cacophonous nighttime caws and, of course, poop. 
"You wish they wore diapers," Talbot joked.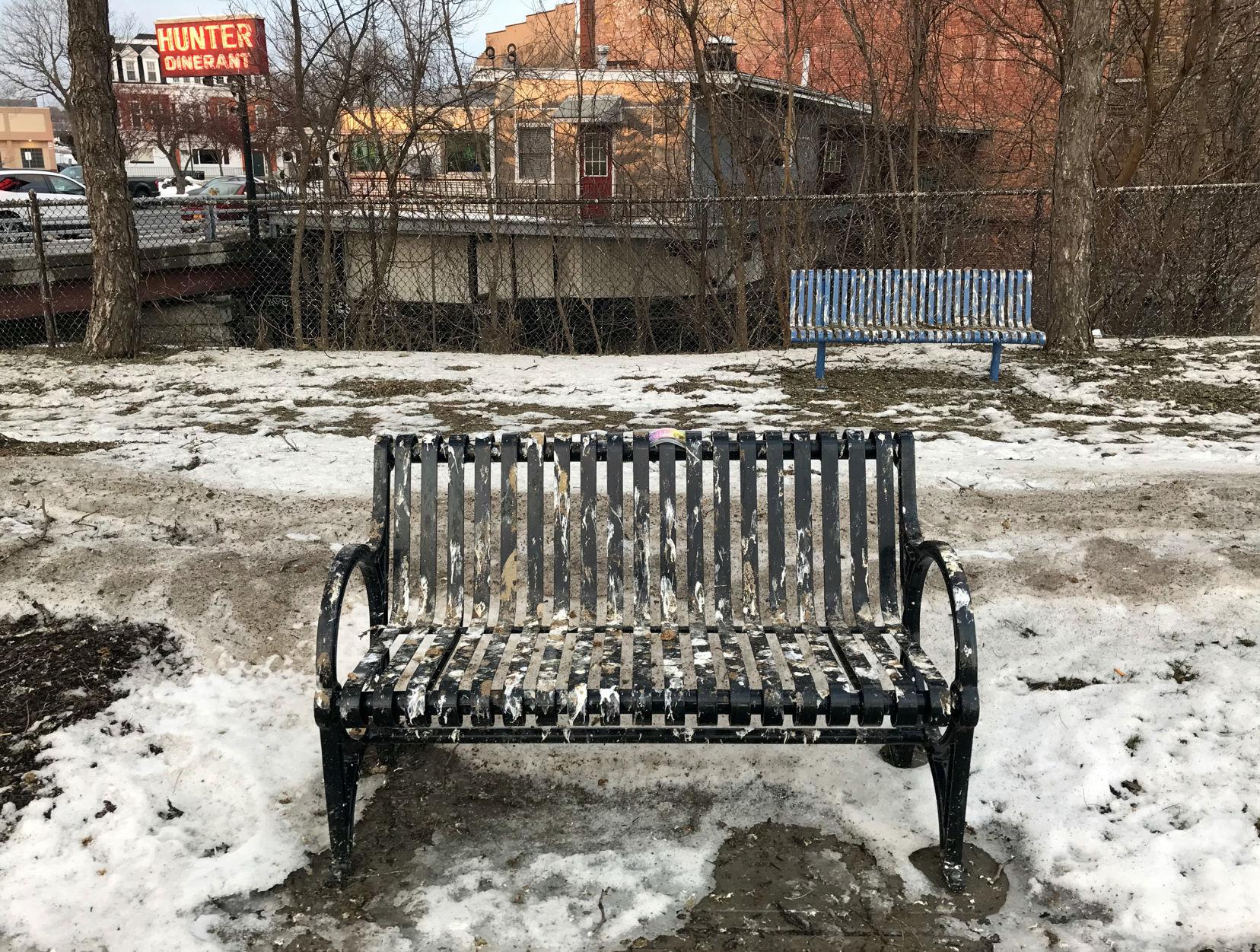 In Auburn, the messy birds were met by welcoming parties of hunters, who organized a crow shoot tournament in 2003. In turn, the hunters were met by protesters, who called the tournament a massacre. The event ended in 348 birds dead and at least four protesters arrested for trespassing. But the heated debate over the treatment of Auburn's birds continued.
In 2004, bolstered by the previous year's controversy and an advertising vehicle in the form of a customized 1986 Pontiac Firebird christened the "crow mobile," the tournament returned. That year's hunt claimed 1,067. By 2005, a bill to outlaw such events was introduced to the state Senate, but wasn't passed. Free to fire at will, hunters bagged another 1,061 crows in 2005 and 453 in 2006.
A common argument from crow hunt protesters — and crow defenders to this day — was that the birds give Auburn character. Decades after their arrival, that does seem to be the case, whether it's Crow City Roasters coffee or the mural of the birds on Exchange Street. Talbot, for his part, has developed for the crows the kind of respect one often develops for a longtime adversary.
"They're such a smart bird," he said. "And you don't want to hurt them." 
For better or worse, the crows have also drawn attention to the city. A National Geographic crew filmed the flock in 1998, and the hunts drew widespread media attention years later. 
But perhaps the most compelling argument against hunting Auburn's crows was its inefficacy. Every bird killed was a drop in the bucket, one dead against 50 still alive and roosting.
So Auburn turned to the USDA. In 2005, the city spent $14,000 on a hazing program led by Wildlife Services. Using pyrotechnics, lasers and recordings of calls from distressed crows, members of that team and the Department of Environmental Conservation drove almost half of Auburn's population out of the city in one week. Many went to Cortland and Geneva, McGowan said.
In 2006, Wildlife Services counted 36,525 crows in Auburn. The participants in that year's hunt — the last to date — blamed the USDA's hazing efforts for similarly cutting their haul in half. 
McGowan warned, though, that hazing crows is like shoveling snow: It will always have to be done again.
That's why, when the USDA returned to Auburn in 2006, it taught employees of the city's Department of Public Works how to continue the hazing.
Today, Talbot said, those efforts remain about the same as they were 14 years ago. One difference is that city employees no longer use crow calls as part of their hazing program. Broadcast by speakers on a truck, the calls annoyed Auburn's human residents more than its avian ones, Talbot said. And after awhile, he continued, the birds adapted to them.
"They'd see our truck coming and just not move," he said. "They actually post lookouts. They're in constant communication."
When they don't have snow to plow, two city employees spend their winter evenings hazing crows, Talbot said. They use two types of pyrotechnics — one makes a screeching sound, the other a "pop!" — as well as a gun that projects a laser the size of a golf ball. But effective as those measures are, and experienced as the DPW is with them, hazing can still be frustrating, Talbot continued.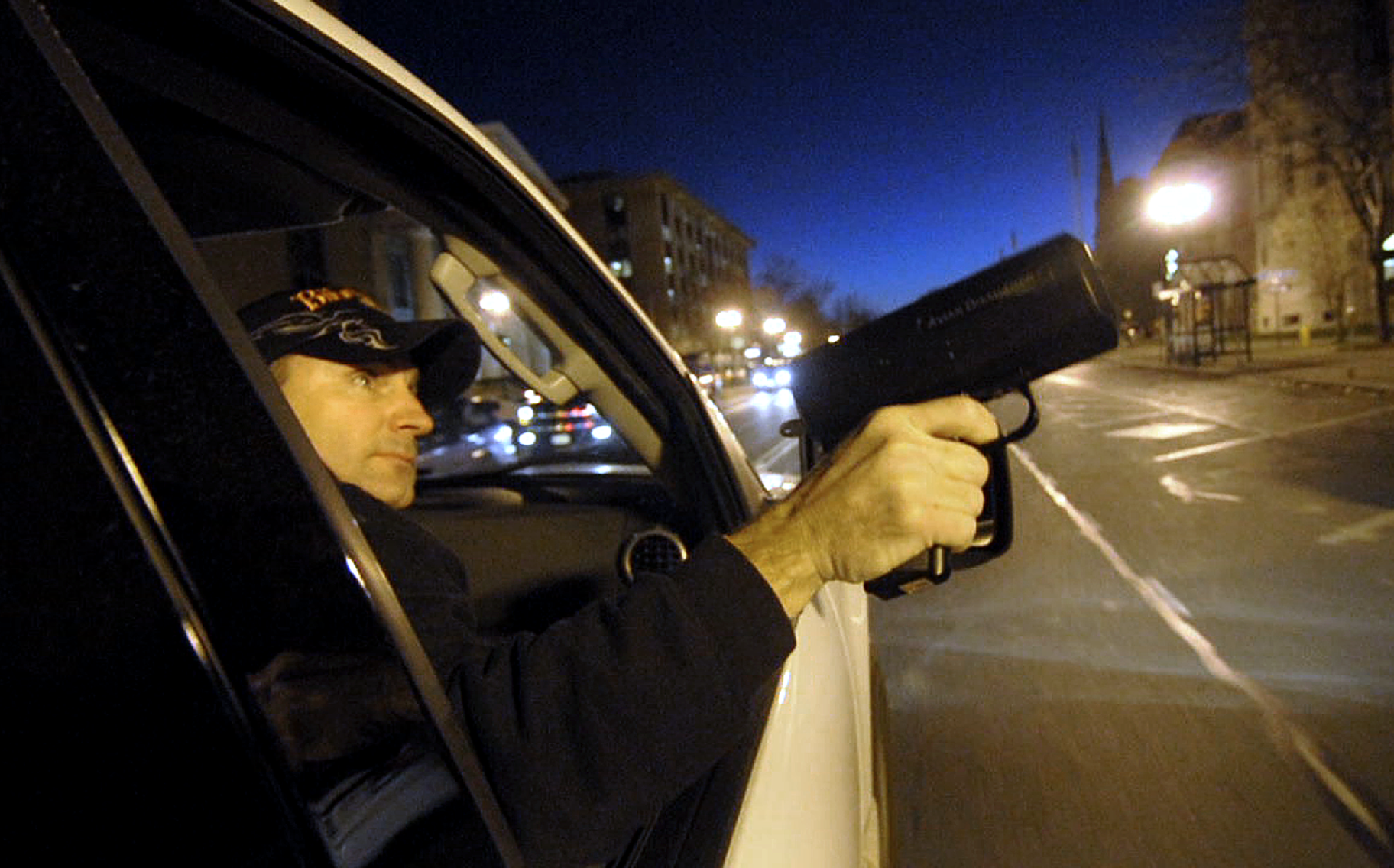 Auburn's crows don't follow any one itinerary through the city. They could line the Owasco River near the Mill Street Dam, greet guests of the Hilton Garden Inn or accentuate the grim atmosphere at Fort Hill Cemetery. But wherever city employees find the birds, Talbot said, they try to guide the flock toward the Municipal Landfill at Auburn's northwest corner, where there are trees to roost and refuse to eat. That herding process, however, can easily feel like going in circles, Talbot said. And it means ignoring the myriad other tasks on the department's to-do list.
That's not to say Auburn's hazing program hasn't been successful, Talbot said. Some years, he continued, the crow population does seem to go down. But such observations are anecdotal at best: Talbot thought last winter wasn't so bad, for instance, while McGowan was amazed at the number of birds. The reason for that disparity is because there hasn't been an official count of Auburn's crows in more than a decade. Wildlife Services said it hasn't conducted work in the city since 2008. And for the DPW, counting the birds is even more difficult than hazing them, Talbot said.
"You can sit there with one of those counters all night long. One crow looks like the next crow, which looks like the next," he said. "And they circle, they land, they hop, they're all over the place."
The department has another crow-related duty — so to speak. After the birds leave Auburn, employees must clean their droppings from city benches, monuments and sidewalks. With thousands of crows occupying such a small area, it doesn't take long for those droppings to get unsightly, Talbot admitted, but his department simply doesn't have the resources to clean them every week.
The same smelly chore also falls to Auburn property owners. Both Joseph Catalfano, owner of 39 Genesee St., and Joseph Bartolotta, owner of several buildings in the city, said that cleaning up after crows is routine maintenance. The limousines at Catalfano's business, J&J Limousine Service, and the cars of tenants at Bartlotta's rental properties are particularly vulnerable, they said.
The nuisance posed by the crows has provoked Auburn residents into taking their own actions against them, Talbot said. Some douse their trash in bleach to dissuade the birds from eating it. But he cautioned against that, as city staff still has to collect the bags. There are harmless ways to haze crows, however, such as lobbing a snowball at a roost or even clapping to scatter it, Talbot said.
There are also decidedly harmful ways to thin the area's crow population. As regulated by the DEC, their hunting season is Sept. 1 through March 31 in New York. And despite the relaxed attitude toward shooting crows in Auburn's recent history, lately there have been no instances of illegal crow hunting in the area according to the DEC, Auburn police and the Cayuga County Sheriff's Office. 
McGowan understands the instinct to repel Auburn's crows, the revulsion they inspire. It can be unsettling to see so many birds sharing the same air as us, he said. The endurance of Hitchcock's movie in the collective unconscious certainly hasn't helped. But McGowan also suggested trying to appreciate the crows. With climate change, it's uncertain that they'll always come to the city, though he believes their migratory patterns won't be affected too significantly. Regardless, McGowan said, Auburn has in its crows something worthy of awe. He compared the sight of them to the passenger pigeons that darkened the skies 100 years ago, the buffalo on the Great Plains, the herds that roam Africa. They're a natural phenomenon speaking, in coos and caws, to our imagination.
"You just don't see wildlife congregate like that," he said. "It's an incredible thing."