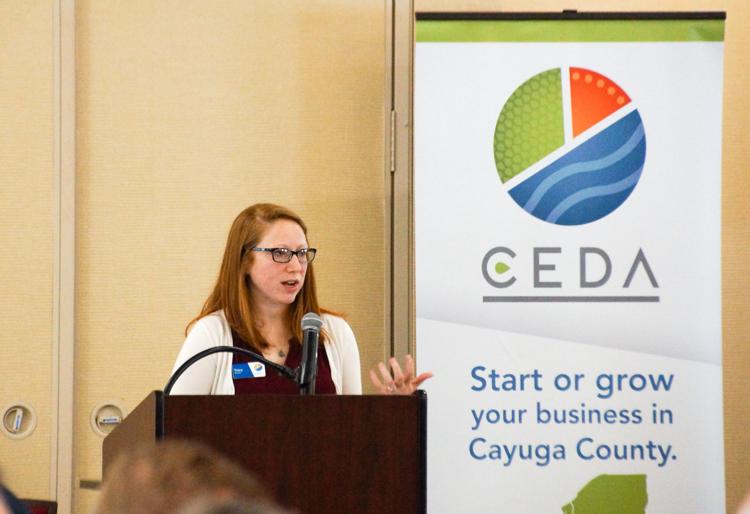 A last-minute change to the Cayuga County budget that deepened a cut in funds from the Cayuga Economic Development Agency is prompting the agency to reconsider its economic development plans for 2019.
Just prior to the Cayuga County Legislature's vote on Tuesday to approve the county's 2019 operating budget, Legislator Timothy Lattimore, R-Auburn, offered a motion to cut $25,000 from CEDA's operating budget. A divided Legislature approved the amendment.
Lattimore's reasoning for the cut that, when combined with an existing $25,000 cut in the preliminary budget, brought CEDA's budget down by 14.3 percent to $300,000, was that the county is lacking in grant writing capability, he said.
"I'm all for economic development. I think we're deficient in grant writing. There's plenty of money out there for water and sewer and economic development things (but) we haven't put the grants together in order to chase them," Lattimore said during the meeting Tuesday.
CEDA is a nonprofit economic development group that works to attract, retain or grow businesses in the Cayuga County area, and was created to serve as "one stop" for all the disparate economic development resources and groups in the area. 
The county has grant writing capabilities in various departments, county Administrator J. Justin Woods said in a phone interview Thursday. For example, the county's highway department recently received approximately $2.6 million in state funding after successfully applying for bridge repair grants. Other departments such as the sheriff's office, E-911 center, emergency management office and more frequently apply successfully for grants.
Woods' reasoning behind the first $25,000 cut in the tentative budget was based on CEDA's own fund balance.
"I wanted to encourage them to use some of that for operations and then look at strategic development of a plan to spend it down and then reevaluate that when we came back next year," Woods said during the Legislature meeting.
In an interview Thursday, CEDA Executive Director Tracy Verrier said that initial proposal had helped the agency think about the reserve funds strategically and about how to advance its mission through initiatives like programmatic investments for economic development.
Now, with an additional $25,000 cut to consider, those discussions have shifted slightly.
"It makes our conversation change to more talking about our operations as opposed to how to make strategic investments," Verrier said.
The agency is still considering new programs but in a different way. Some of the possible programmatic investments might have required new dedicated staff, but now broader staffing impacts have to be considered as well, Verrier said.
Multiple options to accommodate the cuts are still on the table, Verrier said, and the agency is not ready to make any choices yet.
Verrier said that CEDA had so far in 2018 worked with companies that received some form of incentive that are anticipated to result in over $20 million of private investment and 99 projected jobs in the county — a $4.8 million payroll increase — with an argument to be made for retention of 340 existing jobs.
"I would say that's a pretty good bang for your buck," Verrier said.
For prospective or existing business owners, CEDA currently offers services like financing, business plan review, help identifying and applying local and state incentives and more.
The proposal from Lattimore prompted disagreement from several other Legislators. Legislator Ryan Foley, D-Auburn, questioned why Lattimore wanted to cut CEDA's funding instead of using another source of funding, such as the county's fund balance, to pursue grant writing expenditures.
Foley, as well as Legislator Chris Petrus, R-Brutus, asked Lattimore if it was his intent to immediately fund the potential grant writing position with a new motion. While Lattimore did not introduce a motion to create the position Tuesday, he said it would be brought up at future Planning and Economic Development Committee meetings.
"I think we can do it in-house, a lot better and cheaper, to have our planning and economic development work on the grant writing," Lattimore said.
Legislator Keith Batman, D-Springport, said Lattimore's expressed support of economic development was "totally inconsistent" with his actual proposal.
"It seems to me there's a fundamental inconsistency to say that 'I'm in favor of economic development, but I want to cut the agency that we've charged with economic development,'" Batman said.
If the Legislature was unsatisfied with CEDA, Batman said, it should be the body's responsibility to decide what it is they want CEDA to do and come up with specific measures to "hold them to it."
CEDA relies on the state Department of Labor for countywide data about employment gains and losses, but the agency does require companies that receive an Industrial Development Agency incentive, like a sales tax exemption on construction materials, to report how many jobs are created.
CEDA also helps businesses work with the state-run Empire State Development Corp., which is responsible for its own monitoring of how many jobs are promised and how many are created, which CEDA follows up with, Verrier said.
"I want to make sure we're showing value to the Legislature and I just need to continue having those conversations about the return on investment and what they're looking to see," Verrier said. "We want to be good partners to the county and good partners to the Legislature."
The Legislature's next Planning and Economic Development Committee meeting is scheduled for 5:30 p.m. Dec. 5 at the Cayuga County Office Building.