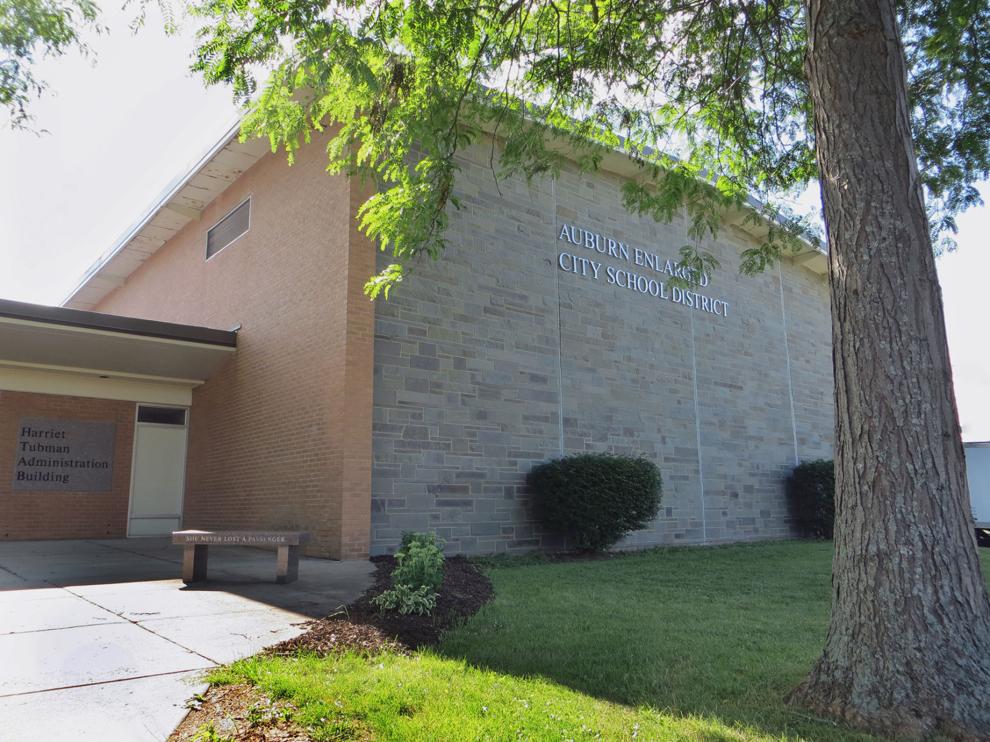 Seven Auburn school board candidates debated COVID-19 response, budgets and more during a forum taped Monday at Cayuga Community College.
Eight people are running for three three-year terms on the Auburn Enlarged City School District Board of Education, and all but one took part in the forum. Matteo Bartolotta, who owns Nino's Pizzeria in Auburn, was not able to participate.
Candidate Rachel Czyz has been home raising her children in recent years and has a degree in education from the University of Valley Forge in Pennsylvania. Nate Garland has been assistant corporation counsel for the Auburn city government since 2017 and is a former Cayuga County assistant district attorney. School board incumbent Salvatore "Sam" Giangreco will be wrapping up his fourth term. Patrick Mahunik, back on the ballot after running last year, represented District 12 on the Cayuga County Legislature and works as an administrator in the Newfield school district. Incumbent Ian Phillips first joined the board in 2018, and is the chairman of the Cayuga County Democratic Committee and a New York State United Teachers union employee. Incumbent Kathleen Rhodes is finishing her third term. Newcomer Isabelle Wellauer owns Nourish Holistic Healing Arts, a private yoga and massage therapy practice out of her home in Sennett.
In a roughly 90-minute discussion, the candidates were asked to assess how Auburn has handled the COVID-19 pandemic so far, and what the district needs to do this summer and into the fall to make sure the 2021-22 school year is successful. They also gave their thoughts on the district's proposed budget that community members will vote on later this month along with their board choices. The prospective budget includes a 2.85% tax levy increase.
Here are some highlights from each candidate's answers:
Rachel Czyz: Czyz said the district handled some pandemic issues well, while other "areas were lacking a lot." She felt the phase-in approach the district took at the beginning of the school year was rolled out effectively. However, she believes children were kept out of full-time in-person learning for too long. She said her own children navigated through it, and that a few of them have individualized education programs and digital learning did not work for those children.
"No matter how much we requested, we could not get them back into school, we could not get the attention that they needed, we couldn't get access to their teacher aides that they should have had, and all those things," Czyz said. "That really held us back, it held our kids back this year."
For handling the next school year, Czyz said it is important to rally behind administrators and teachers to get children "back up to par." She added she feels it "will take a lot in our community to get everything moving again the way it should be." She also suggested a platform "that everyone uses" that will help open communication up with the different school buildings. On the budget, Czyz talked about looking into other ways to get funding other than raising property taxes.
Nate Garland: Garland believes "people did the best they could acting in the best interests of children" during the pandemic, and noted how the district's distancing protocols helped lower class sizes, which was beneficial.
Looking ahead, Garland talked about the importance of communicating with administrators and asking tough questions.
On the budget, he said it's important to ensure "that we're doing everything we can to protect the taxpayer" but noted that he supported the proposal. 
"With smart reinvestment of tax dollars, I think we can really leverage the federal money coming in to return class sizes to a level at which they were when we were all in school, when school looked and felt a lot different to the student, to the teacher and to the parent," Garland said. "For those reasons, I think we need to approve the budget as it is currently written."
Salvatore "Sam" Giangreco: Giangreco praised Auburn Superintendent Jeff Pirozzolo for keeping community members informed about various changes to COVID-19-era guidance from the state, and lauded teachers as well. He noted state guidance constantly changed and added he felt the board came together and tried to do "the best things possible."
"For the most part, I think we did that. I know there were people that were dissatisfied with some moves we made, either not bringing the kids back or bringing them back too soon," Giangreco said. "No matter which way you turn, you're always going to have opposition on the other side."
For the next school year, he said the board should insist on people following guidelines "as much as we can as a board." He noted staff, families and students have been cooperative on following those directives. Giangreco, who is the chairman for the the facilities committee, noted five of the school buildings will be undergoing construction, largely with safety improvements, as part of a capital project. He would like to stay on the board to see those through.
Giangreco, who cast the current board's sole opposing vote against the proposed budget in mid-April, said he supports the spending plan but not the 2.85% tax levy bump. Adding that the community has supported the district on various initiatives over the years, Giangreco argued that the community "needs a break" from higher taxes.
Patrick Mahunik: Mahunik commended the district's pandemic response and lauded staff members. He added he didn't think Auburn compromised the health and safety of staff or students and applauded how the board navigated through its reopening plan.
When addressing how the next school year should be handled, he said 20% of the stimulus money coming to the district has to be dedicated to mitigating learning loss that occurred during the pandemic.
He suggested tasking administrators to come up with a plan for the board to review, adding that "we know where it's got to go, we know that we have to spend a significant amount of money, the money's there, we need to invest in our kids." He also talked about addressing the social and emotional feeds of students and staff members.
"Because if our adults aren't comfortable and they're not feeling like they're bringing the A game, then our kids are going to be the ones that pay," he said. "And they already lost enough, we don't need them to lose anymore." 
Mahunik supports the proposed budget because he's afraid of the alternative, saying if the district went to a contingency budget because if the public rejects the proposal, "that's not good for our kids, that's not good for our families." He said he was disappointed in the budget process this year and wanted the tax levy to stay flat.
Ian Phillips: Phillips said everyone in the district did the best they could in a difficult situation. He added that he would have liked to have seen the state prioritize work on returning children to schools before bars and other establishments opened.
Phillips discussed federal stimulus funds meant to "make up for the challenges that we face this year," including learning loss. He said he is excited about the district's upcoming summer programs to help with that loss.  
"I am looking forward to fully in-person school in the fall," he added. "I think that's what our community should expect and that's what we should prepare for."
Phillips said he supports the budget, adding that the district is spending "30% less now than the state average, every year. And that piles up over the lifetime of a child," which has resulted in larger class sizes, West Middle School being closed around a decade ago and other issues. While Auburn is getting more state aid this year, he argued it's still not what the district deserves and the work to advocate for more aid must continue.
Kathleen Rhodes: Rhodes said the Cayuga County Health Department's guidance led the district's decisions on handling the pandemic over the last year. While he said she felt the district did the best it could, she added "I always know that we can do better."
For the future, Rhodes said summer school programming is being worked on and more social workers are going to be hired to support students. Rhodes said she advocated for not raising the tax levy during the budget formation process, but voted for the final version adopted by the board.
"I do believe that we could use our fund balance to subsidize our budget. We didn't have to go out and do the 2.85 (percent levy increase.) We could subsidize our budget with (the) fund balance," she said. "And I think that could have been part of our discussion. I just think that right now, with the way our year has been and with the pandemic, I think that we owed Auburn a gift."
Isabelle Wellauer: Wellauer believes in-person learning is the most effective approach for most students and that she isn't "a huge fan" of remote and virtual learning. 
"I do feel that bringing the students up to speed academically, helping them to restore their mental and emotional health and getting them reintegrated into all that comes with being in school is definitely a top priority," Wellauer said. "And looking back I absolutely recognize that the school board really had to operate in a manner that was in line with all of the mandates that were given to them. I know that their hands were tied."
She also praised Pirozzolo's communication to parents.
For the future, Wellauer hopes the board will be "laser-focused" on resolving learning loss due to the pandemic, and hopes the district will continue expanding in-person education while following guidelines.
Wellauer noted she supports appropriate funding for the district, but she believes any board has a duty to be fiscally responsible. She said she hadn't "really dug into the details of the budget," but doesn't believe in adding "tax burdens" to district families without making every effort to find other solutions.