AURELIUS — Mark Murray will compete in his first professional kickboxing match Saturday at Fingerlakes Mall.
But that's not the hard part. 
Standing next to the ring at Viking Martial Arts and Fitness inside the mall Wednesday, Mark Murray said he was in the middle of the hard part at that very moment.
"The fight's easy. It's putting in that work in the gym, grinding every day — grinding, grinding, grinding," said Murray, 35, who also has a maintenance job at Auburn Community Hospital. "And staying true to yourself while you're doing it. You gotta work that diet. You gotta go to bed on time. You can't be out in bars drinking like a fool."
As he spoke Wednesday, it was easy to take Murray's word for it: He was wearing a fresh 1.5-inch gash atop his head. A wayward elbow inflicted it during sparring that morning in Ithaca.
The cut shouldn't be a problem by Saturday, Murray said, when he makes his professional debut at Gladius 38, a card of 21 men's and women's kickboxing and mixed martial arts fights promoted by Gladius Fights, of Ithaca. Nicknamed "Bad Company," Murray will square off in the 160-pound division with Alex Sinprasith, of Vestal, who will also be making his professional debut.
"Don't blink, because I'm gonna put him out," Murray said. "It's just a matter of time."
Later in the card, fellow Auburnian Brad "The Viking" Vargason, 37, will compete in his fourth professional kickboxing match against Keith Nesbitt, of Palmyra. Vargason, who is 2-1 as a professional, will compete at 185 pounds. On Wednesday, he was 192. Shedding those last 7 pounds is harder now than it was a few years ago, he joked.
Murray and Vargason will weigh in for their fights at 6 p.m. Friday at Viking Martial Arts and Fitness, and the event will be open to the public.
Vargason is also the owner of the gym, having purchased the former Team Cole MMA. About two years ago, he moved the gym a few spaces down to its current, bigger location in the J.C. Penney wing of the mall. He and Murray are the only two members who compete regularly, though a 57-year-old and a Weedsport high-schooler there have also fought at the amateur level.
"For the size of Auburn, there's a decent-sized scene of guys who are training and competing," Vargason said.
But Viking isn't just about readying people to step into the cage.
You have free articles remaining.
Register for more free articles
Stay logged in to skip the surveys
The gym has about 50 members, including Vargason's wife and three of his four children, who take women's and children's classes there. And those who aren't already family at Viking, he continued, become family. The gym holds team picnics in the summer, a Christmas party and tailgate-type events before shows like Saturday's.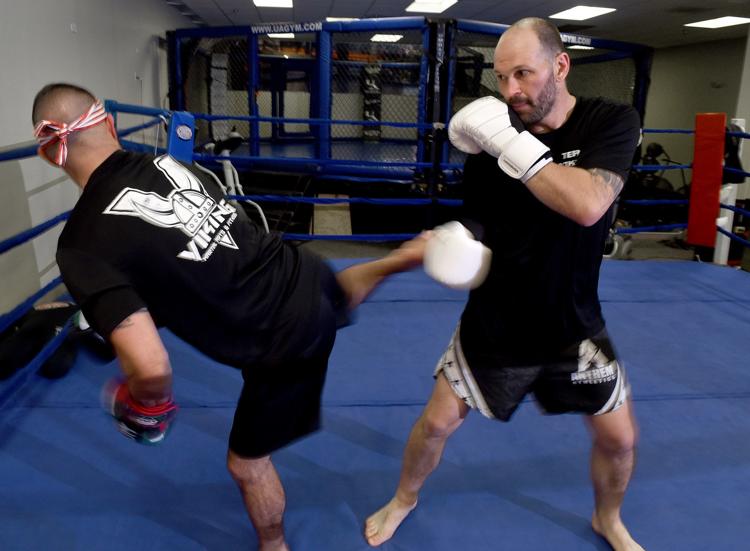 Murray and Vargason traveled somewhat similar paths to Gladius 38. Along with being raised in the area — Murray in Port Byron, Vargason in Cato and Skaneateles — both served in the Army.
Murray, a veteran of two tours of Iraq, began karate when he was 9 and boxing in his early 20s. His father, Mark Sr., teaches the sweet science at the Auburn YMCA-WEIU, and corners his son.
In addition to 100 amateur boxing bouts, Murray has competed in about 25 amateur mixed martial arts fights and 50 to 60 amateur kickboxing matches, and won state championships in both MMA and kickboxing. So it's been "a lifelong journey" to his professional debut Saturday, which will be his sixth fight this year, he said.
Coming from what he called a troubled past, Murray has found structure and discipline in combat sports, he said.
"I'm a little crazy as it is, so having this has been a savior because who knows where I'd be without it," he said.
Fighting has been similarly helpful for Vargason. He joined the Army in 2006, and began training in its Combatives Program. But it wasn't until he was hit by a snowmobile a few years later, while stationed in Fort Drum, that combat sports became his calling. The accident left him with three herniated discs and a fractured spine, and required three reconstructive knee surgeries. So after leaving the Army due to those injuries in 2012, Vargason was looking for something to rehabilitate him physically and occupy him mentally.
"A lot of guys shoot guns or jump out of planes, and those were two things that I didn't care to do," he said. "So I walked into a gym one day and started kickboxing, and fell in love with it." 
Saturday won't be the first time Murray or Vargason have competed in the Auburn area. But they hope the Gladius event wins over more local fans. Previous fight cards at Fingerlakes Mall and Kegs Canal Side in Jordan have drawn modest crowds, mostly friends and family of the competitors, Vargason said. But he and Murray hope their professional fights Saturday turn a few more heads.
"You're gonna see a different technique," Murray said of fighting at the professional level. "A little more crisp, a little more flow, a little more devastating."