Kenny Davis and Larry Campbell share a bill Thursday at Auburn Public Theater, but also a friendship — and a bond with a certain recent Nobel Prize winner.
Campbell will headline the show with his wife, Teresa Williams, in support of the two longtime performers' first album together, 2015's "Larry Campbell and Teresa Williams." Campbell, a multi-instrumentalist, performed in Bob Dylan's band from 1997 to 2004 and won Grammy Awards for his production of Levon Helm's "Dirt Farmer" and "Electric Dirt" albums in 2008 and 2010.
Davis met Campbell in the early 1980s folk scene in Greenwich Village, where the two often played at the Lone Star Cafe on Fifth Avenue and 13th Street. While other musicians schmoozed with women or celebrities like Billy Martin and Steven Spielberg, Campbell stayed in the dressing room to practice, Davis said.
"Larry was the best player on that scene," Davis said Wednesday. "He's a very dedicated, sweet guy."
Seeing Campbell is just one reason Davis, 62, looks forward to Thursday's show at Auburn Public Theater. A skilled guitarist himself, Davis will be returning to the stage for his first performance since losing his right leg two years ago. A fall in April 2010 produced a tingling feeling he didn't pay much mind to — until he was getting out of bed Nov. 6, 2012, and the leg snapped in half. The fall had made Davis vulnerable to osteomyelitis, a bone infection, and in October 2014, his injured leg had to be amputated.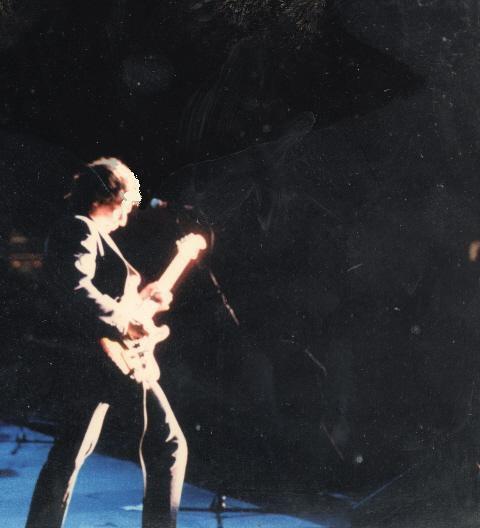 A Queens native, Davis now lives in Manlius, where he moved three years ago to be close to his 19-year-old son. And being stuck at home, he said, has given him the opportunity to become even better with his guitar.
"Some days I'll spend 10 hours just playing, practicing," he said. "I've picked up some styles I wasn't into before."
Davis regularly performed live in the '80s and '90s, opening for George Jones, George Strait, James Brown and other music legends. Like Campbell, he also shares a Dylan connection: Davis worked at The Bitter End club in Greenwich Village in the mid-'70s, when the then-reclusive Dylan started spending his nights there.
Davis, then 21 and a "Dylan freak" who played his albums on the club's sound system, one day found himself making guacamole for the man himself. But because he used "questionable avocados," Davis said with a laugh, the dip came back with cigarette butts planted in it.
Dylan was known for plucking studio musicians from all sorts of places, Davis said. And so he wound up playing with Dylan around the time he was forming his Rolling Thunder Revue. Poet Allen Ginsberg even referred to Davis in the liner notes of Dylan's 1976 album "Desire" as an "anonymous genius street studio guitarist," Davis said.
Thursday will be Davis' first concert in about 10 years, he said, not counting a private Syracuse Guitar League performance with his duo partner Harvey Nusbaum. He's not planning to take it easy: Davis said his set will feature risky material that requires fast, intricate picking, including some of Jerry Reed and Chet Atkins' challenging country guitar compositions.
"I take chances with my playing. I think that's what people like," he said. "This is a big thing because it's going to get my name out there in this area."
---
LISTEN: "Surrender to Love" by Larry Campbell and Teresa Williams