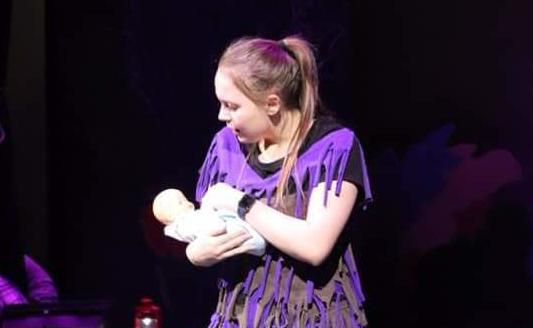 A pair of popular literary characters will come to life, with song, on the stages of local schools this weekend.
The Port Byron Drama Club will present "Disney's Tarzan" Thursday through Saturday, March 12 through 14, and Auburn Junior High School will present "Roald Dahl's Matilda: The Musical" Friday through Sunday, March 13 through 15.
Based on the 1999 Disney animated film, "Tarzan" tells the story of an orphaned boy who is saved and raised by a family of apes in western Africa. Based on the story "Tarzan of the Apes" by Edgar Rice Burroughs, the musical features songs by Phil Collins.
The show's cast includes Patrick Jorolemon as Tarzan, as well as George Ripley, Donna Todd, Grace Smith, Collin McLoughlin, Pamela Rice, Sabrina Westmiller, Morgan Brown, Ryan Ratliff, Natalee Reese, Kaleb Holdridge, Xavier Heath and Ashley Rooker. The ensemble features Brianna Coleman, Allie Conklin, Sean Gilmore, Veronica Gould, Hannah Green, Raegan Harter, Bethany Jump, Colleen Jump, Jenna Jump, Jada Kimball, Riley Kimball, Connor Lang, Kristen Lang, Radiant Meaker, Hailey Miles, Grace Noga, Jack Noga, Precious Peters, Abby Rice, Delaney Rooker, Ruby Seamans, Ashley Todd, Kaitlin Van Houten, Alexis Wilber and Bryanna Wilbur.
The student director is Delaney Rooker, and the stage manager is Katelyn Brown. The technical crew is Grace Applebee, Jessie Applebee, Montgomery Baran, Janelle Beaumont, Madison Cioffa, Raegan Dillon, Lonna Gallup, George Johnson, Kaylie Laird, Emiley St. Martin, Alexcia Snyder, Kali Snyder, Madison Srymanske, Samantha Taylor and Connor VanFleet.
The production team includes director Jeffrey Chaloux; vocal director James Bearup; choreographer Stephanie Reese; technical director Ben Hogan; costumes by Mary Riley, Sharon Vitale and Cynthia Westmiller; lighting and sound by Luke Green, Erick McCarty, Joe McNally and Max Noga; props by Joni Lincoln and Dewey Lincoln; set design by Sara St. Pierre; set construction by Pete Svitavsky and John Mulcahey; and set construction assistants Stephen Dahl, Mason Stabinsky and Ike Svitavsky.
You have free articles remaining.
"Tarzan" showtimes are 7 p.m. Thursday and Friday, March 12 and 13, and 2 p.m. Saturday, March 14, in the auditorium of Dana L. West Jr.-Sr. High School, 30 Maple Ave., Port Byron. Tickets are $8 general admission and $5 for students and seniors. Advance tickets are available at the Lehn office of the high school.
For more information, call (315) 776-5728.
---
"Matilda" tells the story of the titular girl with psychokinetic powers in Dahl's 1988 children's novel. Dreaming of a better life than the one she shares with her cruel parents (Emerson Brown and Jack Hoadley), Matilda (Audrey Carr) impresses her teacher, Miss Honey (Lily Nila), but finds herself targeted by her school's mean headmistress, Miss Trunchbull (Madelyn Titus). 
The show also features student performers Rylee Sheehan, Carter DeRosa, Berkley Brown, Josie Janas, Alexandra Vitale, Jerry Czyz, Nicholas Trumbull, Dominick Currier, Sean Boothman and Emily Neuman. The show's director is Bill Tenity, and Sally Reutlinger is its producer and costume designer. Kristan Sheppard is musical director, Kelly Sue Haines is assistant director and Alysse Carris is choreographer. Many of the cast and crew also worked on last year's production of "Annie Get Your Gun."
"Matilda" showtimes are 7:30 p.m. Friday and Saturday, March 13 and 14, and 2 p.m. Sunday, March 15, in Emerson Auditorium at Auburn Junior High, 191 Franklin St., Auburn. Tickets are $12 for adults and $10 for students and seniors.
Stay up-to-date on what's happening
Receive the latest in local entertainment news in your inbox weekly!