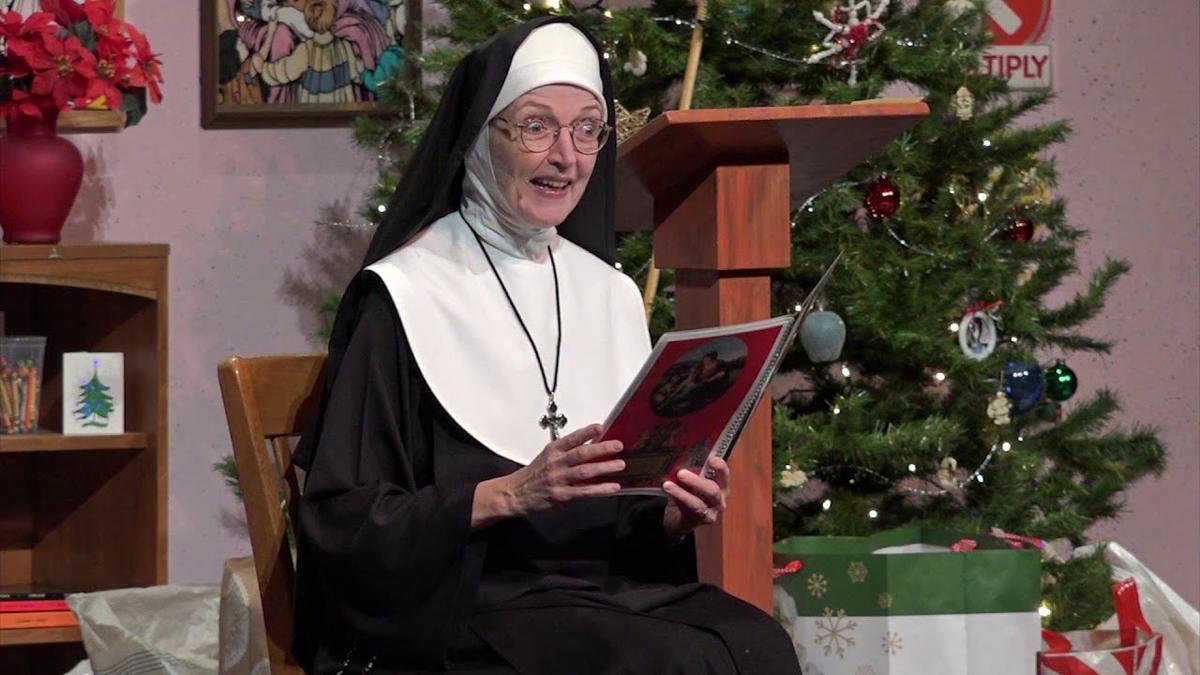 The Rev Theatre Company wants to present holiday shows when it makes sense. And this year, it made sense.
The organization formerly known as the Finger Lakes Musical Theatre Festival will present "Sister's Christmas Catechism: The Mystery of the Magi's Gold" this weekend at the West End Theater in Auburn. Brett Smock, the company's producing artistic director, said it's easier to present winter shows at the former West Middle School auditorium — which the company began leasing two years ago — than at the Merry-Go-Round Playhouse in Emerson Park. And the show "Christmas Catechism" follows, "Late Nite Catechism," was a hit when the company presented it in 2015, Smock said.
Like "Late Nite Catechism," "The Mystery of the Magi's Gold" follows the character of Sister, a Catholic nun who scolds and quips with the best of them. Created in 1993 by Maripat Donovan and Vicki Quade, Sister saves some of her best barbs for the audience, with whom she frequently interacts. She'll be portrayed this weekend by Nonie Newton-Riley, who portrayed Sister here in 2015.
"You could see the show every night and it'd always be different because of the audience's input," she told The Citizen in 2015. "I wouldn't be doing it this long if it wasn't so much fun."
You have free articles remaining.
The runaway success of "Late Nite Catechism" led what was one show in Chicago to a series of them across the country. "Magi's Gold" sees Sister attempt to solve the titular mystery, which The Rev described as "CSI: Bethlehem." Using her scientific tools, and assisted by a local choir and some audience members, Sister also creates a living Nativity in the course of her investigation.
Smock stressed that "Magi's Gold" isn't the same show as the one the company presented in 2015. But those who saw "Late Nite Catechism" will respond to this weekend's show in similar fashion.
"People can either relate to their Catholic schooling or upbringing, or laugh at the hilarity of it all," Smock said. "The Sister evokes funny (and sometimes terrifying) situations and memories."
"Christmas Catechism" will be the first show The Rev has presented at the West End Theater. Smock said The Rev has been investing in the venue so it can not only host small productions like this weekend's, but also "fully produced, family-oriented fare" in the future. He said that the theater is accessible and the site of many memories for the people in Auburn who attended school there.
"Christmas Catechism" will also be one of the first shows the theater company has presented under its new name since announcing it in September. The transition into The Rev is going well, Smock said, and will be mostly complete by the opening of the 2020 season June 10 with "Rocky: The Musical." He also noted that the company name is the only thing about it that's changing. Everything else will remain the same, including the names of its three venues: The Merry-Go-Round Playhouse, West End Theater and Carriage House Theater at the Cayuga Museum.
"Same art, same venues, same values," Smock said. "It's an exciting time."
David Wilcox's 5 most memorable stories of 2019
In 2019, I got to tell a few stories about this community that I've wanted to tell for awhile.
I also got to tell a few that reaffirmed this community's ability to surprise me even after so many years of covering it.
Here are five of the stories I'll most remember telling in 2019. (See links below.)
'Fortnite fame: I've been writing stories for The Citizen for 13 years. So, often, it feels like I've written about everything here. But just as often, I find out about someone or something in our area that I had no idea existed. It's even better when everyone else in the area had no idea, either. That's what happened in January, when the father of a popular "Fortnite" player from Auburn let me know about his son's success in the online battle royale shooter. Sharing that story with the player's hometown — that success he's achieved in a world unfamiliar to most people here — was the kind of thing I got into this business to do.
'Black skies, white sidewalks': Every winter they arrive like clockwork, and every winter we see questions from readers about Auburn's crows. So this past winter, I took the opportunity to answer as many of those questions as possible: Why do they come here? What is Auburn doing to get rid of them? And why should we get rid of them?
An Auburn treasure: Sometimes it's fun to write a story just because. That was the case this summer with this feature on Auburn's Phoenix Building. Aside from a new paint job, I didn't have much of a reason to dive so deep into the downtown architectural treasure — except for the fact that it is a treasure.
Publicity play? In May, I wrote a story about a guy from Port Byron who claimed to have found a rare Babe Ruth baseball card. Afterward, I was contacted by a few card experts who explained some good reasons to doubt the man's claim. That led to this follow-up.
The future of Cayuga County history: As editor of The Citizen's Lake Life section, I've spent many years proofreading columns from historians in the Cayuga County area. And almost all of them share two themes: passion for local history and, more pressingly, hope that the next generation discovers the same passion. With 2019 marking the 100th anniversary of New York state's Historians Law, I got the chance to explore that passion and that hope in depth.